Up in the gods of Westminster Abbey is a network of unseen gothic spaces about to be refurbished and opened to the public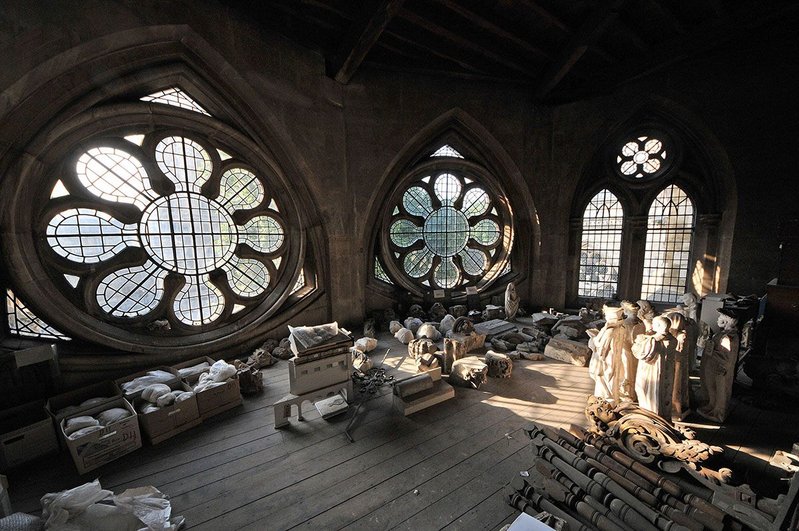 Current view of Triforium as storage space
At the far end of Poet's Corner in Westminster Abbey, beneath the plaque commemorating 'O Rare Ben Jonson' is a wooden door marked Private. Behind it is a tight timber spiral stair with a frayed rope handrail, climbing up to a region few ever see: the Abbey's Triforium, an upper deck above the side-aisles of the kind you find in many a medieval cathedral, though sometimes they are little more than narrow walkways. Not so here.
The Westminster Abbey triforium, marked internally by an arcade of smaller arches 70 feet above floor level and externally by a band of tri-lobed windows, conceals surprisingly generous spaces. It also yields those vertiginous views down into the nave familiar from televised state weddings and funerals. At the moment – access being tricky – it is lightly used as a glorified attic and restoration workshop, but all that is about to change. After a £19m building programme, in 2018 the Eastern Triforium will open to the public as The Queen's Diamond Jubilee Galleries.
I was invited to see this extraordinary sequence of spaces before the conversion work begins. It's in good hands – architect is Ptolemy Dean, surveyor to the fabric, with MUMA (V&A, Whitworth Gallery) as exhibition designer. A new freestanding external lift shaft within a stone-and-timber staircase in a gothicky lead-sheathed tower will provide access. Incredibly – such was the careful pre-consultation process undertaken by the other Dean, Dr John Hall – not a single objection was received to the new tower design, which sailed rapidly through the planning process. Not bad for what is the most significant addition to the fabric of the Abbey since Hawksmoor signed off his west towers in 1745. But then, it will be tucked away discreetly within the complex, rising from the site of what is at present a toilet block between the Chapter House and the Henry VII or Lady Chapel. A bridge link at the top will take you through a new doorway into the Triforium.
Up there in the gods, you find among much else some basic modifications carried out by Sir Christopher Wren when he was surveyor here: stout timber trusses supporting what had been sagging roofs. The Abbey – this part was built in the reign of Henry III – was already very old by then, and in a bit of a bad way. Wren (or his assistants) also painted an identification number on each of the scores of opening to the Triforium, internal and external. That way surveyors know exactly where they are in this somewhat disorientating sequence of repeated elements.
The space to be converted is a rough horseshoe shape, starting off along the south transept and then turning at right angles to curve round the eastern apsidal end of the original building. Other sections of the Triforium are taken up with organ pipes but here you just get clear space, reflecting the size and shape of the radiating chapels beneath. Indeed there's a theory that Henry III intended a double-deck arrangement of chapels but it seems clear that the upper level was never used as such – after all, access would have been as limited then as it is now. Yet it has some surprisingly fine materials, such as Purbeck marble columns and the odd grotesque carving.
This has to be a seemingly light-touch conversion in which the character of the spaces is as important a part of the experience as the objects on display. Those will be taken from the treasures and collections of the Abbey's thousand-year history, ranging from the Liber Regalis, a 14th century illuminated manuscript which is a how-to-do-a-coronation manual, though glass and silverware and funeral effigies to sumptuous vestments.
All this will be fascinating and will provide atmosphere – and nobody will be aware of all the basic stuff that will have been done, like diverting the many obtrusive pipes which run through here. Luckily the floorboards are early 20th century rather than ancient so can be cut and shuffled with impunity. But whatever the merits of the exhibition, there's no doubt that the main attraction will be the inward and downward view, which is magnificent. How to get the public close to the arcade's cliff-edge while still keeping them safe? Apparently they are thinking wrought-iron rather than glass balustrades, and that seems sensible. I've had enough of glassy bits in historic buildings. Time for something less reflective.
As for Ptolemy Dean's access tower, in plan two rotated squares to make a star – I hope it's a treat. It will certainly be a great deal more useful and less obtrusive than the strange £10m exterior 'corona' that the Dean proposed in 2009 to mark the crossing, a notion which was quietly dropped before it got to design stage. The Abbey may be a 'Royal Peculiar', independent of the Church of England, but a big crown-shaped thing on top was perhaps a bit too literal. Opening up the wonderful Triforium and slapping the royal name on it, however, that's a different matter. Of course it will release another income stream for the Abbey, but I reckon it will be well worth the money. My only regret is that it won't be a secret place any more.
---