With East Marshgate, UCL's expansion into London's former Olympic park, Stanton Williams creates a convincing piece of a promised new urban quarter
Go to the district in Stratford, east London, branded as East Bank, and you are in the world of large discrete objects set among waterways and railway lines. To the 2012 remnants of the cut-down former Olympic Stadium (now West Ham FC), swoopy aquatics centre and the fading red steel tubing of the 'Orbit' sculpture/observation tower, you can now add a new university campus. This, at the southern end of what was the Olympic park, is the chosen expansion zone of University College London. It is building UCL East with conviction, from deep pockets, to compete with research-science rivals including Imperial College, Oxbridge, Manchester and Edinburgh.
The first element of the masterplan to complete last year was the nearby One Pool Street by Lifschutz Davidson Sandilands, four floors of labs, studios, public and exhibition space and a plush lecture theatre/cinema, topped with 552 student rooms in two towers of 13 and 17 storeys. Now it is joined, across one of the several channels of the River Lea delta, by East Marshgate, a £250 million megastructure by Stanton Williams that is the daily workplace for some 2,500 students, teachers and (as with One Pool Street) as many of the public as care to come in.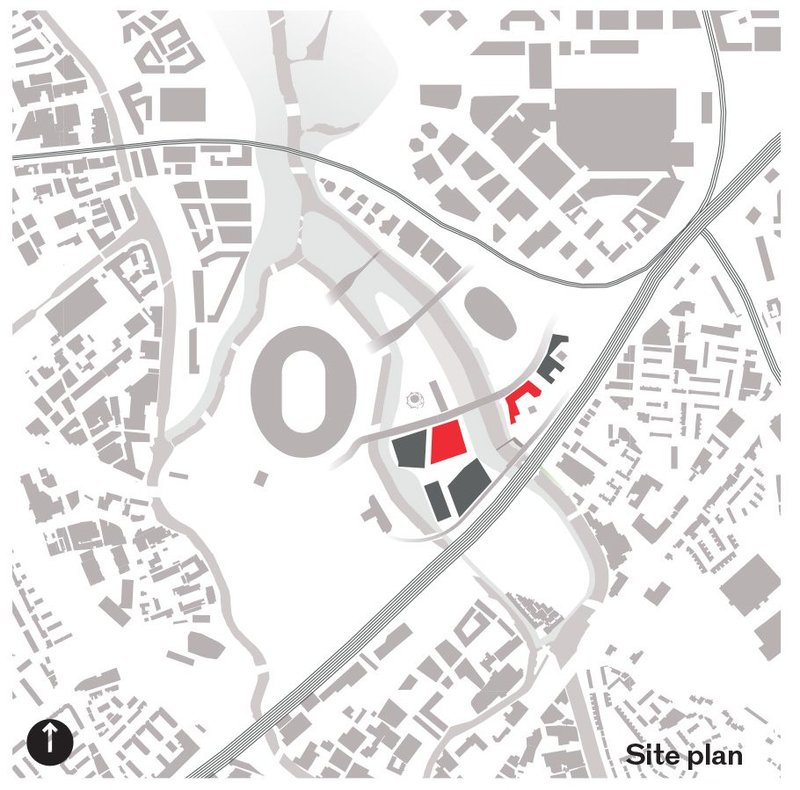 Site plan The new building will form part of a cluster of four academic campus buildings.

Credit: Stanton Williams
This is the largest single building in UCL's portfolio. Its presence, the way it sits in the landscape – especially this flat windy landscape of memories industrial and athletic – is the thing. It may be only eight storeys high but they are tall storeys: the overall height is what you'd expect from a conventional 12-storey block.
Its external appearance is all about the large scale, emphatic modelling of surfaces and textures into four zones from bottom to top. It is an inscrutable beast, its facades including a series of heavyweight vertically-slatted precast screens with the razor-sharp concrete detailing that is the trademark of the practice.
The facades are a full-scale sampler of concrete finishes, on lower levels referencing boardmarked and pick-hammered types. Today these finishes come from moulds and, while presenting textural variation, lack the sharp definition of their forebears. With BREEAM Excellent as the target, relatively low-carbon concrete of the slow-curing variety with a high proportion of cement-replacement fuel ash is used.
Exposed-aggregate concrete is used at ground level, polished for the floor, as a memory of the riverine gravel beds underlying the site. And as Stanton Williams director Gavin Henderson points out, a key element of sustainability is building for the long term: minimum 60 years in this case.
It is a handsome building with something of the air of a fortress. The second-floor terrace projecting above the entrance has a Corten view framing device with a gatehouse feel. This defensive impression comes partly from it being the first of a planned cluster of four buildings, likely to go to competition. So it will not continue to stand in isolation. By the time UCL East is built out, the university will have expanded its capacity by 40% and, with the associated landscaping, have made a new city district, the four palaces of learning arranged around a square.
The architectural expression matters because one of the headline ideas behind UCL East is being open to the public. The ground levels of all the buildings on the masterplan are 'fluid', containing cafés, exhibition spaces and outreach teaching spaces for local school pupils and the like. East Marshgate does all this, in a distinctly patrician manner. It's instructive to compare it with LDS's smaller One Pool Street which, with its radiused corners and brises-soleil, avoids the austere magnificence of its big neighbour but gives the brief a perhaps friendlier physical expression.
So as things stand, one not of the academic world might approach East Marshgate with some trepidation: just a few hundred yards to the east the gargantuan Westfield shopping and entertainment mall offers its more obviously accessible alternative wares. Nearing completion even closer northwards is a rival cultural quarter with branches of the V&A, Sadler's Wells, London College of Fashion and BBC studios. One remembers former London mayor Boris Johnson's boast that this whole post-Olympic quarter would be a new Albertopolis on the South Kensington model. If so, only the university buildings seem to be full-size or even, in the case of Marshgate, slightly over-sized.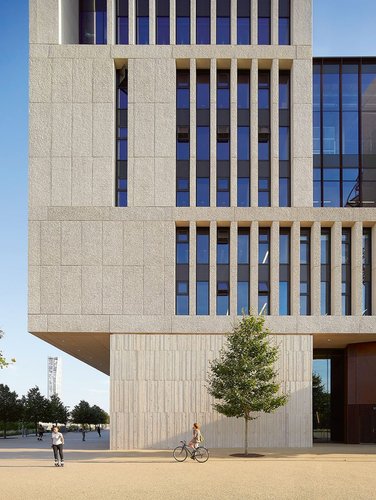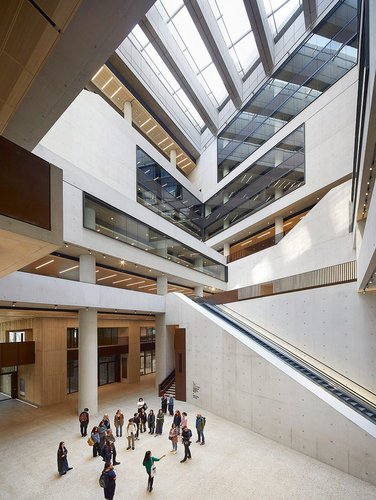 On plan there are two wings at angles flanking a lower central section, making an unequal quadrilateral. This translates into broadly U-shaped upper floors which are rotated in three pairs to frame views to east, north and south. The west flank will be hard up against a future phase, so no vista is set up in that direction. The shifts in aspect as you rise through the building – by escalator around the atrium, or via one of the four lift/stair cores – provide variety and orientation as you move around.
The result is a readable sequence of spaces, though the Cyclopean scale, industrially-inspired finishes and earthy colour palette continue to be the dominant attributes. An enormous 'Gaia' globe hanging from the atrium roof – the kind habitually seen as installations filling cathedral naves – looks from below almost too small, balloon-like. The columned double height staffroom with its open terrace on an upper level aspires to the condition of a temple. Helped by the hard material palette, the overall internal experience is perhaps less the fortress, more akin to an art gallery carved out of a power station, complete with mandatory turbine hall.
For galleries, read laboratories, on display through glass walls. The highly-serviced nature of labs doubtless accounts for a chunk of the construction cost: at £7100/m² GIA this compares with £5,000 for Grafton Architects' recent £90 million Marshall Building for the LSE, which is non-science. The exceptional strength of the Marshgate frame to take heavy loadings and be vibration-free, along with the overall generosity of scale, also plays its part.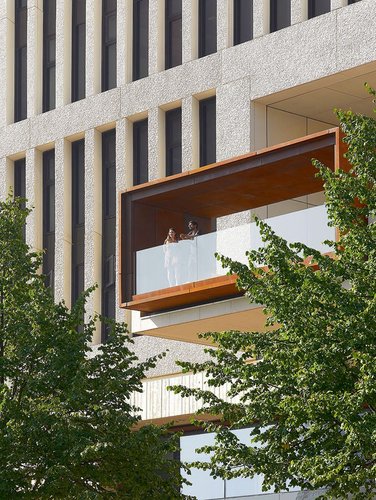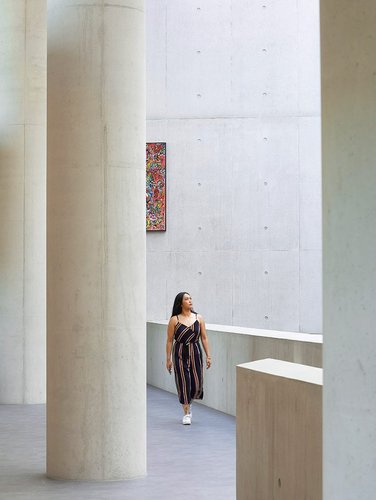 The programme is not all science and engineering: 'creative industries' including architecture and animation are in the mix. You will find only one relatively small – 120-seat – lecture theatre, made externally important by its Corten cladding projecting at an angle from the north facade. Pedagogically UCL is moving away from the model of individual faculties with professors addressing crowds of students scribbling in notebooks. The watchword now is cross-disciplinary collaboration.
Floors are organised into a series of 'neighbourhoods', each of which has a double-height 'collaboration space' for informal meetings or exhibitions. As is increasingly the way with new higher-education buildings, circulation routes are designed to maximise chance encounters, with places to pause, sit and talk.
East Bank as a whole has a way to go yet before it finally knits together as a convincing new district, with the UCL campus as its southern anchor. East Marshgate is a self-contained world: touring it is an urban exploration in itself. The quality of architecture is first rate. Now we await the promised quality of urbanism.
In numbers
Contract cost £250m
Gifa 35,000m²
Cost per m² £7,100
Person capacity 2,500
Whole-life carbon A1-A3, B4, B5, C4
BREEAM 'Excellent' 970 kg CO2 eq/m²
Form of contract NEC3 with Option A
Credits
Client University College London
Architect Stanton Williams
Interior architects Stanton Williams and Sheppard Robson
Delivery architect Sheppard Robson
Contractor Mace
Landscape Vogt Landscape
Structural design AKT II
MEP, infrastructure, lighting, acoustics, logistics, vertical transportation, transport, BIM, security, sustainability Arup
Project manager WSP / Turner and Townsend
Cost consultant Aecom
Accessibility All Clear Designs / Arup
Design manager Plan A