Undercroft, Habitat '67, Montreal, Quebec, Canada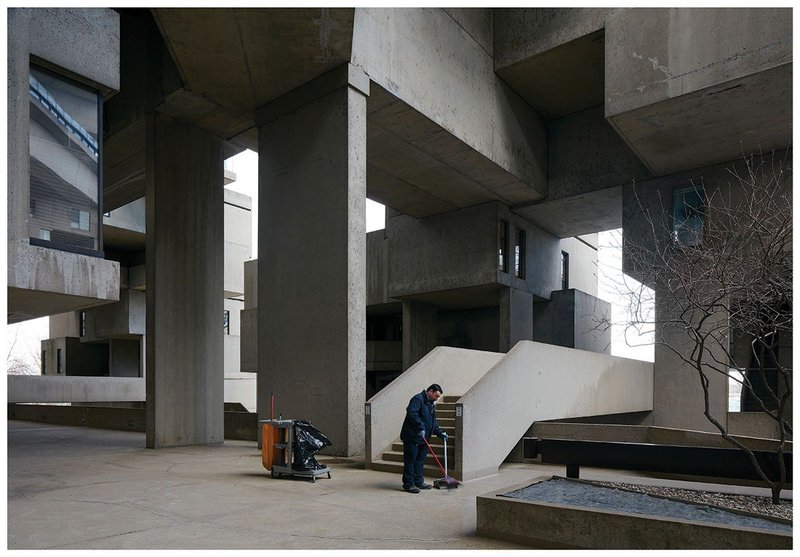 I realise immediately that it's a stupid question when I ask if he has a Twitter handle. For James Brittain, who is, slightly confusingly, predominantly based in Canada, has spent a good part of our call discussing the rampant hegemony of social media and the empty Instagram-ready digital imagery that it creates. Having worked in the business for over 20 years, he believes that mainstream architectural photography, driven both by the need to portray buildings as 'perfect' in the eyes of the client and click-bait oriented digital ­consumers, has shied-away from engaging with the actual experience of architecture. That there is no meaningful, critical dialogue with it – that we've come to a dead-end.
Extricating himself awhile from this 'hamster wheel' of commercial pressures, Brittain instead decided to go rogue with a personal project, 'Revisited'. There are countless images out there showing Moshe Safdie's iconic Habitat '67 housing, but few, if any, that portray it like this. Here he takes us to its undercroft and the massive structure that bears its dramatic living blocks aloft, and there he invites us to ask questions about it. 'I want to focus on how the space feels rather than the formal aspects of its architecture,' he says, challenging the viewer to consider 'how it's used and inhabited, how its public and private spaces are occupied and adapted by residents'.
And so, under the massive belly of Habitat '67's much-vaunted form, we enter a sunless world of Piranesi-like monochrome. Here you'll find the building's cleaner – perhaps brushing up trash, perhaps setting his house in order before asking Charon to transfer him across the mythical Styx beside him. 'It's okay for photographs to not be perfect, for them to be faithful to a subjective experience of architecture, to express the tension between beauty and ugliness,' says Brittain. 'Is it still possible to photograph the spaces around us thoughtfully and usefully? And if so, how do we do that?'