You can't have good buildings without good clients. So how do things look from their point of view? RIBA Journal spoke to 10 of the best.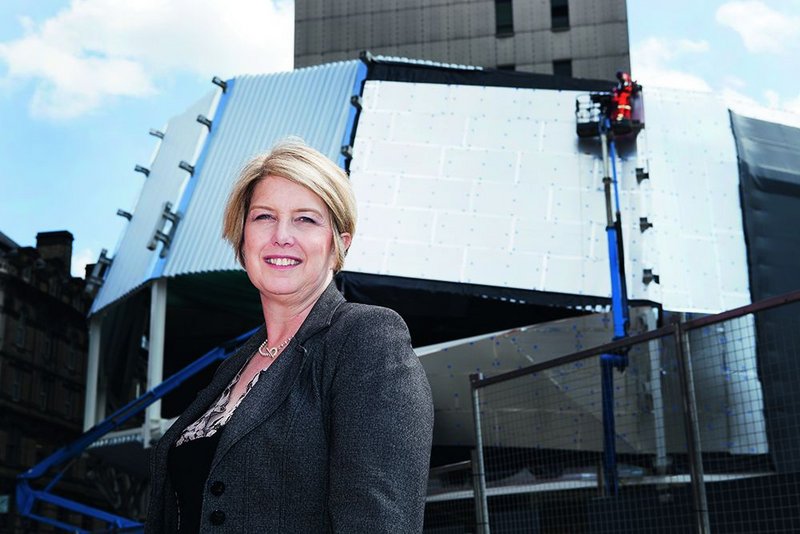 Carol Stitchman stands in front of the main entrance of the new New Street Station. Behind, the cladding framework that will support the building's stainless steel ribbon facade.

Credit: James Bolton
Birmingham New Street Station
Carol Stitchman, head of design, Gateway project

After Future Systems' spectacular Selfridges store and Dutch firm Mecanoo's new Library of Birmingham, still under construction, the £750 million New Street Station development, designed by Foreign Office Architects, forms the third key component of the regeneration of the centre of the UK's second great Victorian industrial city. When it opened in 1854, New Street had the largest glass roof in the world, at over 250m long and 65m wide, but the station was badly damaged in the war and demolished to make way for the brutalist replacement that opened in 1967. Pallasades shopping centre above it opened in 1970.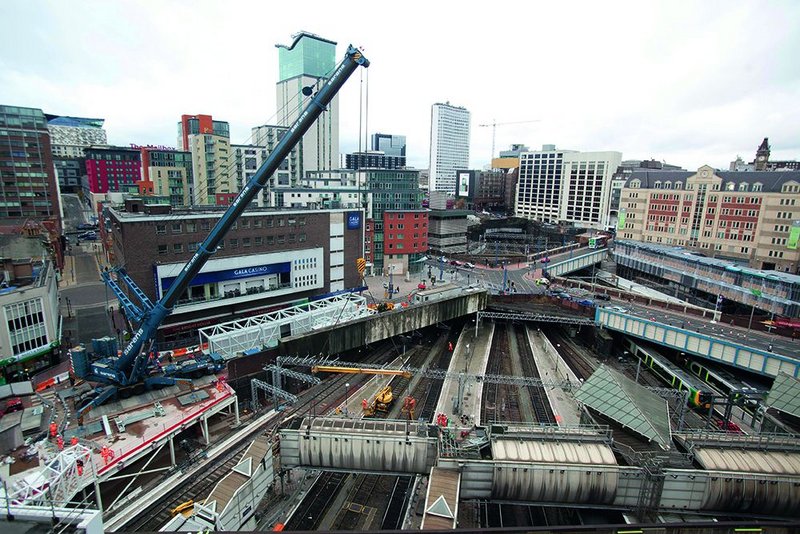 Building over an existing track network, the project is riddled with programmatic and logistical complexity.
'Stitchman was keen to ensure, along with the rest of the jury, that Birmingham got the iconic terminus that reflected the rediscovered self-confidence of the city'
But to deal with daily passenger numbers at 140,000, a figure only anticipated to rise, and to make the station ready for the next 50 years, an international competition was held in 2007. It received 47 expressions of interest from big name firms, shortlisted to six and won by Foreign Office Architects. FOA's proposal for a huge rippling ribbon of shiny stainless steel was championed by Birmingham Gateway's head of design, Carol Stitchman. With the rest of the jury she was keen to ensure Birmingham got the landmark terminus that reflected the rediscovered self-confidence of the city.
Stitchman, who has strong retail experience and cut her teeth working for Hilton Hotels, describes her role here as 'guardian of the concept', and she's defending it jealously. Despite FOA's split, and with the project now in the charge of one half of it in the form of Alejandro Zaera-Polo Architects, Stitchman claims that under her watch the concept has changed very little – and that's despite major changes to the brief. 'We had an original application for two towers at the south of the site, but in the recession, these became unviable', says Stitchman. 'The project was reduced in scale, only for John Lewis to come on board halfway through, which meant squeezing it into the available station box. Zaera-Polo's previous experience with John Lewis' Leicester store helped resolve the issue.' Under a bespoke Network Rail contractual arrangement, AZPA's lead consultant role is augmented by Atkins, working on the structural and M&E sides, while Haskalls and Hoare Lee are taking on board the internal retail design. This, says Stitchman, is in contrast to Network Rail's usual framework agreements, an approach used here before the competition. 'If we had gone down that route, we wouldn't have had what we do – people thought the original design looked like a showcase cinema,' she recalls.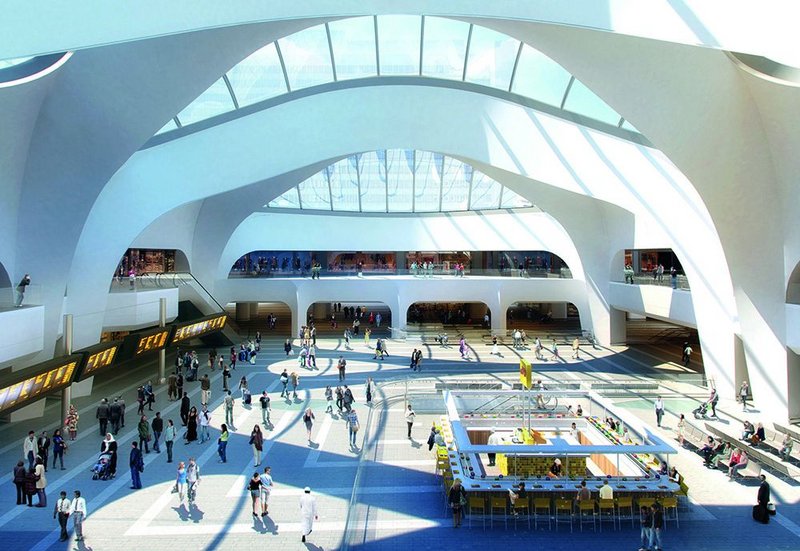 The new ticket hall and atrium of New Street Station is light and generous – a preoccupation of the Victorian terminus engineers.
As it stands, it's full steam ahead at New Street. The distinctive steel ribbon is now going up on the north side of phase one of the development, due to complete in April 2013. The John Lewis Store is scheduled to be trading by autumn 2014, with the phase two platforms and concourses all up and running by summer 2015. Stitchman confirms that AZPA will retain design control throughout – partly due to its proactive approach. 'AZPA has modelled the design meticulously and worked well with engineers and manufacturers to ensure they got the geometry they wanted; this involved making cladding panels smaller, but it was a compromise the firm was prepared to go with, and design for,' she says. The practice was similarly accommodating when the foiled 2007 suicide attack on Glasgow Airport forced a reappraisal of the bomb blast resistance of the structure and ground floor glazing and redesign of the public areas to make them more secure. 'All this came late into the design, but proved AZPA was up to the challenge,' says Stitchman, who calls New Street 'the most complex project I've ever worked on.
'AZPA is incredibly precious about its architecture, but it's tempered with a pragmatism that means not only do they know when to compromise, but they're aware when challenges can lead them to innovate.'
---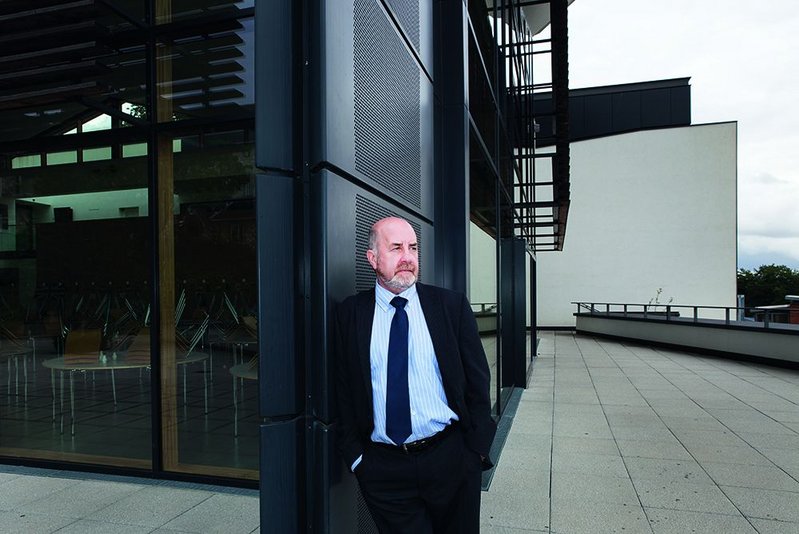 Tommy Geddes leans against Design Engine's Student Centre

Credit: James Bolton
Winchester University
Tommy Geddes, deputy vice-chancellor
Tommy Geddes attributes much of Winchester University's recent success in drawing new students in a competitive, paying market to the design of its campus – a relationship it has been nurturing for nearly 20 years. 'Forming a relationship with architects is something we have developed since I arrived at Winchester 19 years ago. We knew that unless we developed the university estate, the college wouldn't survive,' recalls Geddes. Up to that point the university had been working with a local one-man-band, but the leadership team realised that to develop, they'd need more expertise.
Committing over £15 million, (about 70% of its annual turnover) to a 1997 development programme, they set up a national competition to design a new 650-bed student dorm for the camp – eventually won by Feilden Clegg Bradley. Being a cathedral city, everyone had an interest in what got designed, with even Winchester's head of planning on the jury panel. Geddes remembers that they were all 'bowled over by the strength of Richard Feilden's vision – in the interviews he was hugely engaging. We knew we wanted to work with a small driven practice that would commit fully to the project'. Geddes' hunch was right, adding: 'In a sense we all grew in parallel, they partly off what they did with us'.
Ten years later in 2007 the university tendered for a building at the front of the campus to act as the public face of the institution ( 'it was a terrible entrance – defined by a service chimney') and the team knew it wanted something special. They held another competition, which FCB submitted for, but this time the proposal didn't seem as well thought out. Local firm Architecture PLB also put forward a proposal, but Geddes says the planners seemed resistant to a firm that was already doing most of the work in the city. New firm Design Engine popped up at this point, recently having split from PLB, and with only a couple of buildings under its belt – the British Embassy in Yemen's Sana'a, and a school in the Channel Islands. But Geddes says Design Engine was confident and feisty.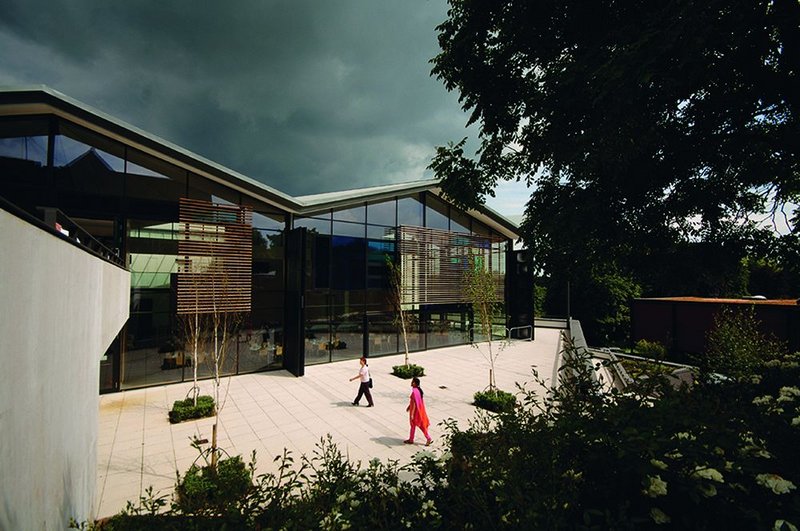 Design Engine's Student Centre.
'We knew we wanted to work with a small driven practice that would commit fully to the project'
'We got a sense of the spirit we had got from FCB 10 years earlier, so we took a deep breath and appointed them.'
Geddes was initially concerned that Design Engine wouldn't be large enough for a big building that ran down the hill and included study spaces and the student union and bar. Although at times the practice's resources looked stretched, 'they never lost the enthusiasm and hunger for the project that we had initially seen, and that made us believe in them', he says. The initial financial risk produced a building that proved a critical success. Design Engine has since grown as a firm, and gone on to design a new refectory for the university, an extension to one of the lecture theatres and the recently completed Performing Arts Centre on the campus, which received a Civic Trust award.
Over the years the long-term involvement of architects in piecemeal but structured development gave rise to something the university had never had – an estates strategy. The latest version, covering the next five years, was finalised last month. Given the experience, Geddes maintains that the executive role of the architect was essential in delivering the design quality that Winchester wanted. 'We never employed contracts or project managers – we left all that up to the architects, and it gave them the control they needed to deliver a good project,' he confirms.
This is all in stark contrast to recent events, where the university commissioned a 400-bed student residence from venture capitalist Domain, who bought the land and developed the dormitory building, for the university to rent it back from them.
'Domain was both project manager and contractor, and we lost all design control. My view is that it really shows,' says Geddes ruefully. 'Even the independent consultant we appointed to oversee this process on our behalf was a waste of time. The best projects were delivered when we controlled the process and our architects controlled the design.'
---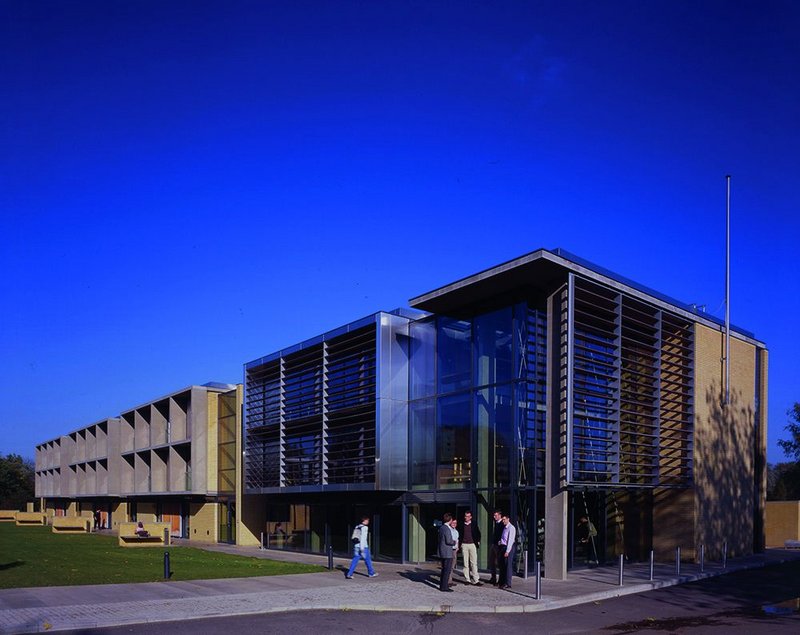 Hodder's phase 2 development at St Catherine's acknowledged Jacobsen.
St Catherine's College, Oxford
James Bennett, home bursar, St Catherine's College, Oxford
Stephen Hodder, president-elect of the RIBA, has designed extensions and refurbishments to Arne Jacobsen's Grade I listed St Catherine's College, Oxford, for nearly 20 of the college's 50 years of existence. Following the original competition, when it came to the second phase of new works for St Catherine's – completing a new quad – Hodder was appointed directly, as he has been ever since. More recent work has been in the tricky heritage area of upgrading the original Jacobsen buildings.
James Bennett is home bursar and has been at the college for 10 years. He has worked closely with Hodder on phase 2. 'The relationship has worked very well as far as I'm concerned,' he says. 'As a college we're very much aware of our architectural heritage, and Stephen knows all about that. I suppose the length of our relationship is about having Jacobsen in the background, and not taking the risk of changing the approach. We enjoy working with him.
'The phase 1 building works quite well but I think Stephen would probably say now that it's maybe a little fussy. There are phase 1 maintenance issues. When it came to reglazing the original Jacobsen rooms, we now have approved double-glazed units with interstitial blinds. It's a more standardised look – the old net curtains inevitably suffered from student use and were rather nasty.'
Hodder says that working on designs for 'Catz' from 1992 until today has been remarkable. 'That's two-fifths of the college's life,' he says. 'It started with the first set of new student rooms, then the next, then refurbishments of common rooms and lecture theatre. Now it's more a conservation exercise.
'We've worked with the Jacobsen Foundation, which has donated money to the college, and with Dissing & Weitling, the successor practice to Jacobsen's. English Heritage too of course.
'I think we've established a good working relationship over the years. I've acquired a knowledge of the language of the building, so when it's come to steering the various projects through, they've kindly come back to me. There are fellows of the college I consider friends.'
---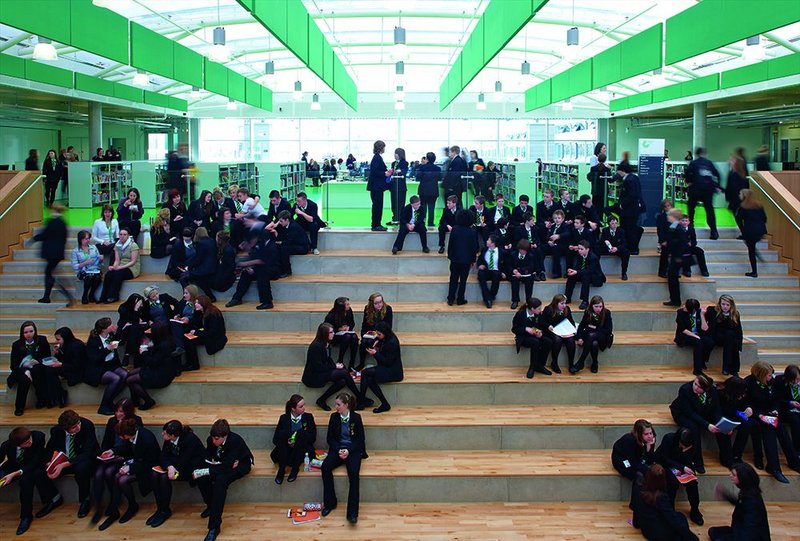 A flexible, social space – the Hellerup staircase.

Credit: Tim Soar
Catmose College
Stuart Williams, principal, Catmose College
Stuart Williams is in the unenviable position of having stepped into a project as the user client halfway through the process. He joined as new head of a very large six form entry secondary in Rutland at stage C. His relationship with architect Jonathan Ellis Miller started well when they came to visit him in his existing school. 'They asked me to take them on a tour. It was a good springboard for a relationship as we talked about what works or not. I was not the client and Ellis Miller was fundamental in ensuring I was not sidelined.'
The practice describes Williams' arrival as one of the 'ultimate tests' of the project's aims of flexibility, as he laid out a new vision for the college and the design adapted. A year into working in the building Williams is still impressed with its flexibility, its variety of spaces and the possibility to reconfigure them quickly. 'We have a big atrium with the Hellerup staircase. I can fit half the school on to that.' He achieved this for one assembly which was just for the girls. 'It is a huge social space. We use it for meeting and eating, the drama studio can open onto it so it can be part of the stage with 250 students performing on the staircase.' Upstairs there are small classrooms and big spaces that allow for 60 students and team teaching. His comments about the lack of an IT room were taken on board by the architects so he has a large open plan room he is very proud of. And having held a quiet meeting in his office while Shrek was being enthusiastically performed next door he finds the acoustics 'remarkable'.
Williams was kept in the loop on the mechanics too, and invited to both design meetings and the informal chats.
This was useful when it got to value engineering and Ellis Miller helped guide the option process aimed at cutting 10% off the value of the project. 'Every item [to be changed] was scrutinised,' says Williams. 'If I could see it or touch it I would fight to keep it.' So the galvanised conduits stayed as did the higher spec flooring. Some things turned out for the better though, for example when the rain suppression system on the ETFE roof over the library was cut he lost the £7,000 annual maintenance cost which Ellis Miller highlighted.
He admits site meetings were 'boring'. 'But it was important we were there. There is always a worry that the architect's concern is for the final photograph,' he admits. 'But there is an interest in how it worked and last term the practice took a year 10 student for work experience, which is characteristic of the Ellis Miller approach.'
---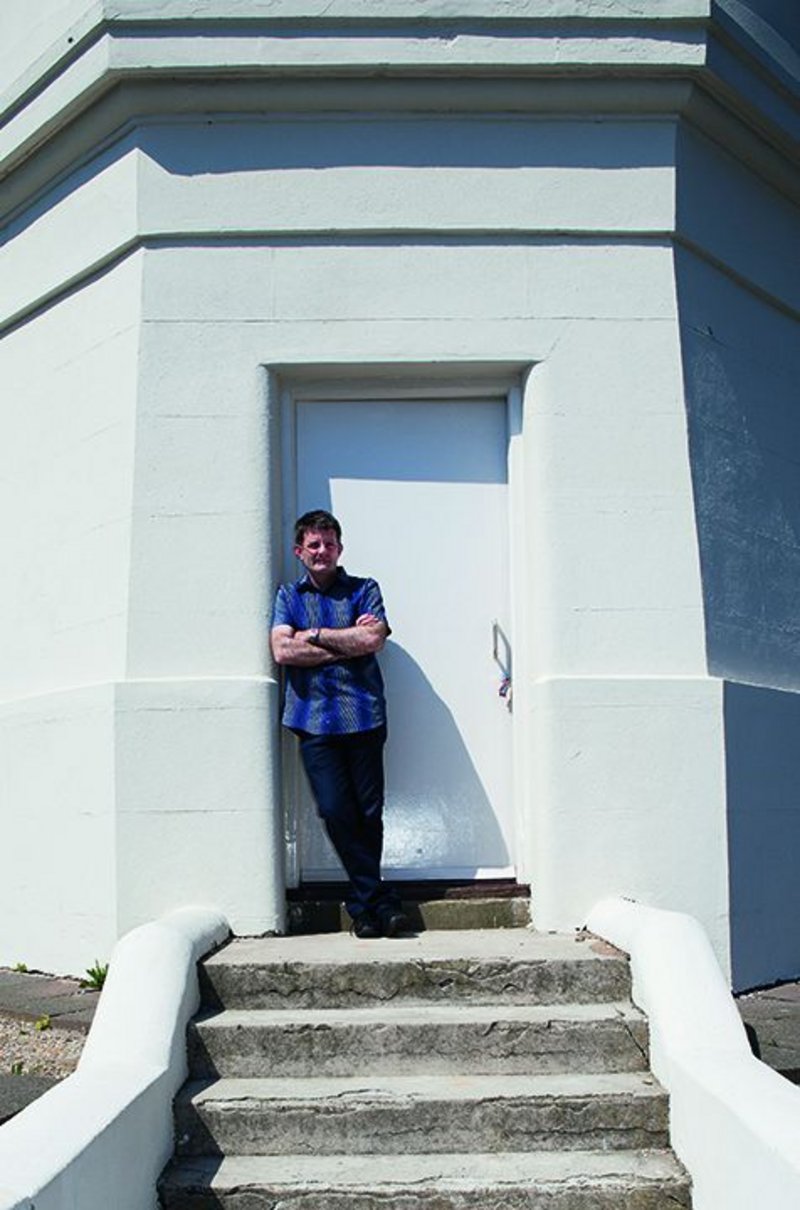 Landmark Trust
Mark Sharratt, head of buildings, Landmark Trust
The Landmark Trust is well known for its charitable reuse of old buildings as characterful upmarket holiday homes. Mark Sharratt joined six years ago after a long stint at the National Trust. As a chartered building surveyor he has a good selection of skills, as does his small team of surveyors. But architects are essential to the trust's work. 'What building surveyors don't have training in is design,' he says.
A professional team is engaged at the early stages of a project when a property is being sized up – they try to add three to five a year to the portfolio. 'It often starts with one person, who is normally an architect,' he explains. The practices, often small and conservation-focused, are known to Landmark but Sharratt looks for experience in certain styles and types, and practices with a local base, which can be important for more remote properties.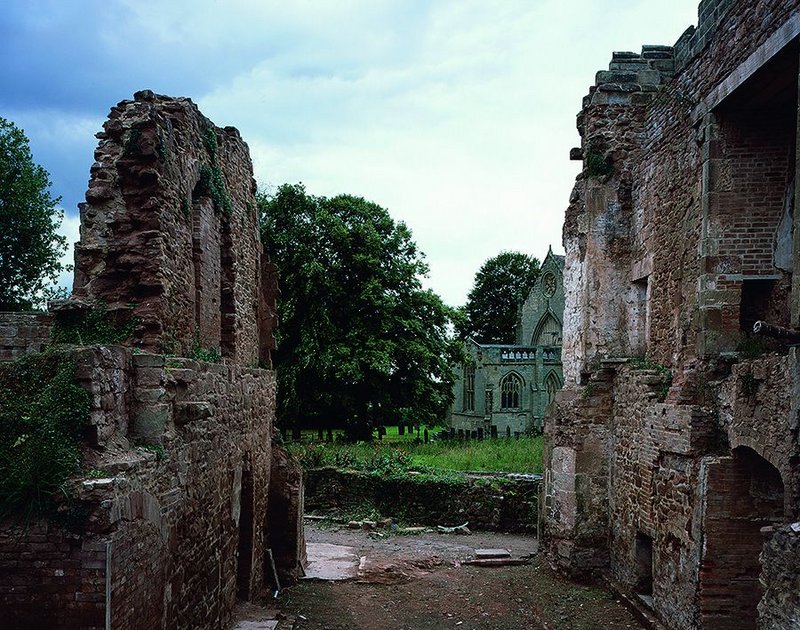 Astley Castle – the medieval hall (before).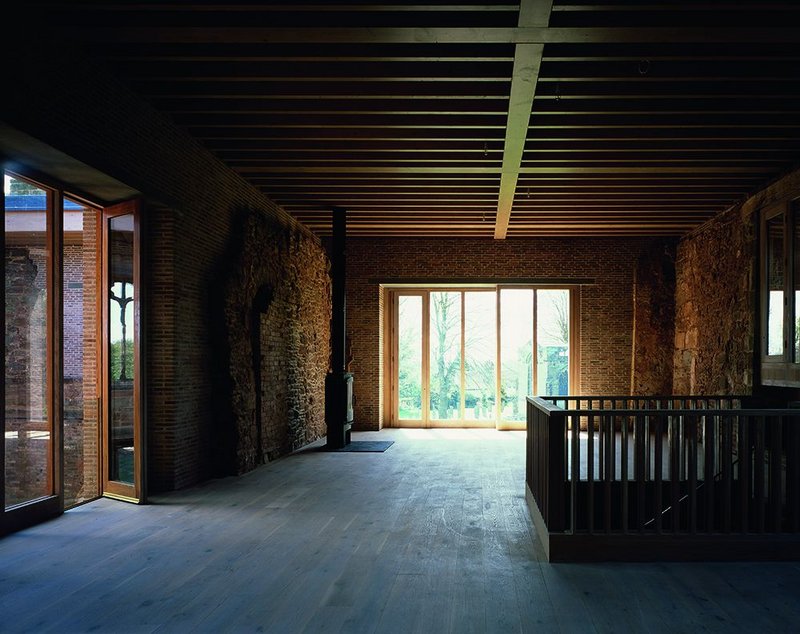 Astley Castle – the medieval hall (after).
'We are quite an informed client. That can complicate matters with any building professional because we think we know how to create a Landmark property'
Some have long standing relationships – such as Linda Lockett, who not only brings new houses into use as project architect, and sometimes as contract manager, but also keeps an eye on properties from Whitby to Hadrian's Wall from her base in York.
'We are quite an informed client,' Sharratt says. 'That can complicate matters with any building professional because we think we know how to create a Landmark property.' He does try and stand back to allow architects to do their thing.
That was taken to a whole new level on Astley Castle, Warwickshire. Won in competition by Witherford Watson Mann Architects it was ambitiously aimed at rescuing a ruin in such a bad state that just a few years earlier the trust had given up on it. 'The only way for it to survive was for us to look at it in a new way,' explains Sharratt. The practice was chosen for its design flair. It had no conservation experience but, says Sharratt: 'We were bowled over by the way they responded to the historic building'.
Lingering doubts were eventually quashed after the two top-lit courtyard infills were proved not to be 'superfluous, expensive structures' as feared but critical to the conservation and experience of Astley – protecting the internal wall, tying in structures and referring back to the house's history using light filled spaces.
Stephen Witherford of WWM is just as positive about the relationship. 'We value the people we have worked with on building projects very highly,' he says. 'Our schemes to date have tended to be for extremely ambitious organisations who have limited means, many of them being charities. Amnesty International UK, Whitechapel Gallery, Arts Council England and Landmark Trust might all be characterised by this. In each of these projects we have been part of a process of helping the respective organisation to re-imagine itself through the act of adapting existing buildings.'
'This is very challenging (it draws out peoples' fears and doubts by necessity) as all parties involved are undertaking a process where the answer is not defined or known at the outset. The faith each of these organisations have shown in an idea is utterly remarkable.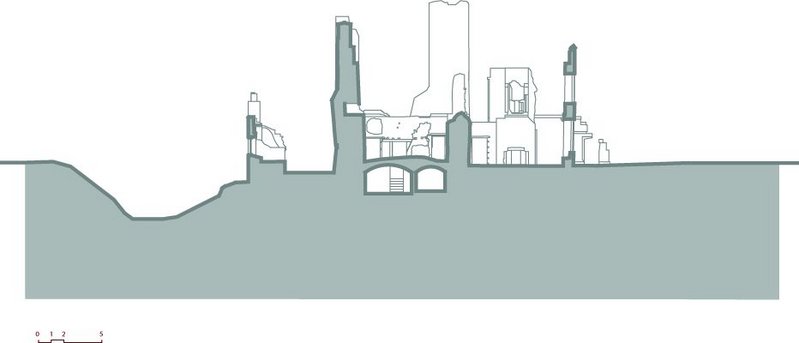 'On Astley Castle, Landmark was at the mercy of the competition route,' he continues. 'It was a real culture change. All the way through it felt like an unfamiliar process that went against the way things were done traditionally and in many ways it was uncomfortable. As an organisation the trust normally takes a lot of control over what it does. This was also effectively new build which is different for it. But this has given confidence in a different way. It has brought the trust a renewed interest as well as the loyal following it already has.'
WWM is now looking at possibilities for Brighton's idiosyncratic Pepperpot building (right). It is quite a challenge as it stands, intact but basically an engineering building never designed as a house, holiday or otherwise.
The trust owns just one truly modern house, Anderton House in Devon. Its architect Peter Aldington was instrumental in saving it and continues to be involved; offering advice on replacement taps, helping source and place grilles for a new heating system and generally acting as a knowledgeable friend. A recent visit with him to Astley Castle made it pleasingly plain to Sharratt that the relationship with WWM would not end with final completion. 'We are custodians of all these buildings,' says Sharratt.
---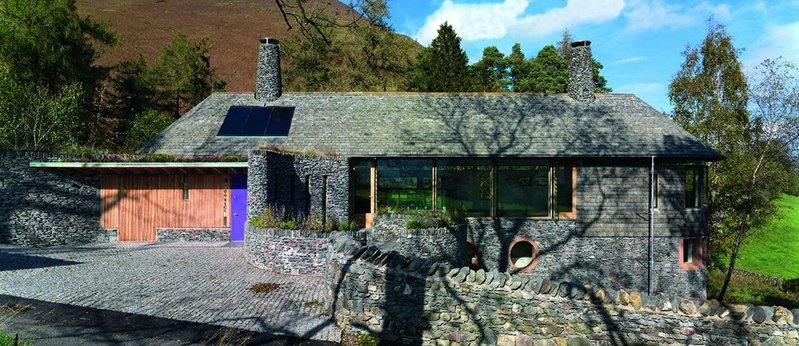 Searching for a winner, client Charles Carter found Knox Bhavan to design his Lake District getaway.

Credit: Charles Hosea
Rigg Beck
Charles Carter, homeowner
'The hardest part was finding an architect,' says Charles Carter. Five years ago, when he bought his site in the Lake District, complete with a derelict ex-hotel known locally as the Purple House, his concern was neither getting planning permission from the National Park for his new home nor the sloping site. It was finding an architect he thought would design the building that he wanted and would eventually live in. 'I had always thought I would like to build my own house,' he says. 'Before Kevin McCloud and Grand Designs,' he adds.
Before he started the hunt for an architect Carter wrote a brief. 'It said what I wanted in functionality and the constraints I wanted to work to,' he explains. These included doorways high enough for his two tall children and brother-in-law to get through without ducking. 'It said very little about design constraints or what the house should look like, except that you should be able to look at it the first time and not really notice it but the second time you'd say "blow me, that's different".'
Then how to find an architect? After investigation he rejected the competition route as taking control out of his hands. Then he approached local Lake District architects. But to him they all felt too constrained by the local planning authority and with an emphasis on traditional, conservative designs. Having talked to the National Park he felt reassured that if presented with a robust innovative design they thought was deliverable they would be able to accept it.
So another route was needed. 'In the end I found every possible award from RIBA to the Wood Awards and the crossover winners and nominees made up my list.' He further distilled the 60 or 70 practices that this produced by visiting practice websites. 'And half the websites I didn't like,' he says. Of the shortlist of eight some didn't sound interested but he sent the brief to five practices. 'And that woke them up – they must have thought this chap has thought about this quite hard.' After advice from a veteran client of the process he decided he wanted a practice that could do concept and detail and ended up appointing Knox Bhavan Architects.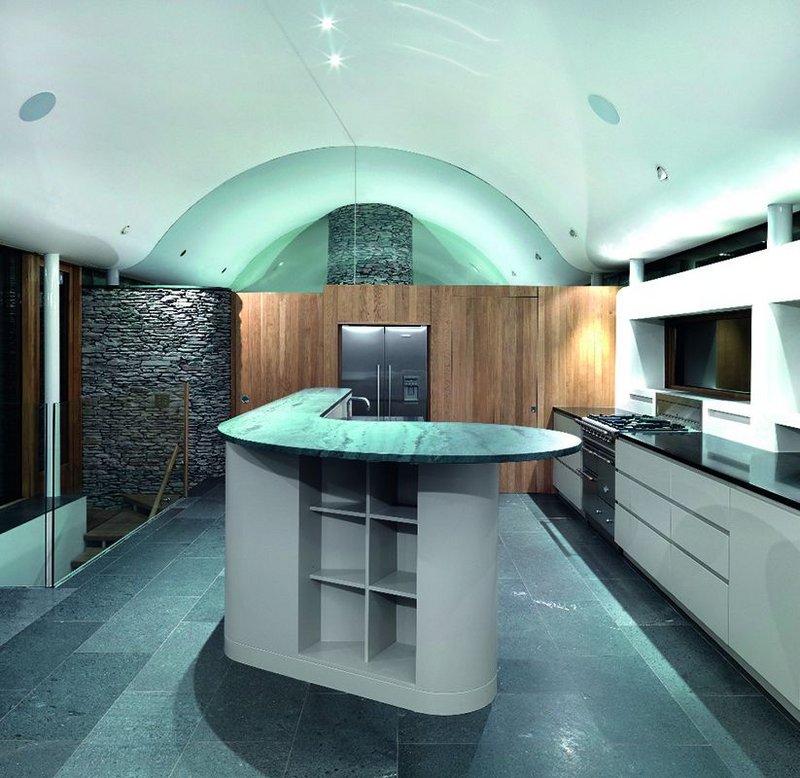 'There were times when we said we don't that and Simon said no we need it this way. And when he stood his ground he was right. There was no conflict, just a discussion'
'Charles is a very informed client, and certainly did his homework at the start of the project,' says partner Simon Knox. Various iterations, planning, value engineering and planning again were all 'straightforward' says Carter, and there is a sense of enjoyment at sitting with Knox in front of sketchpad talking about how things might work.
'Charles was present at almost every meeting on site too, so he's been the full distance,' says Knox. Carter himself judges his involvement to have been the right level. 'There were times when we said we don't want that, and Simon said no, actually we need it this way. And when he stood his ground he was right. There was no conflict, just a discussion of what was right and wrong.'
The process though has been marred by the contractor demanding more money and taking it to litigation. 'Appalling,' Carter says with feeling. But he would do it all again – with different people in hindsight, although he wouldn't change the architect. 'Basically we are delighted,' he says.
---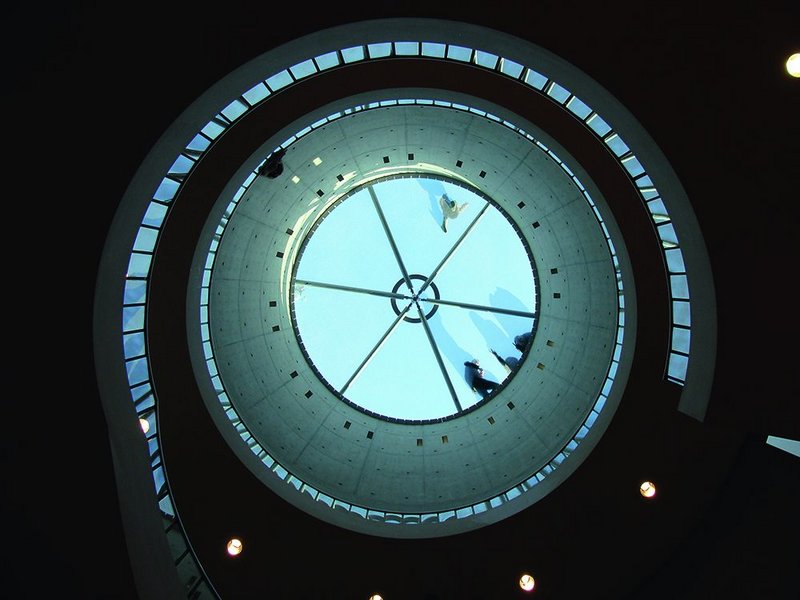 Liverpool One Rotunda.
Grosvenor plc
Ian Morrison, development director
Having been a developer since the 18th century, there's little that Grosvenor doesn't know about property, the architects who design it and the users who lease it. The company holds assets worth £2.2 billion in the UK and Ireland, over 90% of which is locked up in London property. This puts Ian Morrison, Grosvenor development director for Mayfair and Belgravia, at the sharp end of that economic wedge.
'We are attuned to embracing customers' demands in a rapidly changing market,' says Morrison, 'And that means making each building in our diverse portfolio bespoke, with no such thing as a house style – we always want create a differentiated product in a competitive market.
'For the most part, we're keen on the long-term relationships we've developed with a core of firms who have delivered previously for us and who therefore understand our markets,' he says. He lists the likes of Paul Davis and Partners, BFLS and Squire and Partners; but with the company also dipping its toe into competitions, Morrison adds that it's been looking to firms like AHMM and FCB Studios to see if they can deliver a more niche product that still fits the brief. 'We're keen to use practices that explore new spatial approaches, materials and detailing, but who are aware that they need to get the design right,' he says.
That said, architects are very much positioned by Grosvenor solely in the design realm – they are never appointed as contract administrators on projects.
Architects are however charged with ensuring that developments prove themselves to the market on sustainability terms. The mixed-use Grosvenor Place in Belgravia – a joint venture with Derwent London – and HOK's Davies Street are projected to be BREEAM Excellent developments.
Morrison cites Grosvenor's involvement in developments for provincial cities, where distinct approaches were originally called for, saying: 'For big regeneration schemes like Liverpool One, we really had to concentrate as much on the idea of placemaking between the buildings as the buildings themselves'. This aspect has become very much part of the firm's London developments. Morrison adds: 'Rogers Stirk Harbour's NEO Bankside development included a massive placemaking component – all driven by RSHP's own bar of design quality. We know that it drives value on sites.' It's this same commitment to placemaking that Morrison hopes will evidence itself in its upcoming developments, by Studio Egret West, Glenn Howells and Allies and Morrison in Oxford and Cambridge, all in pre-planning.
---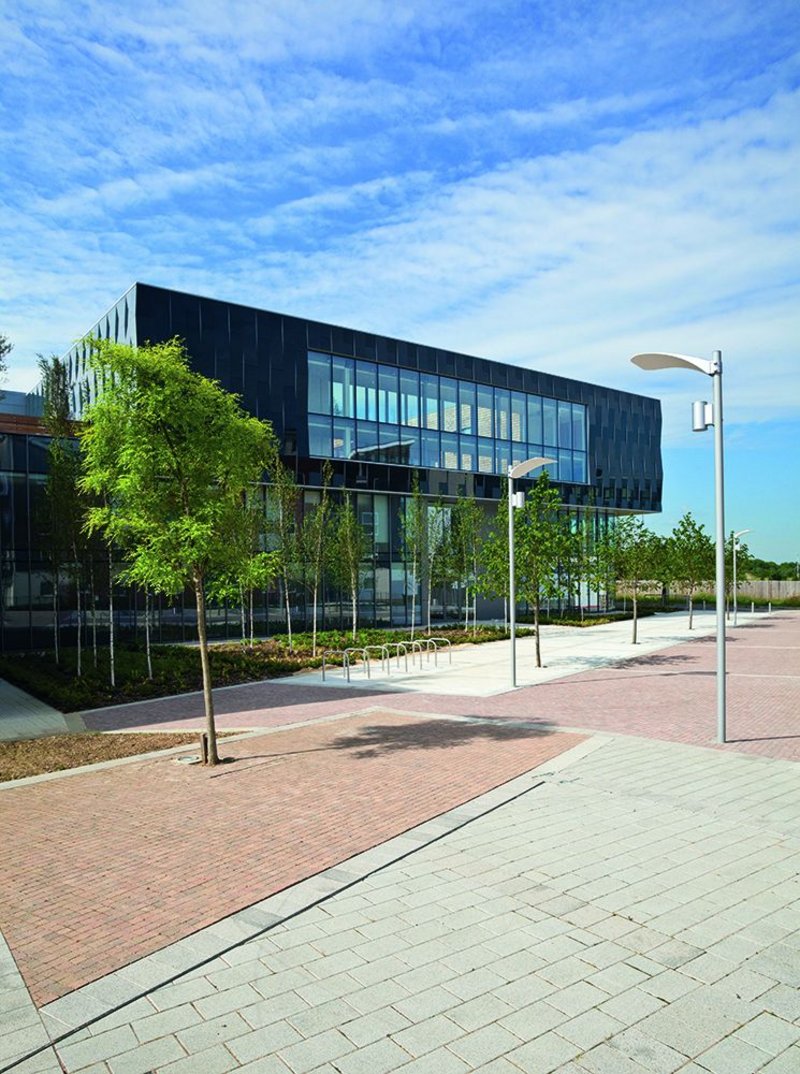 Approach to the main entrance at the New Circle Reading Hospital.
Circle Partnership
Dries Hagen, head of format and design
When Europe's largest private healthcare partnership Circle wanted to create a niche identity in a competitive market, it looked to its hospitals as its most powerful brand statement. In 2010 it opened Foster+Partners' groundbreaking concept hospital, Circle Bath.
But as Circle head of format Dries Hagen explains, what the partnership most wanted was a construction method that could be replicated across the country. With a long-term strategy of 20 or 30 hospitals, it was keen to provide the same sleek formal look and environmental quality, but at significantly lower cost. Hence the recently opened Circle Reading, which at 11,000m2 is nearly twice the size of its sister hospital, but costing £23 million was only £6 million more than Bath.
'We realised that, with our hospital model, good design wasn't about higher cost, but about efficient management and procurement,' says Hagen. 'We wanted to see how this could be achieved.' A fortuitous meeting with partner Mark Wood of architect Brydon Wood at a buildoffsite event gave Circle the steer it needed. 'We were impressed with Brydon Wood's integration of architecture, structural and services engineering under the one roof, along with its specialisation with design for manufacture. They convinced us this could be achieved for Reading and beyond.'
Brydon Wood's spatial bubble diagrams, used to visualise the programme requirements, were formalised into a modular template that became the model for the firm's system builds. Its prefabrication expertise was fundamental to ensuring the efficient procurement of the building's structure, cladding and internal fit-out – opting for a steel structure but pre-fabricated concrete floors. 'Brydon Wood used a hybrid structure – the steel worked to minimise impinging on floor area and the concrete worked for vibration issues,' says Hagen. Hagen was impressed with Brydon Wood's proactive approach, its pushing of pre-fabrication and organisation of supply chain delivery. 'We wanted the construction site to resemble an assembly line, and it did', he says.
---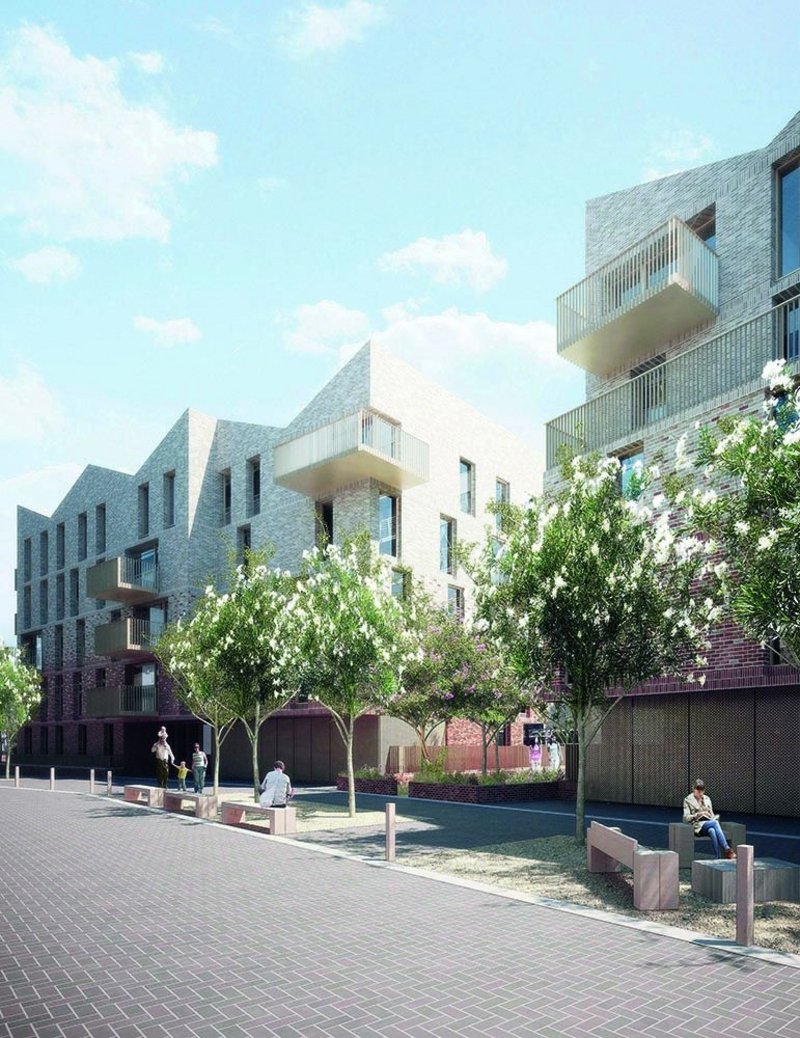 Duggan Morris at Brentford Lock where Igloo picked an exciting three-practice team.

Credit: Duggan Morris
Igloo Regeneration
Chris Brown, chief executive
With investments in pensions, life and charity funds, Igloo manages projects and money for other people either directly or through Blueprint or Isis with British Waterways. Chris Brown is not involved in running individual projects but plays an important role in the set-up. 'I help get a good process, make sure of the quality of the architects on the shortlist and get involved in design review and design workshops at key stages,' he explains.
He likes to get close to the real work of practices and found his stint as RIBA Awards judge in the North East really valuable. 'You learn a huge amount and find out who is doing what. I spend a lot of time working out which are the good younger firms,' he says. 'We like to move the them up a notch.' But the strategy is not philanthropic. 'Typically our industry takes a safety first approach. But the architect's lifecycle seems to be working in a larger firm, the striking out on your own and learning the trade. The buildings get better and better and that is a really creative period.'
Igloo was set up 10 years ago and its footprint policy set out its values and aspirations as a way to measure its activities. Design is one of the legs of that with architect George Ferguson on board to help. Of course, Igloo also measures itself against the market. Brown sees sustainability has improved but design has fallen back. 'It does cost more in fees,' he says. 'We have done very well through recession but design is particularly important in hard times – it gives you a competitive advantage with customers.'
So how does Igloo select its architects? Its project at Brentford Lock last year was fairly typical with a short sharp competition that drew on invited practices. But in this case the winning architects – Duggan Morris, Riches Hawley Mikhail and Karakusevic Carson – broke the rule of each working on an individual element and collaborated. It excited Igloo, though it brought inherent complexities.
Igloo's current work is smaller residential projects mainly – The Botany in Glasgow (Nord) or at Islington Wharf in Manchester (JM Architects). It also has a 'really beautiful' reinterpretation of Tyne flats in Newcastle designed by Ash Sakula. 'The recession is creating lots of new practices,' says Brown. 'Keeping up with that is harder and harder.'
---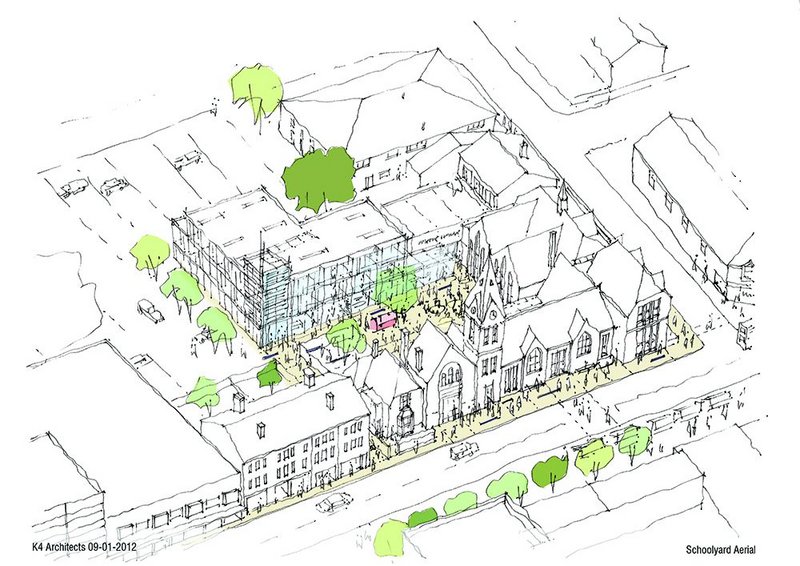 School Yard, Harborne: piecing together a scheme needs a certain skill.
EDG Properties
Neil Edginton, managing director, and main board member, Cube
'We try to think differently. We haven't got a model that we churn out,' says Neil Edginton. His track record includes two of Birmingham's mega projects – the Mailbox with Associated Architects and Make's Cube. In between Edginton slotted in Fort Dunlop in collaboration with Urban Splash and brought back to life by shedkm. Now he is on site in Stratford-upon-Avon with two holiday homes and working on proposals for the School Yard in Harborne, Birmingham, where a restaurant, homes and a cookery school will cluster around a new square.
On both the latter he has chosen to work with K4 and its director Bob Ghosh. 'For the Cube we had six invited architects and if there had been a second place Bob would have got it. There is real talent there,' says Edginton. After a few masterplans that didn't go anywhere Edginton still knew he wanted to work with Ghosh. The smaller more complex projects drew on his experience with older buildings (and the scale of architects' fees Edginton felt fitted the project). Plus Ghosh knew Harborne – it was his old neighbourhood.
Ghosh also bought the first property in the School Yard well before the project went on site. Edginton is pleased with this personal endorsement. 'It was the same at the Cube where the project architect bought the first flat – we are going to have to make it a rule.' And he likes to use architects' creativity. 'They train for years. It frustrates me when clients want to do the drawings. We try to work with the team and pick out ideas from those around the table,' he says passionately.
But valuing architects' input doesn't mean he gives them an easy time. 'We're demanding. Our expectations are really high and we live and breathe a project, we don't just turn up to a meeting every month.' He can act as both a client and a contractor on complex jobs – it started when no main contractor wanted to touch the Cube. Design and build is the order of the day and architects are novated to his contracting arm, Buildability. And yes, they do appoint an employer's agent.
'It is a bit strange when they are talking to contractor and client – which are both me,' he admits. 'But when it comes to certifying completion we need someone independent for funders and tenants,' he says.
---