Hufton and Crow's take on Zaha Hadid's swooping Heydar Aliyev Centre in Baku, a building with a mighty quiff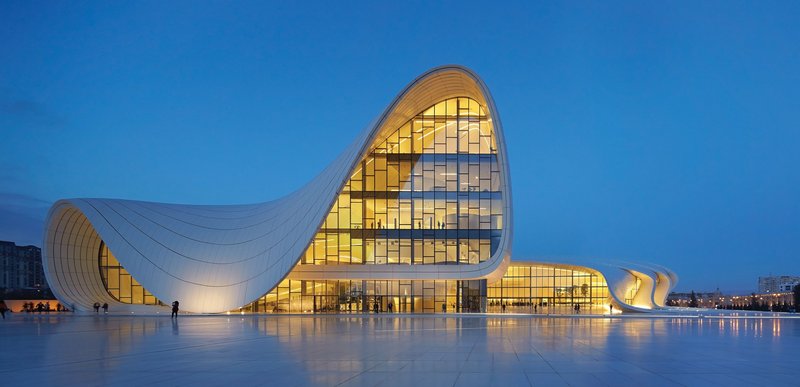 Heydar Aliyev Centre, Baku, Azerbaijan.

Credit: Hufton+Crow
Why is photographer Nick Hufton is so enamoured with Zaha Hadid's curvaceous behemoth in Baku? He could, after all, have chosen any photograph at all from a portfolio of images that would seem to be a roll call of Britain's best architects and architecture. It turns out that the reasons are predicated on its photogenic nature. 'I love the centre's depth, the reflectivity of the floor and cladding and how, with its curves, it's constantly modulating and changing as you move around it – it's more of a sculpture than a building' he says. But there are more subtle things about it that only an experienced photographer might pick up on. Like the dull ­yellow light off its huge expanse of glazing, set against a clear sky. 'Yellow and blue can be difficult colours to photograph together, but here they work wonderfully,' he notes, like he's observing the phenomenon of Goethian colour theory.
With its curves, the building is constantly modulating and changing as you move around it
Some might think that the centre's functions rattle around inside a shell that's far bigger than its programme, but Hufton recognises that the bigger story is about how a country markets itself to the world; and in that way, perhaps there is an affinity of intent between the subject and the image-taker. Hufton has known business partner Al Crow since junior school – they both choose to live out of the rat race with their families in the same town in Hertfordshire, and from 2002 they beat down architects' doors with postcard packs of building images, speculatively shot, in order to win commissions. Twelve years later, the business now comes to them – their ongoing work with Apple even tided them through the lean years of recession. 'We're just two mates that take photographs together,' says Hufton affably. Perhaps; but like Hadid, you sense method behind the madness.