Adam Richards quotes historical references in a modern language in his development of Walmer Castle's grounds and facilities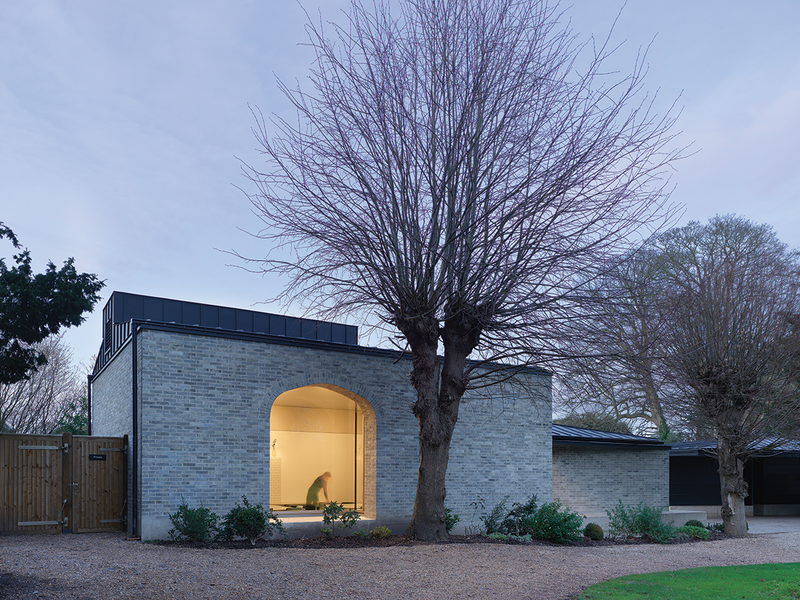 Pale bricks on a concrete plinth tie together existing brick wall and the rag stone of the castle.

Credit: Brotherton Lock
Walmer Castle was constructed in 1540 by Henry VIII to defend The Downs, a stretch of the English Channel off the east Kent coast. It has a quatrefoil plan with four semi-circular bastions around a central, taller tower, all set within a deep moat. It is a muscular, imposing structure offset by domestic insertions following its conversion into a residence, first in the mid-18th century but with notable later interventions by the Victorian architect George Devey.
The resulting interior is deeply bizarre, a Georgian house stretched and squeezed into a very unconventional plan. An elongated cross-axial corridor connects the main rooms, their formal arrangements clashing with the curving outer walls. 18th and 19th century domestic furnishings sit alongside deep reveals originally intended for canons. It is like an unintentional satire of the English officer class, as if tea and cucumber sandwiches would continue to be served mid-battle.
The battles never came and Walmer Castle is now the official residence of the Lord Warden of the Cinque Ports, a largely ceremonial position previously held by Lord Wellington – who died in his sleep here – and, more recently, Queen Elizabeth the Queen Mother. Like much former government property it is now run by English Heritage and is open to the public.
When English Heritage became a charity in 2015 it was granted a 'dowry' of £80 million to spend on capital improvement works. This money initiated a fundamental change in how the organisation commissions new building work. Head of National Projects Nichola Tasker saw this as an opportunity to be more ambitious and to employ emerging and innovative architectural practices rather than conservation experts.
Walmer Castle sits in beautiful grounds that combine both formal and picturesque planning. The gardens are popular and are busy with visitors all year round. Despite this, the existing café – in a windowless room at the centre of the castle – was unappealing and had no dedicated space for the large number of children and school groups that come to visit.
As part of its programme of investment, English Heritage commissioned Adam Richards Architects to develop a feasibility study for developing the castle's grounds. The resulting masterplan includes improvements to the gardens as well as several new buildings. Some areas of the gardens were previously inaccessible, including an area known as the Glen – a former chalk quarry. Dead trees and vegetation were removed and a long, steep, timber-clad staircase designed by Richards now allows visitors to access the quarry's crater as a picturesque walk. Elsewhere, children's play equipment and interpretativesculptures designed by William Hardie have been added to encourage families to spend more time exploring.
Adam Richards has also designed a new learning centre, a garden café and public toilets, significant new additions given the sensitivity of the setting. These elements have been designed as three separate buildings grouped in a loose row to one side of the formal gardens. They extend an existing collection of buildings including a cottage – available for short stays – greenhouses and a tall garden wall that conceals storage facilities and service access.
The garden wall forms a datum for the new elements which have an external material language of purple/grey brick walls and zinc-clad roofs. The walls of the learning centre sit on a thick datum of bush hammered concrete that slides out from under the building at the edges to offer a generous wedge of bench seating. The brick above is both rich and mute: a dense, surface with joints of lime mortar that appear satisfyingly thick due to the slimness of the brick proportions. Tonally it relates to the rag stone of the castle, forming a bridge between that and the red brick of the existing garden walls.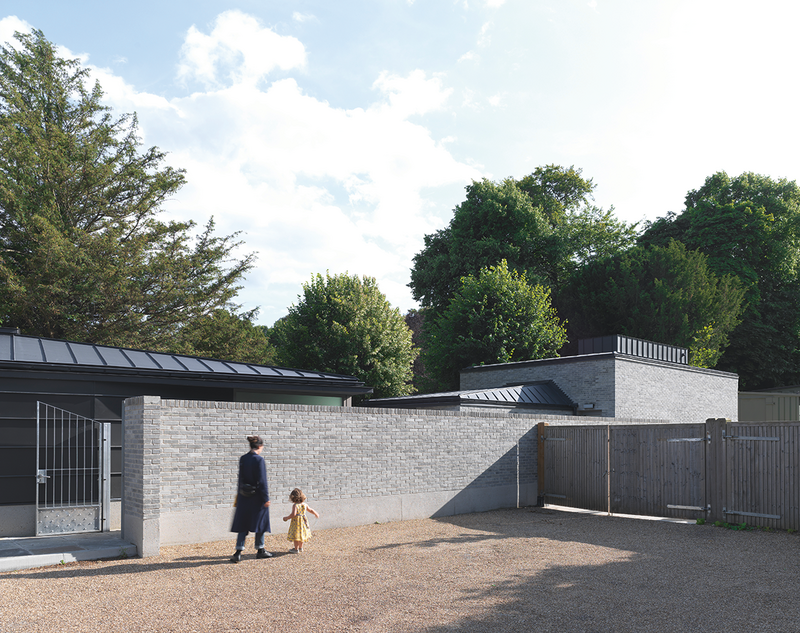 The buildings are positioned along the line of outhouses between the kitchen garden and car park.

Credit: Brotherton Lock
The roofs and the walls of the new toilet block are clad in standing-seam zinc, patinated to a dark bronze. The shallow pitches and wedge shapes recall Richards' own house Nithurst Farm in Sussex, as well as work at Ditchling Museum, the work that first caught the eye of English Heritage. His new insertions here are similarly well-handled, walking a line between low-key deference and a refined form of commentary on the setting.
The interior of the Learning Centre focuses on a large five-pointed arch that frames a vast picture window. The form of the arch refers to similar openings in the bastion walls of the castle, originally used as canon positions. Richards employs the Tudor arch here for less aggressive purposes but in doing so makes explicit a relationship between picturesque and military design and the fact that both are concerned with the control of views and territory.
Although this form of quotation and overt contextuality can be seen as broadly post modern, Adam's work avoids that style's more obvious mannerisms. This distance is accentuated in his interiors, which – both here and at his own house – are more modernist in material and feel. In the buildings at Walmer, a pared-back palette of exposed brick, timber tongue and groove cladding and polished concrete floors provides suitably robust interiors with subtly abstracted visual associations.
Adam Richards has developed a personal language that nonetheless draws extensively on historical precedents. At Walmer, what at first appear as almost arbitrary shapes become, on closer inspection, cleverly aligned and subtle acts of composition. The angles and inflections allow for the contemporary elements to defer to the historic ones in a way that seems fitting without being overly ingratiating. It is – overall – an exemplary piece of work, one that fulfils the client's brief to introduce sensitive but clearly contemporary modern architecture to its historic site.
---
IN NUMBERS
Contract cost £935,288
GIFA cost per m2 £3,425
Area 200m2
Credits
Credits
Client English Heritage
Building contractor Walker Construction
Civil and structural engineer, project management Historic England
Services engineer Martin Thomas Associates
QS Press and Starkey
Landscape designer LU