Lahdelma & Mahlamaki's museum for Polish Jews raises hope from the site of genocide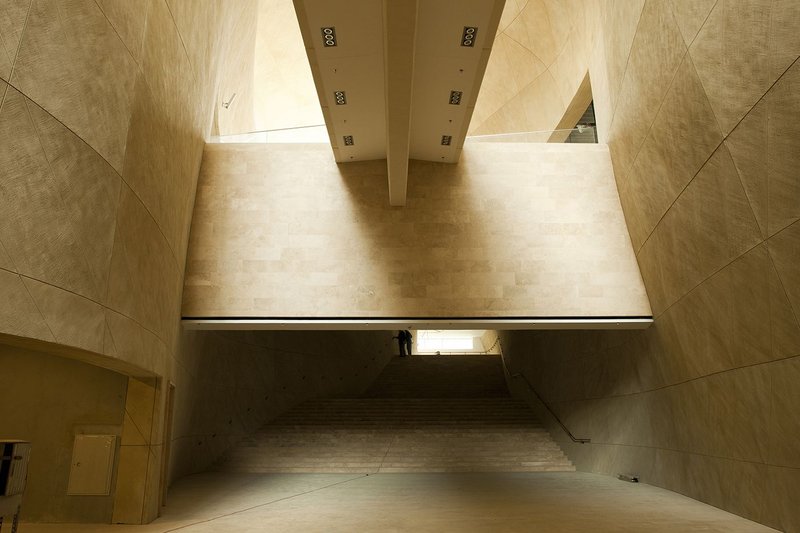 Bulbous curving concrete walls display a changing chiaroscuro of light and shade.

Credit: Juha Salminen
'A message of hope on the site of a genocide' is how one critic described the new Museum of the History of Polish Jews in Warsaw, which this month won the first ever Finlandia Prize for Architecture from the Finnish Association of Architects.
Designed by Scandinavian firm Lahdelma & Mahlamaki as a landmark of life and renewal on what was once a landscape of unremitting devastation and death, the 13,000m2 building is defined by austere, orthogonal glass and copper mesh facades. These conceal a spacious interior and a cavernous full-height main hall with bulbous curving concrete walls that divides the building in two.
The complex curving walls display a changing chiaroscuro of light and shade and form an intrinsic part of the museum's cast in-situ concrete frame, as architect Professor Rainer Mahlamaki explained to the RIBA Journal: 'The load bearing structure inside the walls is a steel frame made of prefabricated steel tubes, which provide support for the floor slabs and curving roof structures. The most demanding aspect of the walls' design is that they are not merely a mask suspended from the building's concrete frame. A combination of visual design and statics defined their shape. Both sides of the steel frame were covered with sprayed concrete and a sandstone pigment applied to the surface to create colour.'
When developing its design, Lahdelma & Mahlamaki named the space 'Yum Suf', which translates from Hebrew as 'Sea of Reeds', after a passage from the bible describing Moses' parting of the Red Sea. However, since the building's opening, other more emotive and symbolic explanations have been put forward, including one interpretation that the space describes the many cracks in the history of Polish Jews. 'I let each person solve this by himself, it is not the architect's duty to give answers but to create possibilities for visitors' own interpretations,' said Mahlamaki.
---