Cullinan Studio's National Automotive Innovation Centre at Warwick shelters a raft of activities, from teaching to industry and research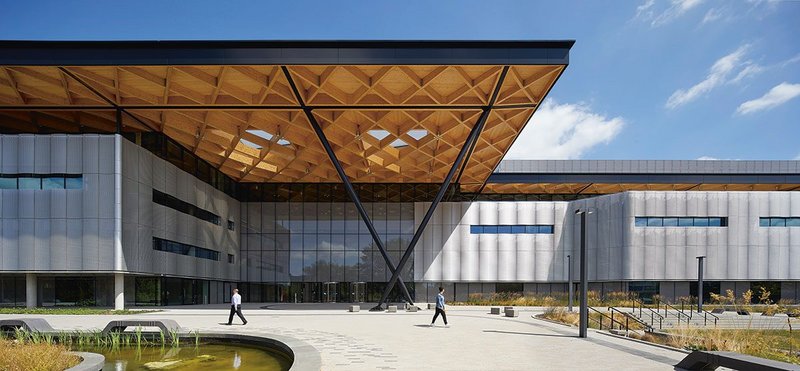 You certainly know where the entrance is – the NAIC's roof extends into a full-height porch.

Credit: Hufton + Crow
The National Automotive Innovation Centre at the University of Warwick is not anyone's idea of a conventional university faculty. That is because it isn't. Instead, it is a hybrid of industrial building, university faculty and automotive research centre. It is also the largest single object that http://cullinanstudio.com/http://cullinanstudio.com/ has ever completed, the latest in a series of buildings and public spaces that the practice has made at Warwick since 1992.
These now form a cluster, almost a campus within a campus for the Warwick Manufacturing Group or WMG. Founded in 1980 by the highly entrepreneurial engineer Kumar (later Lord) Bhattacharyya, the WMG is beloved of politicians of all colours as a bridge between academia and industry. Bhattacharyya himself died in 2019 but the project continues and the NAIC is named after him.
Its enormous oversailing timber-lattice roof forms a Cyclopean entrance porch via two full-height slender angled steel columns. Who said modern architects can't make a proper entrance? This is the grandest of grand porticos, set on a confluence of routes across the overall campus. The roof, engineered in glulam and CLT by Arup as a diagrid, sits over a very free plan inside. It is one of those buildings – a bit like Foster's Sainsbury Centre – that could have been conceived as a group of smaller units but instead opts to put almost everything into the one large hangar. Almost, because there is a tail, a narrower wing that makes the whole complex into an L shape though on the ground this is not immediately apparent: the public facade with its sinusoidal perforated-aluminium cladding runs the full length of both wings. Round the back, where the building steps in sharply, is very much a back-of-house service area devoted to vehicle and materials movements.
There is a pedagogical as well as industrial-efficiency reason for this all-in-one approach. Research and development, design and prototyping for two manufacturers (Jaguar Land Rover and Tata, members of the same group but fiercely competitive and independent in outlook) is here an object of study for students and academics destined for a career in the automotive business. Two areas of the building are devoted to student learning.
The University of Warwick is famously not in or even particularly near Warwick, being sited on the outskirts of Coventry. Coventry is at the heart of the Midlands motor industry where many new automotive buildings have sprung up in recent years. This one is at the front end of the process: here automotive ­futures are brainstormed. Although in the design studios (if you are lucky enough to be ­allowed into these deeply confidential areas as I was a few months back) you will find relatively conventional full-scale clay-modelled cars as well as some impressive computer graphics displays, a lot of work of the blue-sky kind is going on. We are, after all, in the throes of a new industrial revolution. The ultimate aim here is 'zero everything' – mobility with no accidents, emissions or congestion, but the process of getting there needs to speed up. So the original brief from those manufacturers was to provide a centre that would halve the time from idea to production. This is vital not only for the brands sharing the NAIC, but also the wider UK manufacturing sector.
It is organised in areas ranging from the wholly public (café at the front opening onto the entrance atrium) to those for initiates only (the twin design halls). But there is a large chunk of the building which blurs this distinction. This is called the 'collaboration hub' and is where common technologies are shared. This part defines your impression of the building as you enter, the somewhat 1930s-feeling layers of floorplate peeling back, with radiused corners, to make a ­terraced office landscape. The stair linking these terraces is itself designed with inbuilt terraces where people can stop and chat.
The overall impression is a not-quite-clinical coolness with a quiet hum of activity going on, people purposefully moving around. Downstairs, as you wait in reception, there's a bit of a tease: a glass wall looks into the large 'engineering hall' where vehicles are worked on. In full view? Up to a point: as in hospitals, screens are drawn round any vehicles of activities deemed to be confidential.
You might think you were entering a better-than-usual large corporate headquarters or even hotel but the more you delve into it, the less like that it becomes. Having a full-size vehicle lift and a rooftop terrace you can drive vehicles out onto, for instance. There's a complete mock-up car showroom, too. This is a building that can seem very factory-like, especially towards the rear, but it also borrows tricks from museums and performance venues, having a related need for movement of large objects and display. Natural light and ventilation are important, and every level has access to outdoor terraces. There is a separate rooftop world: some of it concealed plant and ranks of photovoltaic cells, some inhabited. This attic storey contains meeting rooms and a boardroom opens into a terrace at the front of the building, overlooking the grand entrance.
As the design progressed there was a continuing discussion with the relevant automotive designers about the building, says Cullinan Studio's senior partner Roddy Langmuir. At one point his client toyed with the idea of a more obviously styled external carapace, something that visually announced its vehicular design function. Large buildings, however, are not like relatively small cars with their streamlined compound curves and sculpted glasshouses. Moreover, the budget per m2 was relatively tight. The elevational studies finally crystallised into something fluid but not double-curved, rippling gently along. It is horizontally divided almost classically into three: bottom, middle, top. Behind it are walls made of prefabricated CLT 'megapanels'. The underside of the great roof shows that it is a composite structure, threaded with black-painted steel and held taut by shallow inverted bowspring trusses. Having the structural engineering on display is nearly always good but in this context has particular resonance.
Outside, the building has significant presence in a sprawling semi-rural university campus of inevitably variable quality and shifting scales. Inside the first impression is of a considerable generosity of space. The journey from public to private is curiously like a vastly-expanded version of a car dealership: swanky showroom and smartly-attired people at the front, moving to workshops, service bays and vehicle storage behind. It's all on a much more exalted level than that, and you don't find an academic function in that familiar typology, but there's an inevitable echo of that duality. Overall the feel is less 'university', more high-industrial, a typology seldom encountered in the UK but more familiar, say, in Germany where large family-run factories often have a strong design aesthetic.
It's also designed to be a necessarily adaptable building. What will the automotive industry become, as it adapts with speed to rapid change? The configuration you see here is deliberately capable of reconfiguration as desired. The only real constant, I would say, is that enormous Frank Lloyd Wright-ish roof and that, if you know its history, is a very Cullinan thing to do.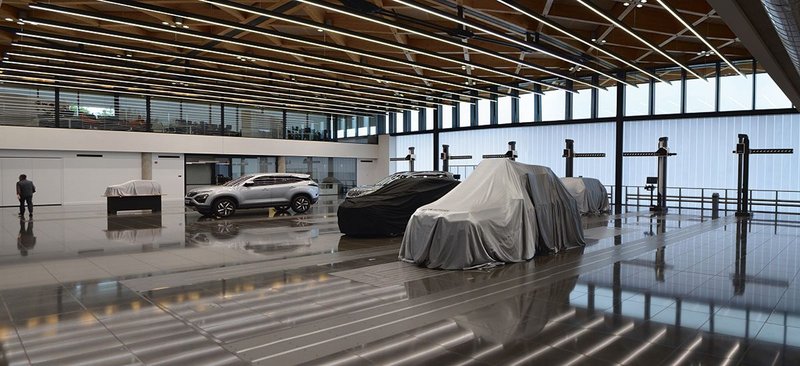 A rare view inside one of the two top-secret design halls (hence the shrouds) where clay models are made up to full scale.

Credit: Hufton + Crow
IN NUMBERS
£85m construction cost
17,800m2 site area
33,000m2 GIA
£2,575 cost per m2
6 Cullinan buildings at Warwick University
Credits
Client University of Warwick; Tata Motors; Jaguar Land Rover; WMG
Architect and interior designer Cullinan Studio
Civil, structural and services engineer Arup
Fire engineer Buro Happold and Fire Guidance
Acoustician Buro Happold
QS and project manager Rider Levett Bucknall
Planning consultant Turley
Contractor Balfour Beatty
Interiors fit-out Penson
Specialist lighting Arup
Signage/wayfinding Maynard
Landscape architect Grant Associates
Suppliers
Timber roof and mega panels Rubner/BinderHolz (timber supplier); B&K Structures (assembly subcontractor)
Concrete frame Northfields
Aluminium expanded mesh cladding Kingspan Benchmark (supplier); Speedclad (subcontractor)
Curtain walling Kawneer (supplier); Continental Glazing (subcontractor)
Resin floors Sika
Extra heavy grade design studio flooring Lindner / Domus Tiles
Glazed partitions Planet Partitioning