Between too much and too little, Caruso St John gives Damien Hirst a big white box for art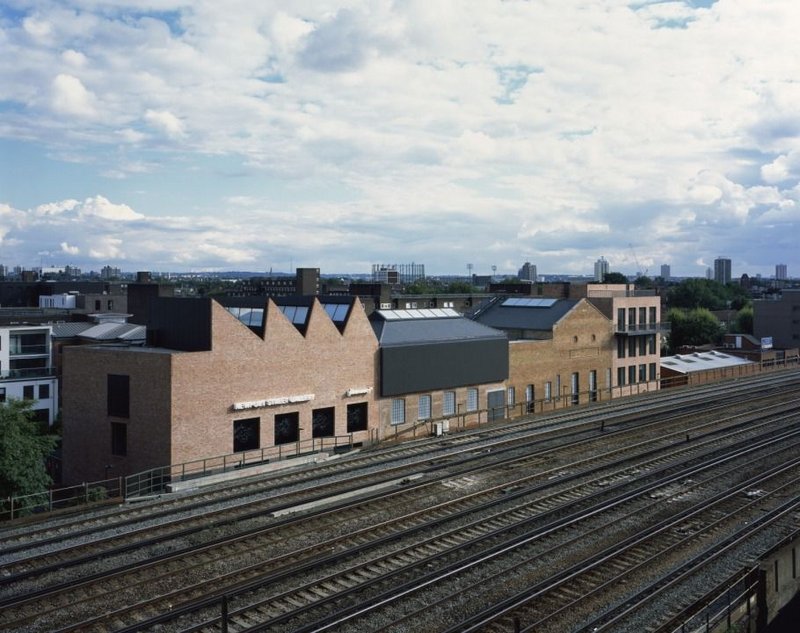 I don't know why but it seems to me that Peter St John, heading up our press tour around Caruso St John's newly completed Newport St Gallery in London's Vauxhall, is feeling a bit sheepish. And that's not merely a pun on the fact that he's been working in the shadow of his client Damien Hirst for the last 10 years – a man who became one of the richest artists in the world by slicing up, embalming and exhibiting dead farm animals as art. No, I get the feeling that as he's taking us round the £25m, 3440m2 gallery, he is for some reason having to convince himself as much as us about the design. It would be understandable. Just as Hirst has created a business, with employees producing the art while he controls the process so that it's not even his hand at work (his 2012 show 'Two Weeks One Summer' attempted that and was almost universally panned by critics), there's a palpable sense of his overarching influence on the gallery too. The man has made millions drawing deeply from his own nihilistic philosophy on life and death to produce some of his best work; perhaps one should expect that, while no doubt reaping rewards by association, any attempt to generate an architectural space for such an ego might end feeling like a Faustian pact.
Running along a railway viaduct going in and out of Waterloo, Newport St has housed Hirst's studio since 2002. He was drawn to the three 1913 former painting sheds for London's theatre sets by their sheer height – one space is over 11m tall. But, with studios elsewhere in the city as well as back home in Devon, at some point he saw potential for expansion along the street and a chance to use the vast space for a bigger endeavour – housing his private art collection of over 3000 works from Picasso, Bacon and Koons to fellow Young British Artists. It could also act as his de facto HQ, squeezing in his resuscitated 'Pharmacy2' restaurant and cocktail bar as a hedonistic foil to all that obsessive death stuff. The bar turns out to be this place's most kicking space; as if despite filling the hold with works shoring up his assertion that we're all going down, he's making damn sure the band keeps on playing regardless.
The new Newport St Gallery, restored, reinvented, extended, is the result of Caruso St John's involvement on the project since 2004; even from a passing train you'd be able to grasp that the block now takes up a significant portion of the street, the firm's two sizeable new four storey buildings bookending the existing three.
Their layout has allowed the creation of a large reception area, restaurant above and gallery at the north end of the street, five new gallery spaces over two levels in the existing blocks and Hirst's admin offices over three levels above a gallery shop at the south end. St John seems keen to emphasise the respect showed to the existing warehouses. It's true – the firm has done nothing to upstage what is there, creating low-key but distinctive semi-industrial facades of Midland stock brick, some on a Belgian engineering brick base. What's more, use of lime mortar means there are no expansion joints interrupting the clear runs of Flemish bond brickwork. Together it creates a naturalistic ease only attained through fastidious sourcing and detailing. To counter this understatement, Caruso St John gave the north block a serrated roof, the eccentric saw tooth north lights to the upper gallery referencing a fictional past, both of the new block and old site. This should arguably be the element that most jars on the facade, but it isn't – that quirk's left to the original windows and doors in the existing buildings, which for reasons only made evident internally, exude an unease that, for now, you can't quite put your finger on.
To understand why, one needs to go back to the building the architect inherited, and what was being asked of it. St John recalls that the structure was barely able to support itself, let alone the 150t/m2 loads being demanded, so a massive steel structure was constructed inside it, taking its own load and stabilising the existing. The brick walls remain but these are now braced in steel with large service ducts riddled alongside. Coaxed out after a little questioning, St John recalls the beauty of the original structure before the new was inserted and seems to feel its loss, with the real building hidden behind hundreds of square metres of white plasterboard. This might have created dramatic and simple spaces for displaying the collection but it's also uncompromising. Inside, St John points to where he thinks the old 6m high door is outside and it seems a strange gesture because he's used to knowing where everything is. It turns out most of the west facade's doors and windows have been covered with plasterboard to create hanging space – almost all the original openings, as seen from the street, blanked off. That's what's odd about those original windows – you're intuiting a dead facade.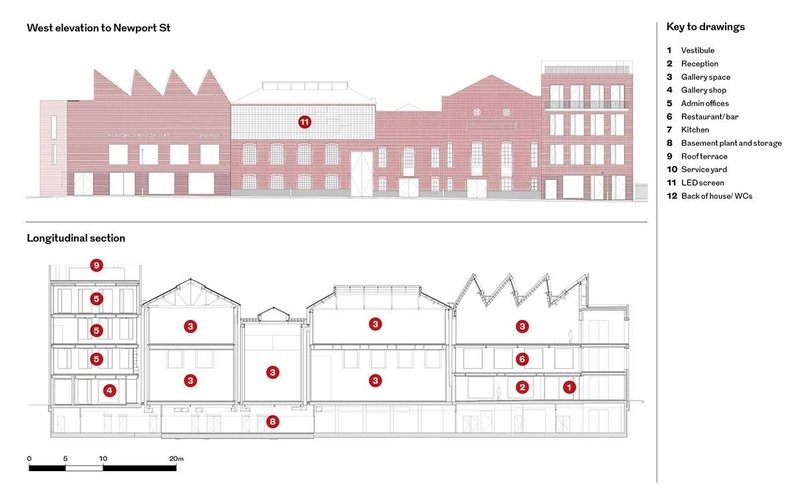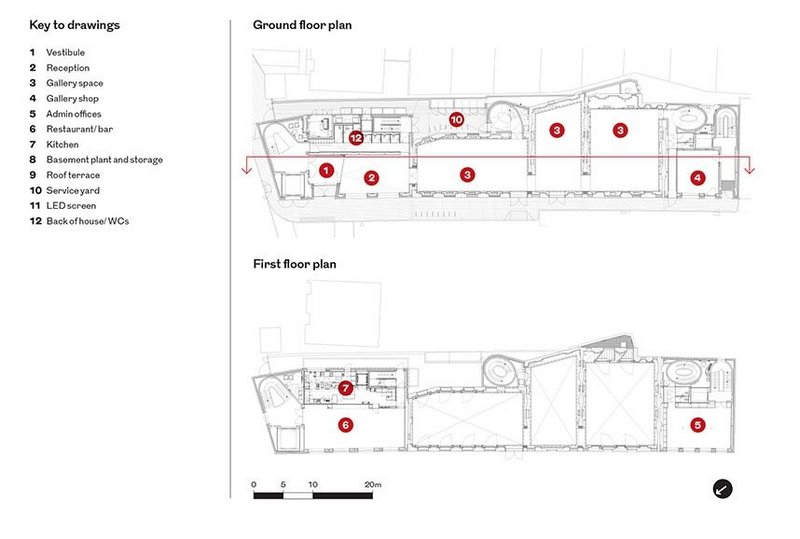 St John seems keen to move to the staircases and you can see why – it's here that the firm was allowed to do some real architecture – to create the civic and material gravitas it's built its reputation on, and on the surface, it doesn't disappoint. We're told it wanted to honour the memory of the original brick by creating three new, engineered curved staircases in the middle and at either end of the gallery spaces. St John recounts how the bricklayers ran piano wires down from a massive scaffolding frame to ensure the accuracy of the inner face of ghostly but beautiful white engineering brick; this so that the pre-fabricated, digitally cut oak stair and balustrade could be inserted later. A crisply detailed brick soffit with a central elliptical rooflight cut out of it seals the shafts' top, and running up to meet it eagerly, is a stunningly smooth precast, digitally moulded recessed concrete handrail, whose installation must have challenged the bricklayers to the very edges of their abilities. What's not to like?
Perhaps it's because I'd expect a firm like Caruso St John to be looking to Sigurd Lewerentz and Aalto as inspiration that I'm reading the brickwork on those terms. Looking around its walls my eye was drawn more to the tiny slivers of cut brick, far smaller than the mortar holding them in place, created by the relentless passage of the handrail. That and the pre-fabricated flat concrete soffit panel, bricks all hanging there implausibly, defying their own material truth. Looking around I found myself asking Louis Kahn's eternal question, 'What does a brick want to be?' and concluded that in this case 'it's probably insitu concrete'. It's as if the firm expurgated its guilt at smothering three handsome brick buildings in cheap plasterboard by relentlessly hounding the brick details on the new stair cores to within an inch of their life (and budget); so while those monolithic sections are exquisite there's a sense that St John has robbed Peter to pay Paul.
Could the new blocks have all been galleries? Or the existing facade side repurposed as reception/ offices to avoid its 'dumbing down' to the likes of the set scenery that made its way out of those tall blanked off doors a century before? For Newport St these questions are now moot but they do point a finger at a client who has made a global reputation as art's enfant terrible and arguably did so by breaking the rules, still unable to break the cardinal one that lords it over the discipline – that the temple to modern art will always be a white box. Newport St – huge, white and light-filled is lovely for what it is but it treads the same old ground and in covering its tracks the architect must know it shirked a braver vision – one of raw steel and brick questioning the context of how art is viewed and perceived. Ruing the loss of the site's original fabric instead has seen it overcompensate with the new – the overtness of the former and obsessive nature of the latter; both oddly resulting in a similar smack of artifice.
But as a result Hirst has the display space for his collection – acres of it, in what's likely to become one of the most talked about art galleries in the capital. Perhaps Newport St is his wry metaphor for modern society, life and death anyway: the bulky LED screen hanging off the west facade alleviating the commuters' daily grind is a superficial layer adding to Caruso St John's – high tech, alluring, perfunctory. Perhaps, as the building's former guise attests, all the world's a stage and we have our exits and entrances. Or not, as the case may be.
---
Credits
Client Science Ltd
Architect Caruso St John Architects
Structural engineer and conservation Alan Baxter and Associates
Services consultant Max Fordham
Cost consultant, project manager and CDM advisor Jackson Coles
Approved building inspector BRCS
Access David Bonnett Associates
Main contractor Walter Lilly
Suppliers
Precast concrete Cambridge Architectural Precast
Brick-faced precast concrete soffits Sterling Services
Mechanical and electrical Piggott and Whitfield
Brickwork Grangewood
Sloped rooflights Dane Architectural
Flat rooflights Glazing Innovation
Timber stairs and joinery Deutsche Werkstatten
Concrete gallery floors Steysons Granolithic
Groundworks and in-situ concrete City Basements
Dry-lining David Andrews Construction
---