This studio in a garden is made special by the degree of thought that has gone into it, in terms of both appearance and function, and by the effort to create a locally sourced building, every part of which was made in England.
Set in a suburban context, the property occupies a narrow site alongside the boundary wall between two large houses. Replacing a previous outbuilding, it looks out over a communal garden and pool.
Supporting a 'heat mirror' glass roof, the timber frame structure of the extension is of sweet chestnut, whose inherent beauty was an important factor in the choice of an exposed structure. To maintain a consistent appearance, the joinery (windows, doors and panelling) was supplied by the same specialist timber frame company. Hemp and lime insulation was used not only to insulate the masonry and offer additional thermal mass, but also to provide a breathable form of construction that helps to regulate internal humidity levels. The timber was rough sawn, creating a simple aesthetic that referenced the original outbuilding and sat comfortably with the other materials used: raw concrete and stock engineering bricks.
The sweet chestnut was grown in West Sussex and the hemp harvested in Norfolk.
A screen of revolving triple-glazed windows ventilates the studio naturally. A large freestanding double-sided wood burning stove, clad in CorTen weathering steel, punctuates the otherwise open plan design.
The judges said: 'This is a delightful studio in which every element has been carefully considered, with love and attention given to the detailing.'
---
Architect: James Wyman Architects
Joinery company and wood supplier: Inwood Developments
Lighting: Davey Lighting
Metalwork: Hot Metal Engineering
Insulation: Lime Technology
Timber: English sweet chestnut
Highly commended
Ravenswood, London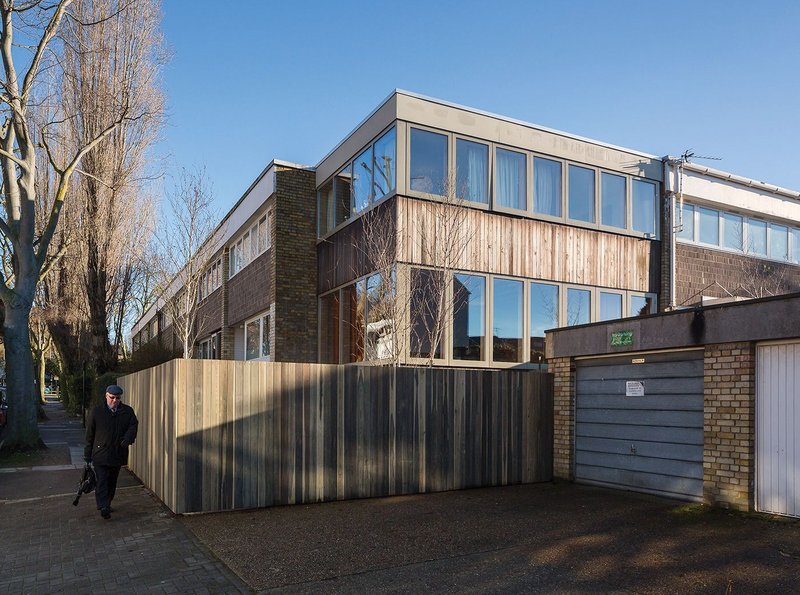 This sensitive expansion of a modest end-of-terrace house on a modernist estate in North London is designed to relate to the estate as a whole – and not just to the individual house.
Reflecting the rhythm of the original building, the extension is made recognisably different by its apparently simple timber structure and infill. It is glazed on two sides and the subtly adjusted proportions of windows and spandrels also identify it as a later addition. Larch spandrels and bespoke Douglas fir window frames are pre-weathered or treated with semi-opaque stains. The judges said: 'This is a subtle piece of work, showing great respect to the existing architecture from a period that is often under-appreciated.'
---
Architect: Maccreanor Lavington
Services engineer: Freeman Beesley
Quantity surveyor: P T Projects
Structural engineer: Greig-Ling Consulting Engineers
Wood supplier: Brooks Bros (UK)
Timber: Siberian larch and Douglas fir