Winner: Alfriston School Swimming Pool, Beaconsfield
Designed for a secondary day and boarding school that caters for girls with a range of special educational needs and disabilities, this pool building is simple on plan. Its complex and beautiful timber roof gives enormous visual excitement and the pleasure both from the outside and to those using it.
The pool enclosure extends into the landscape on a sloping site, looking out onto playing fields with unobstructed views.
Intended to be a contemporary expression of the local pitched-roof vernacular, the design is articulated by three duplicated pitched and tapered segments, adopting similar proportions to the main school building. This rippling sculptural form also serves as an acoustic baffle, reducing sound reverberation, which was a crucial aspect of the brief. A 1m-high low-level glass strip circumnavigates the pool roof, making the roof appear to float.
Cowley Timber manufactured the prefabricated timber structure off site in 12 triangulated truss modules, the largest being 12m long by 6m high. These components were made from cross laminated European Scandinavian whitewood forming the main beams, columns and rafters, with a laminated ply external skin. The interior face is factory finished in a breathable light white wash, while component connections are bespoke invisible steel plates with plugged bolts. Slim circular posts to raise the structure off the concrete deck sit at each cranked position, terminating at the steel connector plates.
An eight week on-site assembly period offered precise, high quality finishing with no requirement for temporary scaffolding as well as cost and programme benefits – the project came in on budget.
A standing-seam roof system with integrated cladding clips supports the Plato timber roof, so that the entire pool roof and all perimeter walls could be clad in the same material, with precise spacing and alignment. Rainwater pipes are external but hidden behind the timber rainscreen.
The judges said: 'This building consists of structure and architecture united. It has an innovative structural system and the execution is very good.'
---
Client: Alfriston School
Architect: Duggan Morris Architects
Joinery: Cowley Timberworks
Main contractor/builder: Feltham Construction
Approved building control inspector: Butler & Young
Cost consultant/CDM co-ordinator: Appleyard & Trew
Environmental engineer: Skelly and Couch
Structural engineer: Elliott Wood Partnership
Timber: Scandinavian whitewood – glulam and CLT
---
Highly commended
Farnham Place, London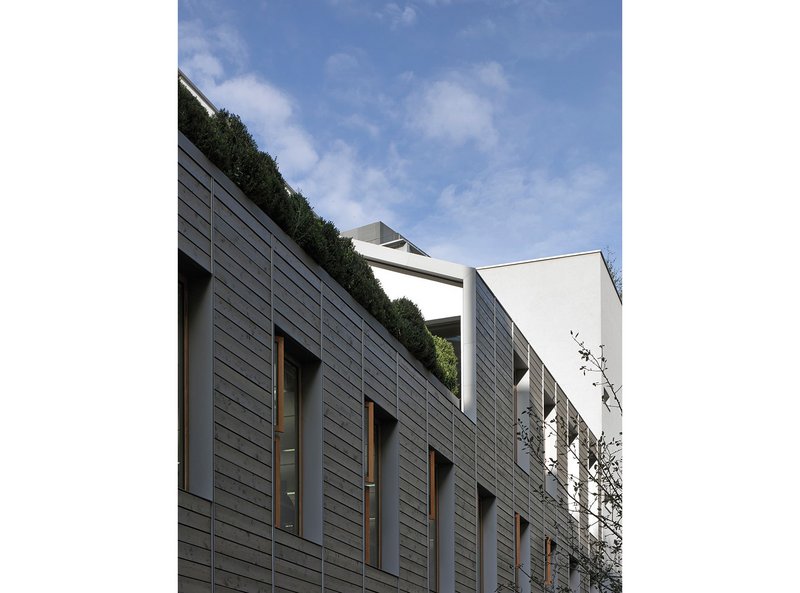 Farnham Place completes the group of buildings that forms Allies and Morrison's studios in Southwark, London. It includes a new timber building with a cross-laminated timber structure clad in a stained Siberian larch rain-screen. The structural system was selected partly for speed: substantially fewer components were used which reduced site fixing and the newbuild superstructure was completed in just six weeks.
Timber panelling also helped to limit overall costs, allowing the architect to dispense with some internal linings. The lightweight construction also provided savings in foundation design.
The judges said: 'CLT works very hard here above the open-plan ground floor. There is a great understanding shown of the material.'
---
Client/architect: Allies and Morrison
Joinery: Raphael Contracting
Main contractor/builder: Balfour Beatty Construction Scottish and Southern
Structural timber: Houston Cox
Timber cladding contractor: NDM (Metal Roofing and Cladding)
Structural engineer: Davies Maguire + Whitby
Structural laminated timber: KLH UK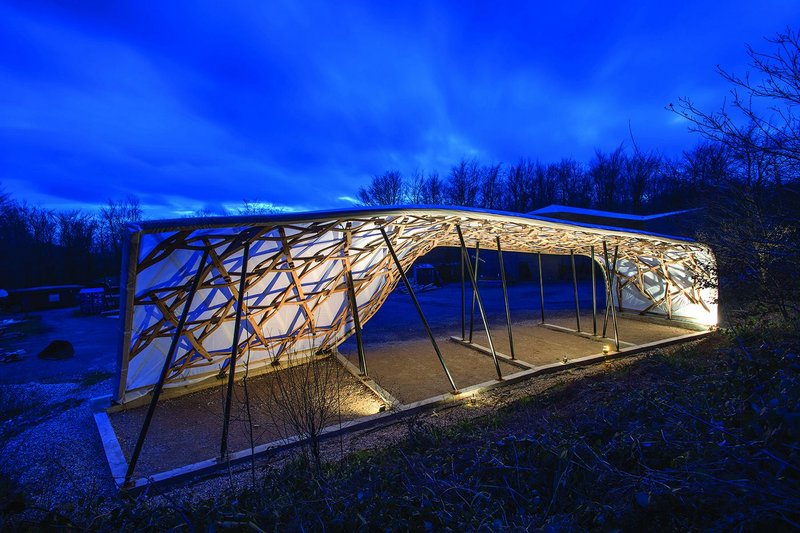 Timber Seasoning Shelter, Beaminster, Dorset Architectural Association.