dRMM jumped at the chance to design artist John Woods' WoodBlock House
'We've tried pretty much every material over 27 years in construction and I've come to the point where I don't see any downside with timber,' says dRMM's Alex de Rijke.

How irresistible, then, to be asked by aptly-named artist Richard Woods, whose work is all about colourful printing on timber, to design a new home and studio for him and his family in Bethnal Green. Even more irresistible, being sandwiched between a demure house by Sergison Bates and a white block by Caruso St John, not to turn up the volume in a witty way.

WoodBlock House is a colourful intervention in Coate Street, opposite a red brick council estate. FAT's blue house is round the corner, making for a lively node of contemporary interventions celebrating Hackney's artistic and entrepreneurial renaissance.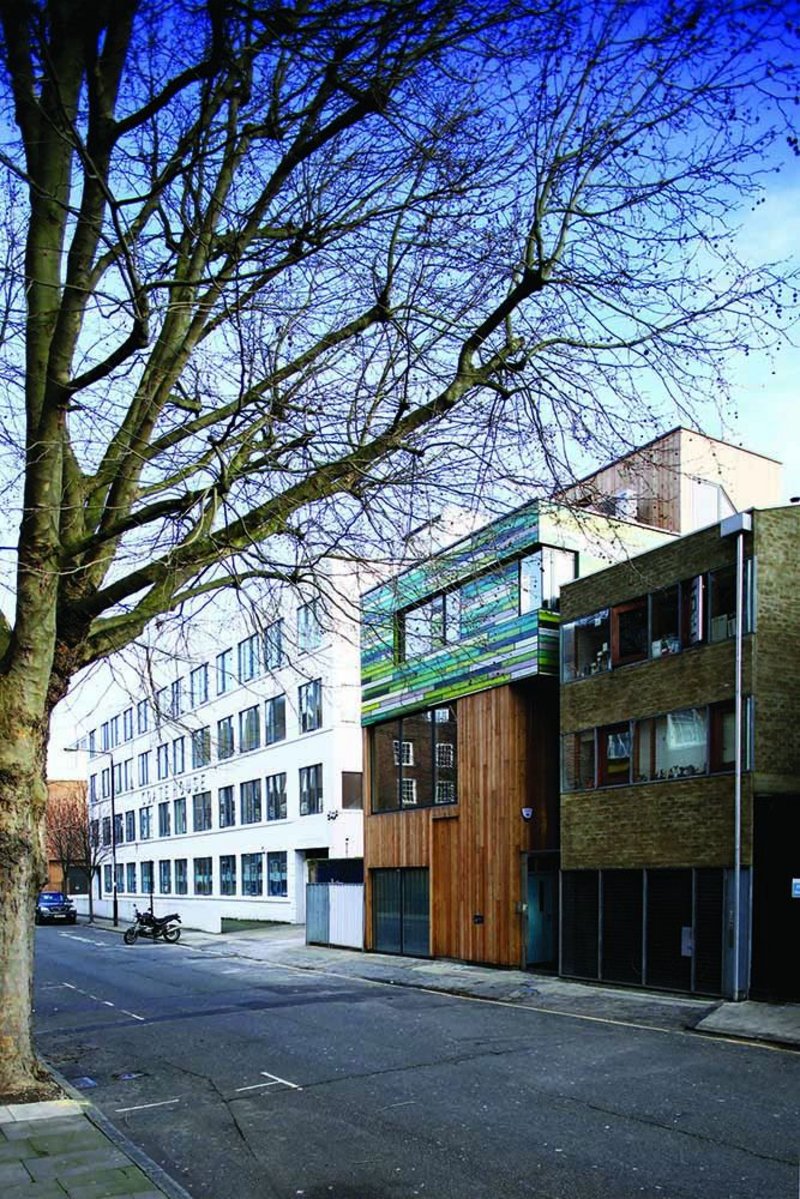 The front elevation sports Richard Woods' product, bringing a splash of colour to the street, and features a 'shop window' entrance to the workshop and 'fake' front door – the real entrance is in the side alley.
It brings to mind London's tradition of artists' homes-cum-studios. Past RIBA president George Aitchison's studio home for Lord Leighton in Kensington and Frederick Wheeler's St Paul's Studios on Talgarth Road, for instance, were designed in a late 19th century period of expansion, while Adjaye Associates' Dirty House for shadow artists Tim Noble and Sue Webster, or Hawkins Brown's studio for Rachel Whiteread down the road in Shoreditch, share similar ambitions – to combine art and life. Oscar Wilde (and his wife Constance who commissioned Tite Street's white interiors) would have approved along with all the aspirant aesthetes who have remodelled Shoreditch, or are busy 'work-living' in Hackney Wick. The artist's home/studio is an ideal way to exist in London.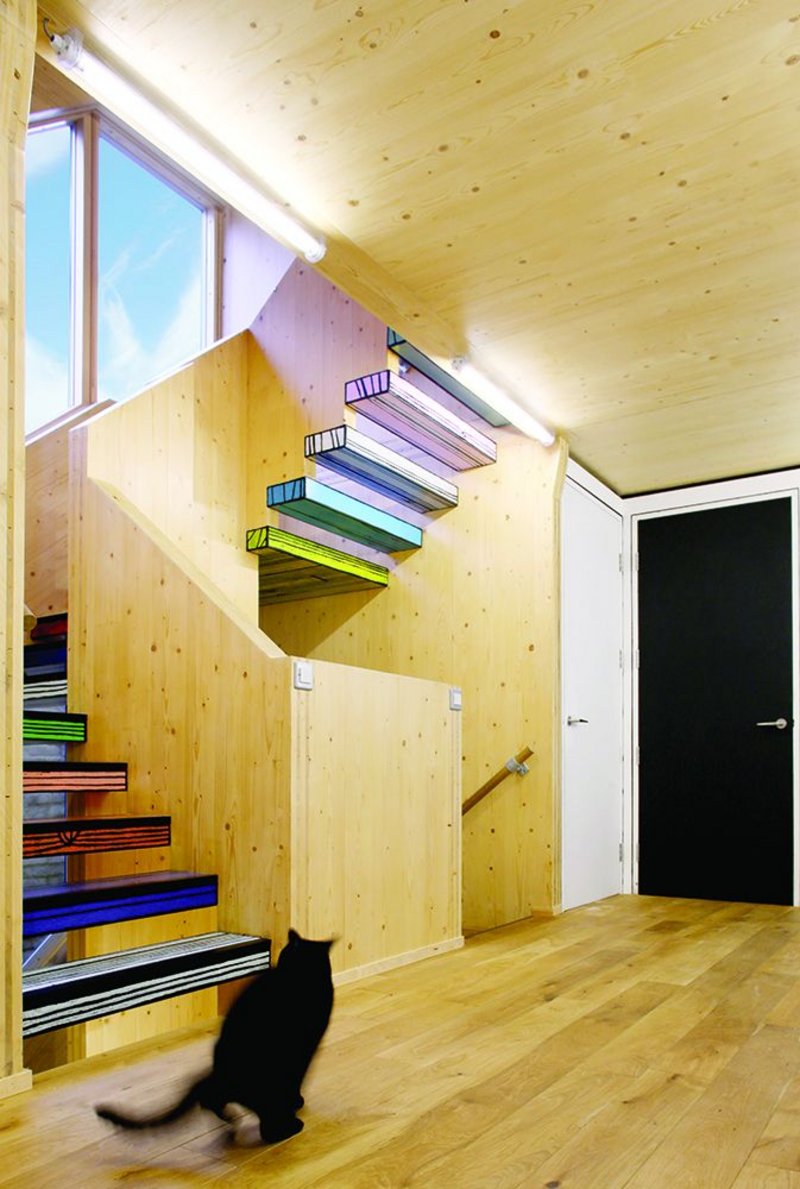 The staircase projects out from the side elevation to meet the wider second storey, providing cover over the side alley and more bedroom space.
Hackney's planners remain wary, however, of 'live-work', and on this former tyre-fitting site insisted on a clear separation between studio and residential uses. The arrangement consists of three boxes set one above the other, with a smaller studio on the second floor for Richard's wife, children's illustrator Jessica Spanyol, while a rooftop library 'shed' pops out on top.

Woods' studio with 'shop window' fills the entire ground floor and is divided into office/designing space and a making-space out back, with access to a back yard.

The first floor is a living space flowing round a central island of services and out onto a terrace overlooking the yard and side access passage – a handy place for bicycles, deliveries which don't need to clutter the interior, and for moving larger pieces out from the studio and into the street.

Pulling back the side elevation to the adjacent Sergison Bates house also allows framed views of their delicate treatment of the brick party wall from inside the building.

The second floor, in contrast to the free flow of space on the first, compartmentalises bedrooms and bathrooms, distributing them around the outside of the plan and stair core. From the first floor this extends out to the wider second floor, overhanging the passageway and helping protect it from the elements.

Art can be displayed on generous first and second floor landings while Woods' coloured timber planks feature on the main stair.

A bright band of Woods' smooth product clads the top storey, advertising his wares. Rougher hewn larch clads the lower storeys and all is constructed, apart from the ground floor slab, in structural cross-laminated timber (CLT) panels with windows – some small, some floor-to-ceiling – punched through its structural integrity.
Rear elevation, with second storey clad in Woods' colourful timber panelling, and first floor external terrace.
Raised wooden floors accommodate horizontal servicing – electrics, plumbing – which rise up the building vertically in the external insulation zone behind the cladding and only pop out where required, to meet ­fittings mounted directly on timber CLT surfaces. In Woods' tall-storey studio, the timber finish is painted white.

Overlapping of the CLT panels along the flank elevation to the side-passage allows the structure to be expressed internally as well as outside, and adds texture. The windows are double-glazed timber units, and guess what the living room stove burns? It augments the passive and active thermal solar gain to heat the house. The main studio slab has under-floor heating.

Three cheers then for eco-friendly CLT and timber cladding, for colour and for mixed-use. Maybe the WoodBlock House in land-use terms is a model for densifying areas of industry in east London, that might let more valuable residential use cross-subsidise the creation of more modern making-space. Construction cost for the 257m2 building was £510,000, excluding fees. Speed of construction and the elimination of wet trades make CLT an interesting proposition for developers. Planners should take note too. 'Keeping on keeping in keeping' is a boring way to manage London's built environment, so thank you, Hackney planners.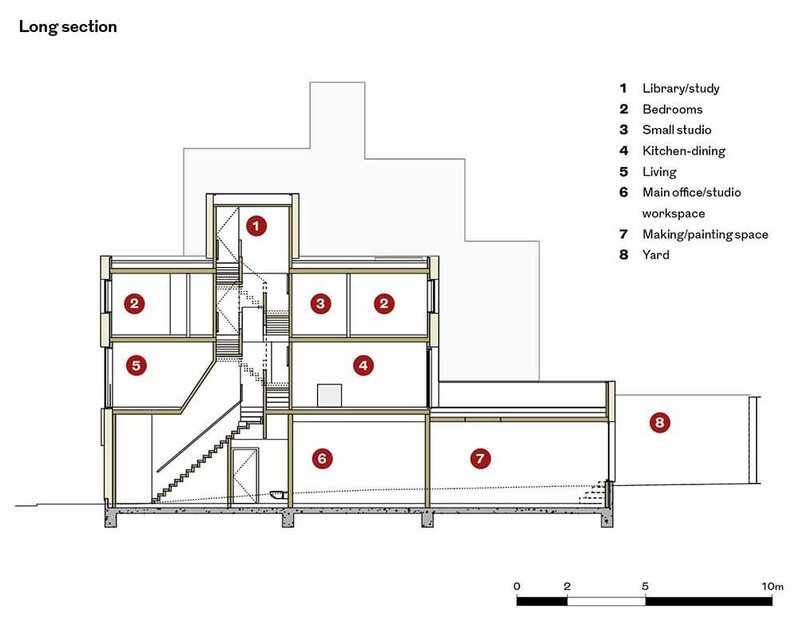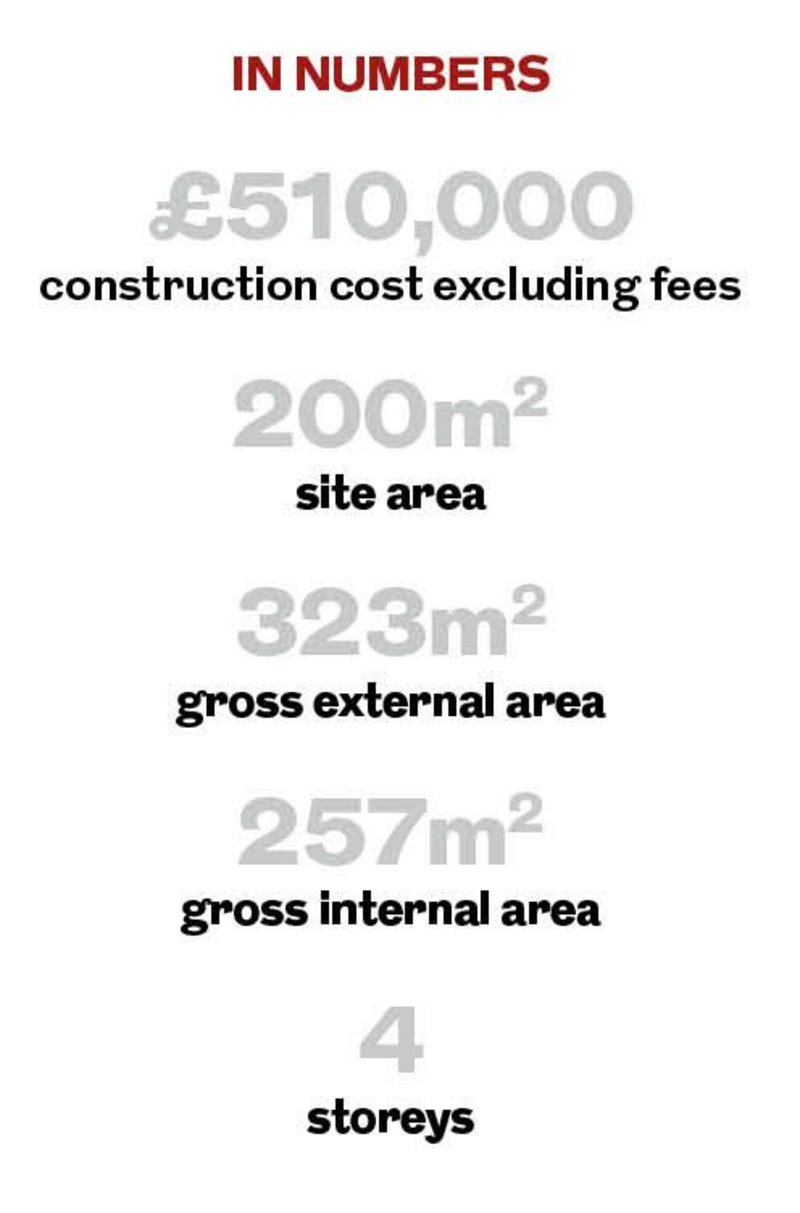 Credits
Architect dRMM
Client Richard Woods
Structural engineer Timber First
M&E consultant Michael Popper Associates
Main contractor Cape Construction