Completion of Zaha Hadid's Salerno Maritime Terminal is a fitting end note to her career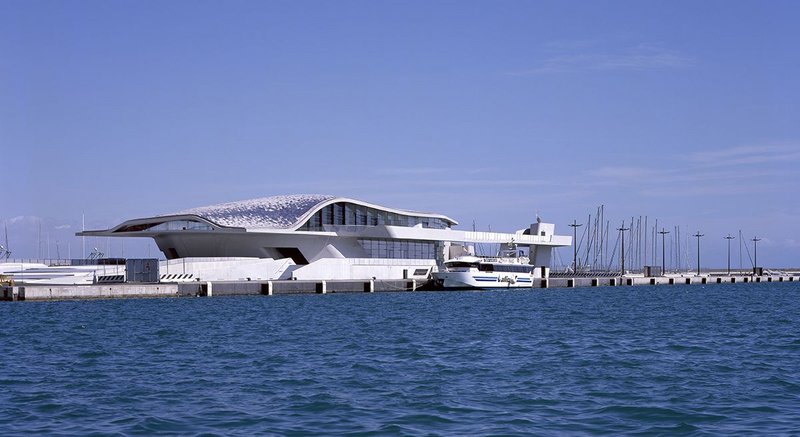 Credit: Hélène Binet
While it might not be accurate to describe Salerno Maritime Terminal as Zaha Hadid's swan song – it was completed in April, a few weeks after her death – there is something about the calm, sun-spangled beauty of the Mediterranean location and the understated presence of the building that makes it feel like a fitting end note to her career.
Poised on a public quay that reaches out into Salerno's harbour, on the Amalfi Coast, south west of Naples, the building was designed to resemble a giant oyster washed up on the beach, its undulating concrete shell protecting the 'softer' elements within, including a series of sinuous curving ramps that direct passengers to and from cruise liners and ferries moored alongside.
The facility should greatly improve visitor accessibility to the region's renowned cultural attractions, such as the island of Capri, Paestum and Pompeii, increasing the port's capacity by around 500,000 passengers a year.
The project continues Hadid's love affair with the sculptural capabilities of concrete, embodied in projects such as Innsbruck's Bergisel Ski Jump (2002), Cincinnati's Rosenthal Center for Contemporary Art (2003) and, more recently, the Aquatics Centre for the London 2012 Olympics.
Use of fair-faced reinforced concrete is very common in Italy, and sourcing the material locally helped reduce the environmental impact of production. The wavy roof creates a self-supporting structural dome effect, which made it possible to reduce the thickness of the concrete roof slab, as well as the number of points of support below, to free up space inside the terminal.
The roof is effectively an extra facade on the building, visible from many locations in city and the surrounding hills of the Gulf of Salerno. It is covered with an intricate pattern of industrially produced ceramic tiles, a mix of greys and blues designed to mimic traditional artisan tiles on the roofs of historic buildings in the area.
In the intense midday sun of the Med the mosaic-like surface twinkles, like the iridescent film on a oyster shell, while providing a vital insulation layer to reduce temperatures inside the terminal.
The project wasn't all plain sailing. ZHA won the international competition to design the terminal back in 2000, but practical and economic challenges meant it took 16 years to reach practical completion. Nevertheless, Hadid stuck with it throughout the long history of construction, even as the practice grew in size and reputation.
Paola Cattarin, project architect at ZHA, comments: 'Zaha was always closely involved in project, she created the first sketch and the initial design, she visited Salerno when the competition was won, it was always very close to her heart. I hope she would be happy with the finished building, but she was notoriously difficult to please and would have probably found lots of faults. That was the thing with Zaha, she was always pushing us to be the very best we could be.'
---