From back twists to tuck jumps, ZAPspace brings architectural elan to trampolining – for discerning adults as well as kids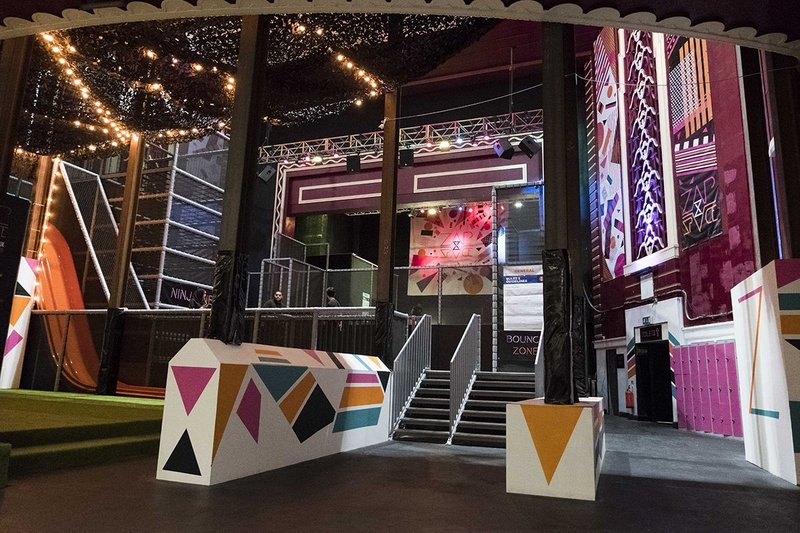 Films, clubbing, jumping: The building formerly known as 'the Rex' nightclub on Stratford High Street was long-neglected until reopening last week in its latest iteration as the area's first dedicated trampoline park. Built as an art deco cinema in 1836, it closed as a nightclub in 2013.
As you enter the new, architect-designed ZAPspace, you're greeted by candle-lit café under a glittering disco ball, where parents can sip a coffee while keeping an eye on their kids in the soft play area. The centre boasts a range of fun features: not only large, open trampoline areas integrated into the existing theatre structure, but also a 'ping-pong jump', drop slide, cardio wall and a tumble lane. The wider development contains an underground speakeasy accessed only by a secret passageway and a new restaurant.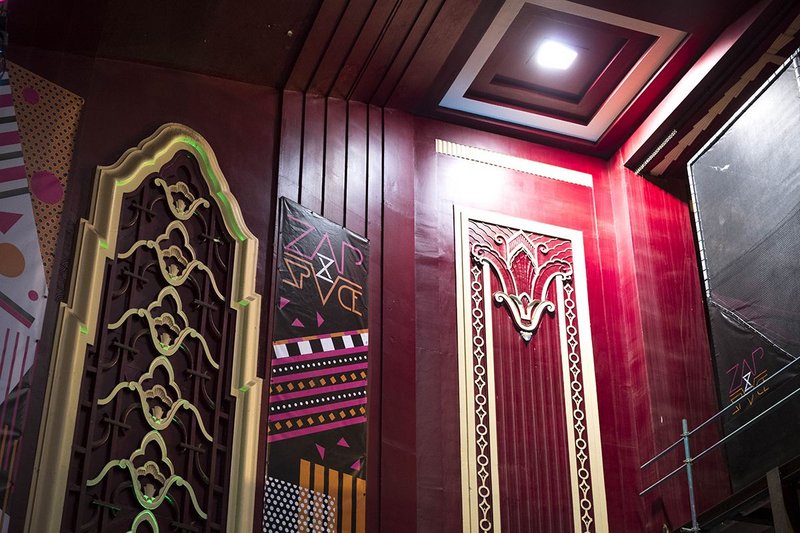 The centre was designed by young London practice ZAP Architecture, developing an expertise in 'meanwhile use' spaces. Headed by architect Pol Gallagher, its pop-up projects so far include Pergola Paddington, Hammersmith Canteen, Pitch Stratford and al fresco dining experience 'The Prince' at West Brompton. Gallagher left his job at Hopkins Architects and set up the firm in 2014, after winning a small competition to design an entrance to Dublin City University. The £1 million timber column installation won ZAP several design awards in 2015.
Gallagher describes ZAPspace as his 'fun emporium', in Cedric Price style, saying that he 'never shies away from a challenge' and is 'extremely proud' of the creation he's brought to Stratford. 'We had a creative explosion in this derelict theatre auditorium. All the architectural features were left firmly intact while it was turned into a trampoline utopia,' he enthuses. In the process, Gallagher has successfully retained the building's original character. 'We could vacate the space tomorrow and nothing would change; we've kept all the period features – even matching the paint,' he adds.
There are a number of subtle flashpoints reminding visitors that, although playful in nature and design, ZAPspace takes architecture seriously – and supports its wider promulgation. All the drawings displayed in its Old Town Bistro restaurant are by Part I and Part II architecture students.
A novel form of architectural experience, my evening turned out to be a wildly fun return to childhood and Saturday afternoons spent at the local soft play area. Except, contrary to that 'Wacky Warehouse' off Coventry's M40, ZAP Architecture's creation is classy, inviting and fun for not-so-young as well as the young. Here in Stratford's ZAPspace you can find a beer, a bounce – and a connection with a more plastic type of space.
---