The 2020 Royal Gold Medal award to a whole practice recognises collaboration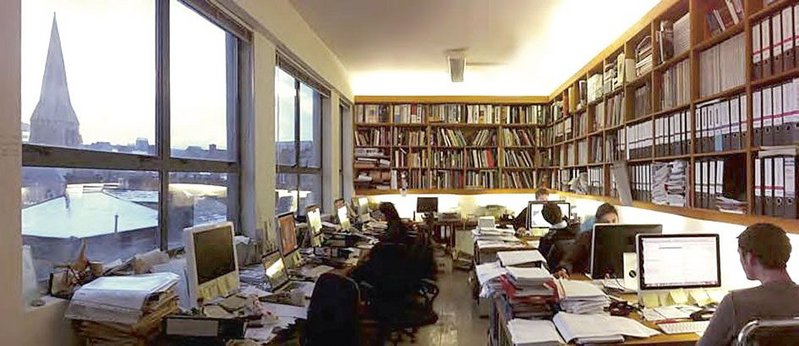 Grafton Architects' office in Dublin.

Credit: Grafton
The 2020 Royal Gold Medal for architecture is being awarded to Grafton Architects, as a practice. Normally the Gold Medal goes to an individual or a pair of individuals and very rarely to a group or practice. This could be a beginning of a new era, when we focus less on individuals at the top of practices and acknowledge that it is all the practice contributors coming together effectively that makes really great architecture.
Practice and business are becoming increasingly complex and demanding for a single person to have sole oversight and leadership. As I visit practices I find more and more have changed, or are in the process of changing, to an employee ownership trust. In 'Defining Contemporary Professionalism' Denise Bennetts sets out very clearly why and how the London and Edinburgh based Bennetts Associates did so. Trusts are internally more 'open book' with fee levels, outgoings, extent of profitability, opportunities with collective ethics, responsibilities and risks being more broadly known and agreed across the practice. So we are becoming more collective and relying on each other.
Although recognising individuality, separate backgrounds and trajectories, we also need a clear definition of our core; of what is central to be a contemporary, competent professional architect. An architect's professional individuality must obviously in addition to central core competency.
In these times of high expectations and risk, practices need their team of individuals to have expertise along the flow of work, from securing business through to physical realisation and review. The myriad skills and talent, facing outward towards client, user and society, to understand the technical, regulatory and environmental demands and the business and running of the practice, all work together to create complementary forms of success.
We must remember to resist being drawn to and employing those who are the same as ourselves, and to seek out diversity to complement and challenge. As early as 1999 John Worthington, of DEGW fame, argued that our profession should acknowledge different types of architect and that we should 'educate for diversity'. That call must be tempered with a definition of the core competence of a contemporary professional architect subjected to government directed regulation, with the additional peaks of expertise that are necessary to excel and go beyond the minimum standards of registration.
The new RIBA CPD recording platform went live in 2019 and we will soon be launching our online CPD delivery system – RIBA Academy. It is an important tool in maintaining and evidencing competence and expertise; what is core to maintain registration and what is enhancement for delivery of greater levels of service, positive impact and personal progression. Personal spider diagrams of profiles of expertise, overlaid with those of colleagues, could create a revealing multi- layered studio mesh confirming essential individuals, team depth, CPD requirements and aspects needing external input.
The award of the 2020 Royal Gold Medal to Grafton Architects highlights that successful and effective practice is the combined effort of a team of individuals. Long live ­collaboration!
---