The practice receives the RIBA Royal Gold Medal this month. Eleanor Young talks to its founders about their architectural development, their favourite and famous projects, learning and teaching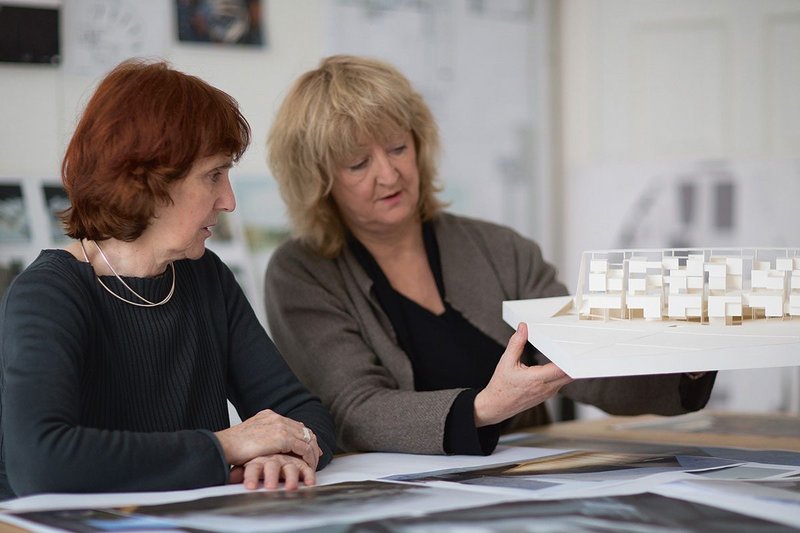 Shelley McNamara (left) and Yvonne Farrell with a model of UTEC, Lima.
You are known as educators. Who were your own early influences?
Yvonne Farrell We studied architecture at University College Dublin where we were very lucky as we arrived at a time of huge change in thinking and teaching. Ivor Smith had taken over the running of the school and with him came the 'flying circus': Ed Jones, Chris Cross, Fenella Dixon and others – tutors who were young architects, all rationalists and all building. Cathal O'Neill had worked with Mies van der Rohe in Chicago, others with Louis Kahn – their influence was very strong in the school. We were reading Kenneth Frampton's Critical Regionalism and going to concerts – which were really like lectures – given by the Irish composer Seán Ó Riada, who was fusing traditional Irish and European musical influences.
Shelley McNamara As students, we were reading extensively about architecture; about our own place and this fed into our understanding of ideas from different disciplines relating to place; to the classical, global and European cultures. There were similarities in spirit with critical regionalism; we found it this deeply inspiring and challenging.
In the best known Irish architecture there is a particular tectonic thinking around massing and materiality. How much are you responsible for that, as teachers?
SM A lot of young Irish architects were given the chance to teach: Michael McGarry, Siobhán Ní Éanaigh, Sheila O'Donnell, John Tuomey, Shane de Blacam, John Meagher, for example. A certain bond was built up and, over 25-30 years, a common culture. It is not hierarchical, there are different ages and backgrounds teaching studios from generation to generation. The scale of Ireland and Dublin, Cork and Belfast means that it is quite a cohesive culture. There are extraordinary architects coming up after us. We did have an influence because we were very passionate. We were so hungry for progress from the very beginning of our studies, wanting to contribute to the development of contemporary architecture in Ireland.
The framework for Dublin's Temple Bar cultural quarter (1992-96) as Group '91 was the first time you came to international prominence. What was special about that?
YF In the late 80s there was very little work for architects in Ireland. We began to organise exhibitions, hoping to foster a love of city. For one, together with seven small practices, we worked on samples of urban housing for public discussion. Then, when an international competition for the Temple Bar Area of Dublin came about, those same practices formed Group '91 to enter. The whole area had been frozen awaiting demolition for an enormous bus station. Group '91's proposal retained buildings and made new public spaces. Having won, each of our practices got a project to design.
You founded Grafton in 1978. What was your first significant project together?
SM It was really important when we started to get school extensions and new schools to build. That led to other local authority projects like County Meath's Solstice Arts Centre in Navan (2006), and to university projects. Trinity College's Parsons Building (1996) for the Department of Mechanical & Manufacturing Engineering was only 1,000m2, but it was a significant project on the historic Trinity campus. That had a huge impact on us and our standing.
How did you get your breakthrough project for Universita Luigi Bocconi, Milan, Italy (2008)?
YF In 2002, there was a competition for a new Bocconi University project in Milan. Ten practices were invited from around Europe, in which the main partners would be directly involved in the design. It was very large – a 45,000m2 building. We hadn't done anything of that scale, but we had so many projects already built that the client was confident we could manage this much larger and more complex commission.
SM At the time we were collaborating with structural engineer Roughan & O'Donovan on motorway bridges in Ireland. With their spans of 60-70m these structures impressed us by their efficiency of span and capacity for elegance. We thought if you could do it on a bridge, we could do it within a building. In our Bocconi entry, we reluctantly positioned two columns to prop the 22m cantilever we had for the projecting Aula Magna. When we won, our Italian structural engineer, who did a lot of civils work, confirmed that we could take out those columns. This was terrific and reassuring news for us !
YF We took a shoebox full of our own structural studies for the project to the engineers in Milan for discussion. They were impressed that as architects, we had carefully thought our structural proposals through. Those models definitely gained us a level of respect, showing that the architecture for this building would be twinned with structure from the start. That 22m cantilever that Shelley spoke of, together with the 8m high, clear-glass window below it, simultaneously frames the city for the student and brings it into the campus.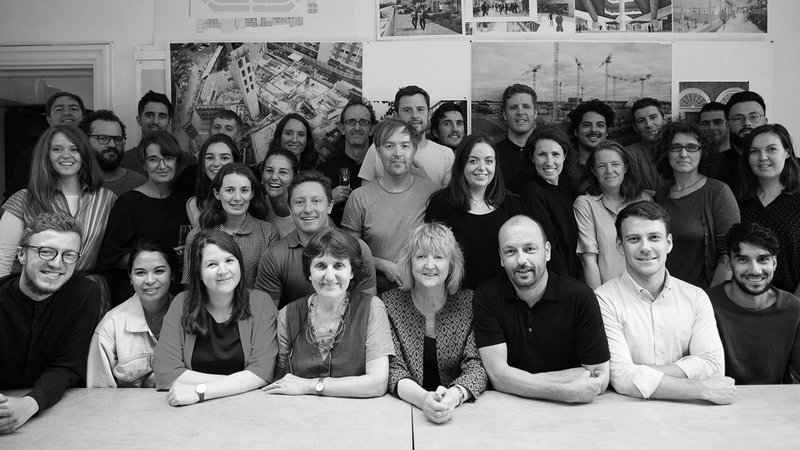 The Grafton team.

Credit: Alice Clancy
You won the RIBA International Award for your university campus for UTEC in Lima, Peru (2015). It seems to show the same structural heroism.
SM The power of structure to liberate space grew out of each project we built. With UTEC, we saw how structure could have its own impact. We had developed an interest in the work of South American architects. For example, Paolo Mendes da Rocha buildings that could be bridges. In Lima, structure has to deal with seismic issues too.
YF When we were in UTEC just after the scaffolding had been removed, we both felt that the spatial enclosure was more powerful that we had imagined. Architecture is not just a theoretical exercise. It is a felt experience.
With your school of economics for the University of Toulouse, just completing, your interest in the walls, buttresses, ramps and towers of the city are explicit.
SM The Toulouse project was really challenging. In Milan the city structure was more familiar, strong, rational and rigorous. In Toulouse, it is picturesque with the Garonne River, the Canal de Brienne and wonderful bricks. We found it really hard to find a language for the shape and quality of the site. We wanted windows, but with the intense summer heat we needed to reduce the amount of glass. So, the question was: how do you hold the surface? Using fragments of the city: colonnaded cloisters, buttresses, and so on, we worked using a method of collage. It is a fan-shaped plan, we started to call it the sundial, and it really brings the city in.
YF The building heightens the awareness of where you are in the city. It frames the Garonne River or the cathedral spire. Architecture has the capacity to help you enjoy the places more.
You have now done many projects for universities. You have one under way in London at LSE and one just complete, Town House for Kingston University.
YF With each institution we take on we try to understand their different dreams and stories. We try to find practical solutions but also add another ingredient to spatially tell the story of transformation. That might mean drawing people into a place where thresholds are not offputting or a completely new representation of the institution.
SM At the Institut Mines Telecom in Paris Saclay, France, we bring people together and the same is true in Kingston. The Kingston Town House is not owned by any one department. It is open to all – an antidote to compartmentalisation – which shows Kingston University's progressive ideas of education.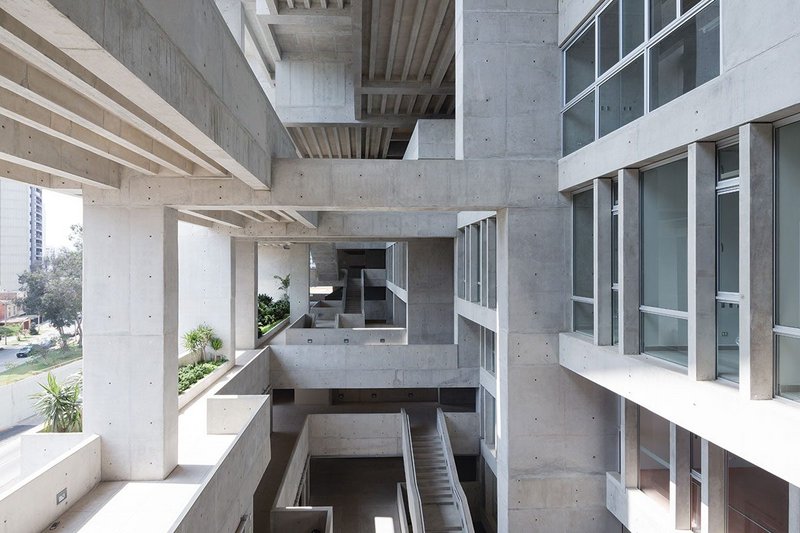 Inside Grafton's Universidad de Ingenieria y Tecnologia, Lima, Peru (2015).

Credit: Iwan Baan
You are using precast concrete frame on Town House. Do you see yourselves taking prefabrication further?
SM In the Town House, we have both a prefabricated structure and facade. We were influenced by Jørn Utzon's Paustian House with its elemental columns and beams. It ties into the idea of repetition and economy – ease of construction is directly connected to these. Kingston was the first time we were novated to a contractor. Lots of decisions were influenced by this and the way the construction industry works. Precast is very economical in the use of materials.
In your manifesto as curators for the Venice Architecture Biennale (2018) you describe the earth as a client. How are you responding practically to climate emergency?
YF We continue to try to understand each material: in situ concrete, precast concrete, timber, steel, stone. It is frustrating that there is no clear answer as to which is the most ecologically responsible use of material.
SM We have always been irritated by lack of respect for beautiful materials; people take ancient, incredible geology and use it in a cheap way that loses all its qualities.
YF For Bocconi University, we chose a stone called Ceppo. In that quarry in the mountains, the method is to cut out 9m by 9m cubes of solid stone. As they cut, we realised we were carving into a mountain to make a mountain. It made us acutely aware that what we specify as architects brings its own kind of responsibility.
SM Architecture is not claiming enough territory. We need a sense of structures, of environmental control and of comfort. We shouldn't undervalue common sense. Economy pushes against generosity, less space and volume often means more technical kit is needed. We need to remember that there are free elements for us to use: the pleasure of sunlight, moonlight, air, shade.
YF When a young Swedish activist lays at our door that we must be more conscious of what we do, we take note. With areas of Australia, a first world country, burning out of control, we see how fragile our earth can be. It takes time for fully sustainable projects to come into being. But thinking about climate, use of materials, etc is changing. For us, architecture is the physics of culture.
We did have an influence because we were very passionate. We were so hungry for contemporary architecture in Ireland
You wanted the Royal Gold Medal to go to the whole practice – all 40 of you. How have you built up your team?
SM We were down to eight architects in 2008 during the recession. We have increased gradually, to the largest we have ever been. We have mostly Irish architects and many of them we have taught, so they understand what we are about. Our core group has been with us for eight or 10 years or more. It is important to have both consistency and change. We want to keep the spirit of an atelier and cannot take sole credit, that would be dishonest. Architecture is always a collaborative affair.
YF All those who have contributed over the years are still Grafton Architects in spirit. We all share a belief that architecture is of such cultural importance that the day to day difficulties are worth the effort.
An internationally renowned practice headed by two women is unusual. Have you had a harder time because of it?
YF We have been lucky because we are Irish women. While becoming architects, we received the benefits of education and the support of our families. People before us cleared the decks, campaigning for votes for women, for example. Just before we came to UCD, female students had not been allowed to wear jeans in college! All our lives, we have come across people who believed in us and in architecture. It is important that the voices of women are heard. Imagination is not a gender issue.
The 2020 RIBA Royal Gold Medal will be presented to Grafton Architects on 13 February – find out more.
To read a full profile of Grafton Architects see here and watch them lecture live online from 7.30 on 12th February 2020.