Among the Trees puts the statuesque plants in the foreground but over-reliance on static images loses their critical context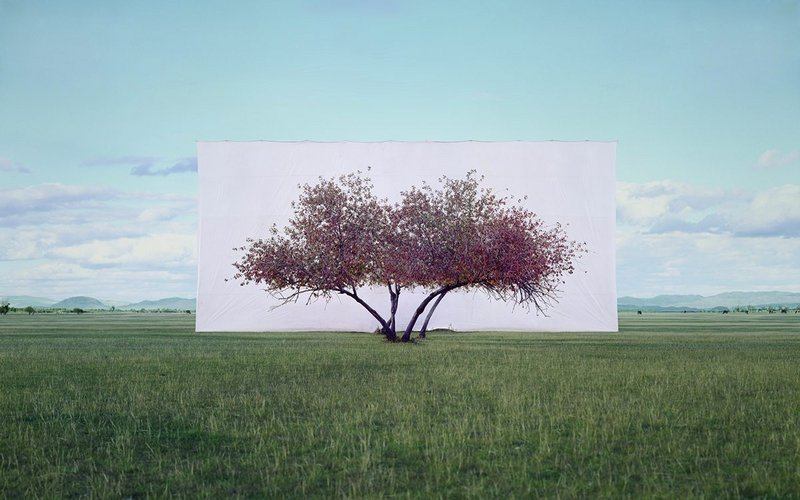 Myoung Ho Lee Tree... #2, 2012 Ink on Paper 104 x 152 cm

Credit: © the artist 2020 Courtesy Myoung Ho Lee and Gallery Hyundai
Trees are so 'now' – from Richard Powers' Pulitzer Prize winning book The Understory, in which trees are the protagonists and people merely mediators for their narrative, to last autumn's temporary installation of 300 silver birch, alder, aspen, white willow, field maple and oaks in Wörthersee stadium by curator Klaus Littmann. Launched on the 50th anniversary of Earth Day, Among The Trees continues this fascination, in an exhibition curated by the Hayward Gallery's director Ralph Rugoff. It shifts the role of trees from the background to the fore, celebrating the different roles forests play in our lives
In flipping the human hierarchy to place trees as the prevalent force, Rugoff has created a more rhizomatic exhibition with no perceptible centre point – as Thomas Struth's and Shi Guowei's photographs demonstrate. In much the same way that nature has no heed of national boundaries, many different countries are represented here without distinction to the particular terroir, united by the overarching notion of the tree.
Situated in a city where, as Rugoff notes, 'the trees are often higher than houses, and give a sense of how we measure space' his team has had to accept the limitations of the framing presented by the gallery. To afford this opportunity to take a step back from our own experience, the scales of perception for such a vast subject matter have proven difficult to wrangle for both artists and curators. So often, nature fights back against the interfaces mankind seeks to enforce, and this territorial negotiation is captured in Zoe Leonard's beautiful photographic studies of trees subverting structures we believe to be secure – growing through and uprooting fence lines and absorbing barbed wire in rural Alaska.
One of the most direct expressions of how this battleground affects the curator is demonstrated by the Tree of 12 Metres, a trunk which Giuseppe Penone has stripped back to its previous structure to reveal to reveal the youthful tree within – one which grew in a less industrialised climate, yet which has been obscured by the intervening years' growth. Due to the limitations in height of any gallery designed for human inhabitation rather than the heroic scale of these natural structures, Penone's sculpture is presented in two halves, with the upper section hung upside down.
As an aspect of our environment which we so often take for granted, such an act of inversion or disjunction from their usual context, enables us to really see these trees for the first time. The inverted photographs by Rodney Graham, and the uprooted sculptures by his friend Robert Smithson, are given a fresh juxtaposition through the carefully tessellated slices of eastern red cedar, or Juniperus Virginiana, felled in Virginia Overton's family farm in Tennessee which, installed on the Hayward's gallery walls, echo the 51-year-old shuttering which built the gallery.
Yet for such vibrant, living beings, this show feels too much focussed on the image, provoking engagement at an intellectual, rather than visceral, level. The computer simulated seasons of Jennifer Steinkamp's Blind Eye, for instance, roll past like clockwork as part of an ever changing but clinically revolving loop which, critically, lacks the evolution and anomalies with which true nature can daily surprise us. Thankfully, as a counterpoint to this Eija-Liisa Ahtila's Horiztontal (Vaakasuora) video, played at 90° over six full-height screens, reminds us of the experience not only of the living, moving thing, but also the sound of trees, and that of the many forms of wildlife they support. For what are trees if not a platform for the birds who sing to us through their rustling branches? It is a reminder of the role trees play beyond what is visible – at times poetic and at others hauntingly sinister, asking us to question not just what we see, but also what lies beneath.
The reappropriatation of trees for our own benefit – most clearly expressed in Steve McQueen's depiction of the Lynching Tree, which still stands stoically in a scene of seeming tranquility – is complemented by the many works which highlight the devastating effect of plastics and pollution on these ancient beings. Rachel Sussman's photograph of what appears to be a shrub turns out to be a complete Underground Forest which has retreated beneath the sands of Pretoria, leaving only the tip of the canopy visible. What must we have done to effect such a retreat?
Despite the richness of themes hesitantly touched upon in these works, their collation feels less multi-dimensional than Rugoff's earlier Psycho Buildings (2008), or the emotionally charged, video-based Infinite Mix (2016) which sprawled through the spaces of 180 The Strand. This seems to be another exhibition that demands recourse to the accompanying catalogue – a dead tree in itself – to enable an exploration beyond a focus on the tree as object, to tree as subject, situated within the greater cultural and philosophical context in which they exist.
While Rugoff's intention was to 'urge us to think about the essential roles that trees and forests play in our lives and psyches,' this is confronted mainly through the accompanying programme of talks – including Johanna Calle on environmental politics, social justice and land rights in Colombia, youth activism, and a panel discussion on 'eco-anxiety'. The exhibition itself stops short of establishing a broadened exploration of the many ways trees pervade our lives, industries, and economic and political frameworks. Instead they are stripped of the depth of complexity and interconnectivity of the networked ecosystem in which they exist, which makes Formafantasma's Cambio, running concurrently at the Serpentine Sackler Gallery, feel all the more enthralling. Perhaps that's the key difference between an art exhibition and a design exhibition. But by foregrounding the trees alone Rugoff has, ironically, made them feel rootless.
---
Among the Trees, until 17 May 2020 at the Hayward Gallery, Southbank Centre, London