The Dutch architect's projects involve casting, cutting and splashing on site – using the atmospheric backdrop of Bahrain, where he now lives, as part of the alchemy
Anne Holtrop does not think the coronavirus vaccination programme will be the world's saviour. The Dutch architect lives in the Persian Gulf island of Bahrain, where around 700,000 of its 1.6 million inhabitants have already been vaccinated; Holtrop has had his second dose. Yet despite this, cases are higher than ever. Towards the middle of April, Worldometer was showing new infections as 'at peak and rising' with a three-day moving average of 1,038 new cases per day, outstripping the previous peak of around 800. Holtrop has fully spent the past year here because of this, which is unusual as the solid heat of summer means those that can tend to adjourn elsewhere for the summer season.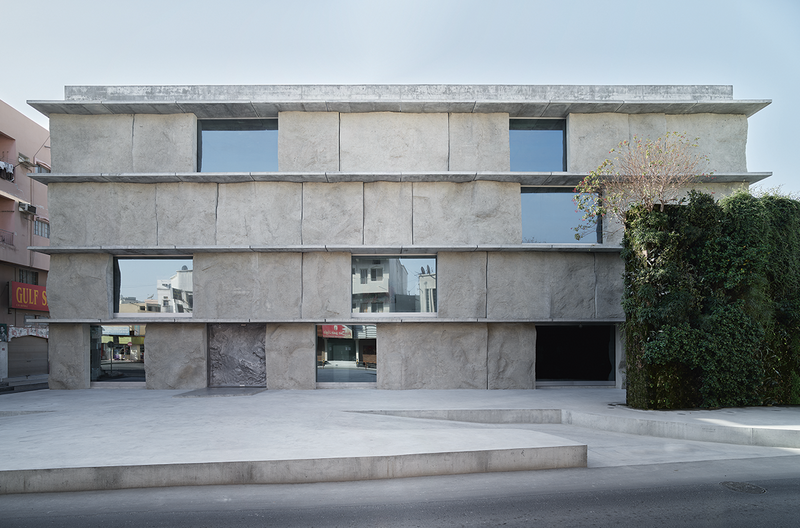 House of cards exterior and honed rock interior at Green Corner Building.

Credit: Anne Holtrop
Following 18 years in Amsterdam, Holtrop moved to Bahrain in 2014 after winning the competition to design the country's pavilion for the Milan Expo. During that project he met his now wife Noura Al Sayeh Holtrop, a Palestinian who was involved in commissioning the pavilion on behalf of Bahrain's Ministry of Culture. 'Bahrain draws people longer than they think they will stay here,' he explains. He is still happy living there; the island's material context is a source of inspiration for him. It is earthy: mud, clay and heat. Every job he gets in the region is an experiment with those things, each developing on the last. It all takes place in his open-air courtyard studio protected by huge awnings.
'The studio is partly computers and partly workshop,' he says. 'Bahrain never has rain so you just have to protect against sun, dust and humidity. You need to work with materials that are resistant to those – stone, minerals, sand. Materials are defined by the conditions of the place. There is almost nothing available on this island, yet constraints are also liberating. In that sense coronavirus didn't make a strong difference – we are used to limitations.'
In the 'trophy room' of the Siyadi Pearl Museum, which Studio Anne Holtrop is currently designing, the lime-layered plastered walls will be coated with silver leaf which will quickly acquire a golden patina because of the salt, humidity and pollution. 'It's about the relationship between construction of architecture and the sourcing of materials – the process and defining ways of making,' Holtrop continues. That's why the local material context, including the weather and atmosphere, is so crucial. The studio's work is lots of hands-on prototyping, testing, pushing and making. When you receive a sheet of images of a project from the studio, the first eight pages will be process, only the last two will show the finished scheme. You can picture the sample patches of silver leafed plaster models being tested under different conditions in the yard.
Last time I was in contact with Holtrop was in 2016, discussing the Waterline museum near Utrecht at what he describes as the tail-end of his 'Dutch period' (RIBA Journal Oct 2016). There the context was explored by drawing, using the topography of the existing fort landscape to extrude and excavate a curving flowing sequence of spaces as a building. Working primarily on paper was how he started, but still based on the fabric environment. His first project was Trail House, an installation that traced a path on the plot to form a mock house. He called it 'a possible architecture'.
Unless you happen to have found and followed him on Instagram, Holtrop may not be a familiar name. He has enjoyed being out of the way and under the radar in both the Netherlands and Bahrain. I'm speaking to him now because his studio is about to complete the Green Corner Building, a remarkable concrete and aluminium cast archive, library and restoration workshop in Muharraq, Bahrain, for Sheikh Ebrahim Center for Culture and Research. He is simultaneously picking up attention from the press releases that fashion house Maison Margiela is sending out about the stores he has redesigned for it around the world. The doors to its revamped Bruton Street shop in London – Holtrop's first project in the UK – have just opened after a long lockdown. His studio was commissioned for the job by creative consultant Dennis Freedman, who came across 2G's monograph of Holtrop at Palais de Tokyo in Paris.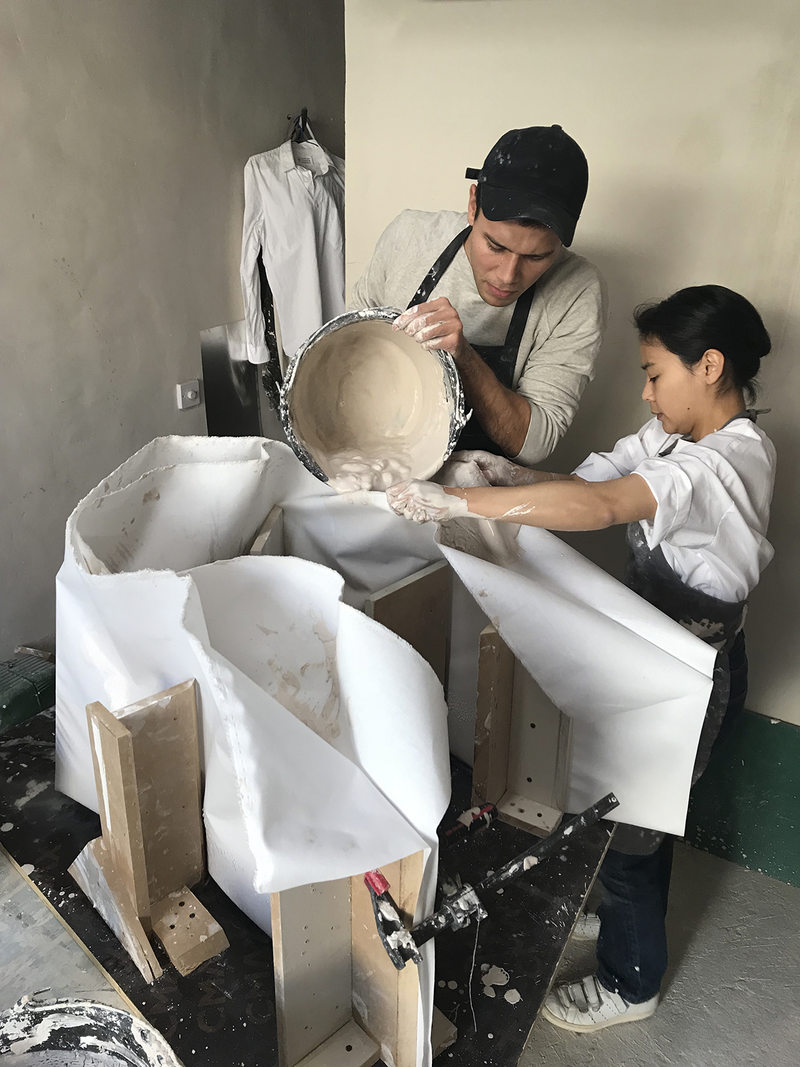 Testing fabric shells to cast the gypsum for Maison Margiela.
Something I have been worried about before in relation to Holtrop's work is that from afar, it is so specific and deviated from the norm that it could appear pretentious. Yet there is none of that when we speak. Holtrop has steadfast approaches and opinions, and says things like he 'has never liked architecture of the perfect rectangle and prefers buildings based on crumpled paper'. But he's chatty, gentle and likeable, and what's clear from the conversation is that it's his really strong foundations, his expertise, experience, knowledge and enquiry, that are coming through in the work, rather than some aloof agenda. He is defined more by doing than by research and writing. He understands more in retrospect, with not so many design thoughts and ambitions beforehand.
'The process is to look and observe and to try to understand,' he says. 'Then it is about investing new layers on top.' How does he know when to stop? When he doesn't know what the next step is.
Holtrop's methods and views are informed by a lengthy education. When he was young, he wanted to be an artist rather than an architect. Because he liked building things, his father encouraged him into architecture instead, but as he had not studied the appropriate subjects at school, he had to do a degree in engineering first. That took four years and was followed by six more in architecture at Amsterdam's Academy of Architecture. 'When I graduated I thought: finally I can be an artist,' he adds. And rather than work in practice afterwards, he went to work for Krijn de Koning, an artist who was looking for an assistant with architectural knowledge, and became involved in his large architectural artwork installations. It was a route that gave him autonomy. He could define what architecture was himself – he didn't have to worry about clients.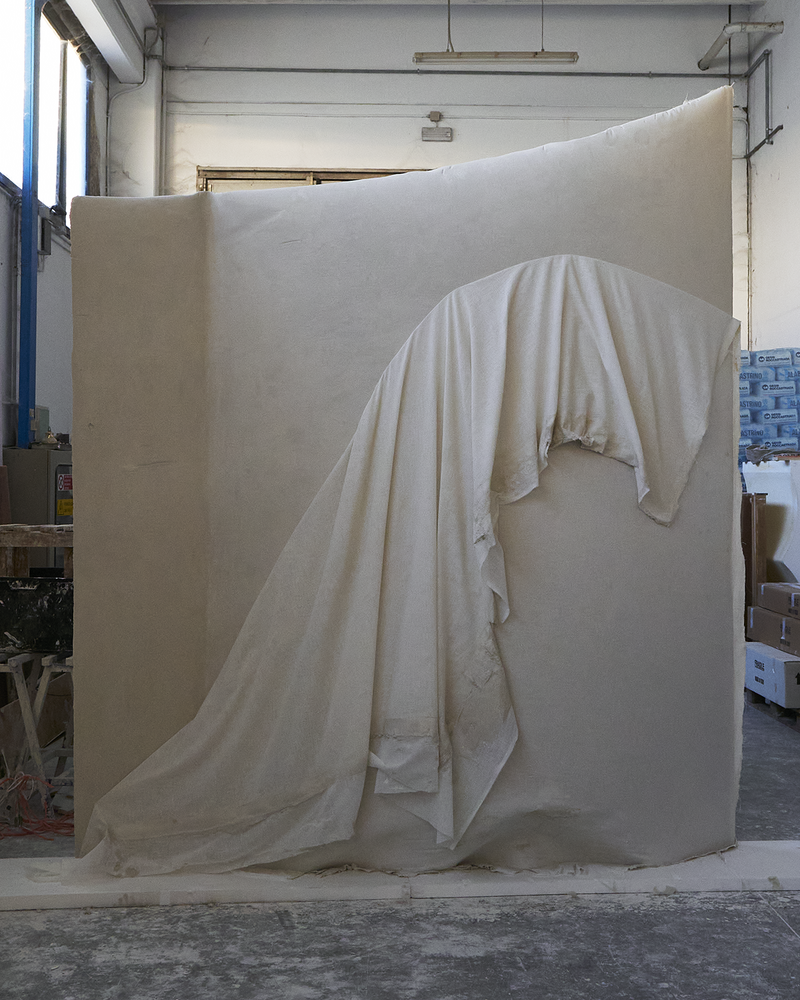 Fabric coming off wall for Maison Margiela.

Credit: Holtrop Studio
After doing that for five years, he struck out alone. This why his first project was an installation and why his references are all artists; the splash, dribble, cut of Richard Serra or the way his studio's proposal for a new art institute in Saudi Arabia made from cast glass sited in an excavated escarpment like the land art work of Michael Heizer. Holtrop is effectively engineer-architect-artist and that explains why his work is able to stand out. The engineering aspect particularly gives him a deeper intuition of possibilities – even if he can no longer fully calculate the structures. This moves proposals beyond others, between disciplines. The goal is to make things and intervene in the possibility of making, not only design. At the Green Corner Building, hulks of on-site cast concrete are stacked vertically and horizontally like a long narrow house of cards, with huge glass panels spaced between. What look like honed rock walls inside are huge sliding cast aluminium panels on runners designed to close off spaces for atmospheric protection of the stored paperworks. Aluminium doesn't sound as if it would be local to Bahrain but in anticipation of the end of oil, in the 1970s the government built a smelter and there are countless workshops in the souk market, making everything from aluminium kitchens to windows.
The Green Corner Building's aluminium panels were cast in formwork in the Netherlands, based on negatives from the site, and were a step on from the smaller sibling Qaisariya Souq which completed last year and shares the house of cards resemblance. The studio also has an idea for a scheme comprising many small pieces of concrete joined together to form a roof that drops down to the ground, doubling as its walls. These are typical traits for Holtrop, who likes to leave aspects of a project open so that they can respond physically to the site.
The method has its challenges, although Holtrop says the essence of projects is always there in the drawings. Together with Italian engineer Mario Monotti, he has found ways to structurally define the unpredictable. He encourages this thinking in his teaching at ETH Zurich, Sandberg Instituut and Accademia di Architettura di Mendrisio, where he wants students to base their work on what they feel like doing that morning. From a process perspective, it sounds long-winded. Do clients not want more concrete plans so to speak?
Apparently, no. Holtrop's clients also really like architecture for its making aspect. For them it's not speculation and business. At Maison Margiela the output is essentially a kit of parts – gypsum walls and columns cast in textile sacks – which gives a new loose identity to the brand. Explaining how he persuades clients to embark on this journey of discovery, Holtrop refers to the Waterline museum. That was a competition specifically aimed at young architects. He thinks that if the jury had made its decision on the basis of a short interview he wouldn't have got the job. Instead, he had an hour to discuss his written proposal. The client was still nervous, however, and consequently commissioned him initially only for the preliminary designs, which could then be handed over to a design & build contractor ('the worst kind of contract'). However, the work he did brought trust and after each stage he was hired for the next one, ultimately overseeing the whole project – with little difference between what was drawn and what got built.
Now Holtrop is more established with his buildings becoming part of Bahrain's popular culture. People pose in front of them for photoshoots and to post on social media. The studio is getting more interest and commissions in the region, as well as job applications from Lebanon, Syria, Saudi Arabia and Morocco. 'These make me feel like I am part of here,' Holtrop adds. He's mastered the sensitivities to the material of the place. The distance has allowed him to invent himself and reflect critically. He has a private house project going on outside Milan and will be applying the same inquisitiveness there. After such a long period scorching in the heat, it's intriguing to think how he might respond to the constantly changing weather, wateriness and greenness of his home country and other conditions elsewhere – so let's hope he's wrong about the vaccine not being a panacea. •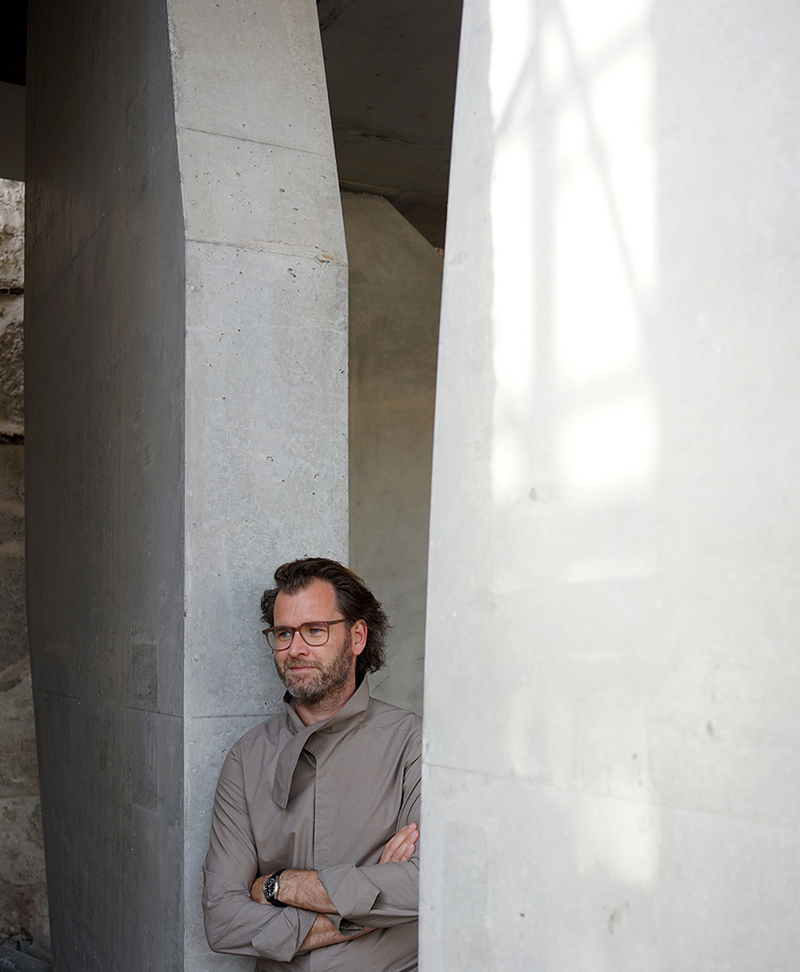 Inline at end - Anne Holtrop between recent castings on site.

Credit: Camille Zakharia