Our second invitation into an architect's lockdown workspace finds us in rural Perthshire with Mary Arnold-Forster. Her practice could be well placed for a more modest post-coronavirus-pandemic future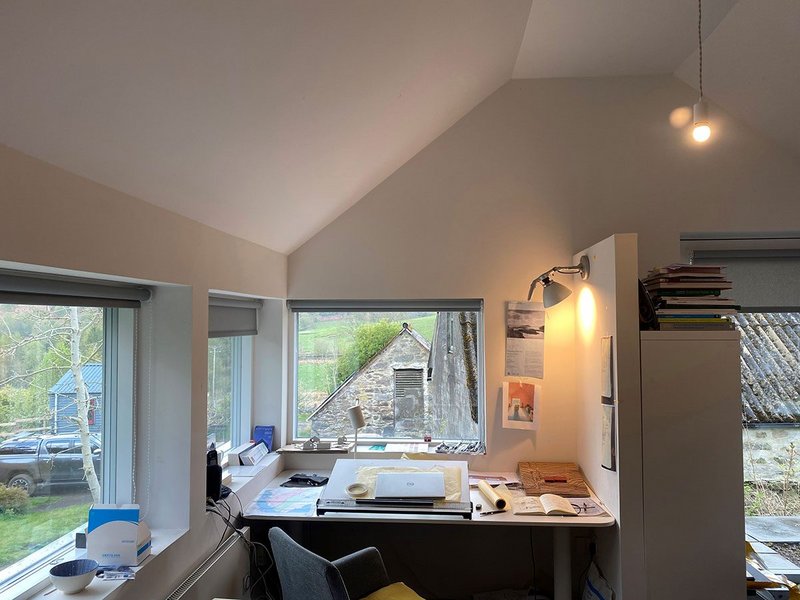 Mary Arnold-Forster lets us into her workspace in rural Perthshire.

Credit: Mary Arnold-Forster
I should get rid of the drawing board. People don't want to see that. I should be doing it all in CAD.
I built my house three or four years ago. It's designed as a walled garden. One wall is the house, one the office and bike shed, another the kayak store and one will be a greenhouse. I live next to a farmhouse, the two boys have been outside in their Spiderman outfits – it's a shame I couldn't get them in the photo. Opposite there's also a company that makes bagpipes so there are three businesses close together in a cluster, it's not completely in the middle of nowhere. Then there are the walks, lochs and so on. We're in rural Perthshire, on a hillside of woodland. There are birches, oak and hazel. It's not west coast drama, but it's pretty special for a lot of people.
The lockdown doesn't make a huge difference to me other than usually I have my team here. We're used to remote working, they live in Edinburgh and Glasgow and usually come into the office two days a week. I can do my thing of standing up and pacing while thinking and going outside.
Around me I have models. I like models and photos of the sites we're working on as well as landscapes. I'm lucky I get to work in landscapes. I spend a lot of time at a micro level reading contours and have a lot of maps, maybe more than urban architects, both for work and life. The Architecture Foundation asked me recently to describe my work-life balance. Mine is that there aren't boundaries between the two. They roll into one. I can be wandering around the Highlands still setting up anywhere working. I don't need to come home ever; I can't be trusted with a pet and don't have children. But I am missing the guys I work with. Meetings online are good, but I don't think architects can really stop meeting and working together in person. Then there's the office lunch, we cook for each other every day. I hate that thing of eating over the keyboard. It gets a bit competitive actually.
They work like crazy – I'd encourage them to take a four-day week. That's a way forward for everyone. Doing things modestly is part of my work and there's a lot of that in our clients. Why do people need such large houses? I had a call yesterday about a site nearby from someone saying 'I've got all this stuff I don't need'. Quiet modesty is going to be a development that comes out of all this pandemic isolation. Who prefers hoovering to hill walking? Wardrobes in guest bedrooms too. Not a single guest here has ever hung up a dress. The FT's How to Spend It magazine is a vulgar idea. I'm going to make How Not to Spend It, a list to give to clients of all the charities I support for them to spend their money on instead.
There's going to be a recession. I've worked with them before. Our projects are quite specific, the overheads are low, I'm personally not greedy, I'm over 50 so I don't need very much. At the moment we've got loads of drawing work, we draw everything, hinges, the lot. We're going on site in July with two projects where everything is minutely drawn.
I sit there in the corner thinking about adventures. Lots of architects won't travel so far for a job. I get a call from someone far away and I make it into a five-day event, throwing my kayak in with me and turn it into a jolly. My team can call me any time of day. You get 4G in all sorts of places now. That's something that has really changed over the past 20 years in Scotland.
I can be wandering around the Highlands still setting up anywhere working. I don't need to come home ever; I can't be trusted with a pet and don't have children
On the wall pinned up in front of me is an old lecture then below a photograph of the house at Heaste. Some architectural photography makes every building look like it is in California, but this one really captures the quality of light in Skye. There are two client drawings below the IKEA light fitting. Clients send them to me and they usually tell you nothing about the architecture. Some architects would throw them away but you have to read between the lines; what they say about what the client wants. The idea and concept of home is very individual and complicated.
Then there are samples and piles of yellow paper. I do endless iterations, that's why I need the drawing board. My job in the office is to go off at the beginning – visiting sites, sketching, then I do a lot of technical detailing at 1:2 and 1:5. The guys do the development in CAD. I run jobs on site too. We have three architects in their 30s with proper lives and an amazing student who was a professional modelmaker before. He's back in his teenage bedroom. One of the others is home-schooling his three boys. I think they call it lone schooling now.
The two jobs in July are actually in northern England, which is pretty lucky as construction sites are closed in Scotland. I hear there's a bit of tension on the border with builders' vans crossing though.
How does the space make me feel? I was going to semi-retire and not have anyone working with me. That lasted three days. It was a self-build and one day realised I needed people working with me. I always tell clients not to make changes on site. But I'm now sitting in the kayak store and workshop. I decided to move it. I had to rejig a bit, windows and things. If things go wrong, I just post-rationalise.
As told to Isabelle Priest. Mary Arnold-Forster is director of Mary Arnold-Forster Architects
Architects at home is a series where architects let us into their work from home spaces. Read about Friedrich Ludewig's workspace here