Mole Architects founder rediscovers time for thinking, reading and listening to old cassette tapes while isolating in his coronavirus lockdown workspace in Cambridgeshire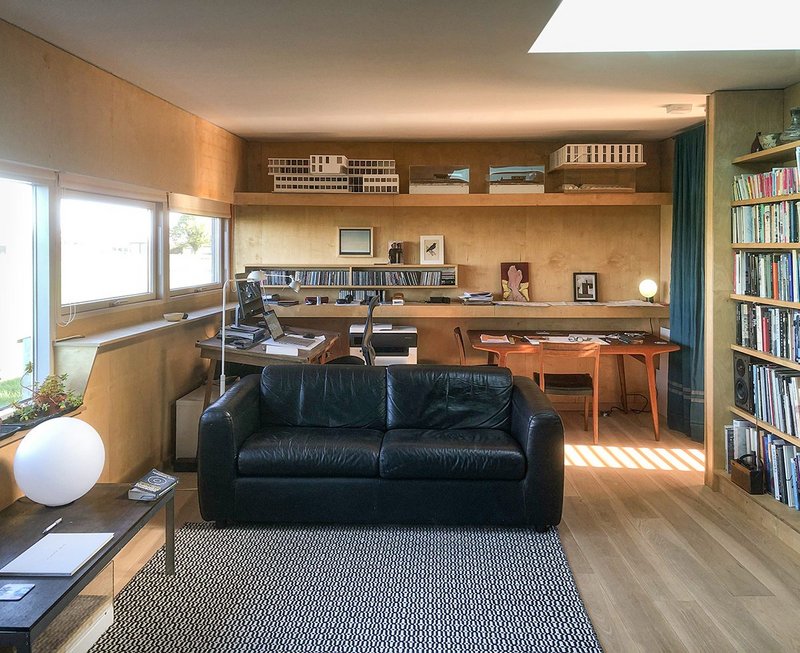 'It's like stepping back in time', says Meredith Bowles about his current workspace, which was once Mole Architects' office.

Credit: Meredith Bowles
I grew up in Saffron Walden, south of Cambridge. I left at 18 and came back aged 37. Working here is like coming back in time. I used to live in Highbury Park. I ran the practice for three years in London before we moved here. We left Hackney and basically carried on heading north until we could afford something. I wanted to build a house. We bought the plot for £30,000 and I started working from the house. After a while I built this studio next to it, where we worked for three or four years. We moved the office to Cambridge seven years ago when we hit seven people. Now we're 10. A couple of years ago I connected this building to the main house and converted it into a living space with this working area at one end.
I always intended to do more from home when the office moved to Cambridge, about 50 minutes away, but rarely did. It's been interesting to find out how it works. I always thought I needed to be around for conversations, meetings, just to be in the office. As practice principal people expect you to be around – not buggering off.
I'm on the edge of a little village looking west over wheat fields, four miles from Ely with its hill and sunset. It's pretty but parochial. Nothing much happens other than the odd tractor going past. You can see the Norwich rail line in the distance with trains every hour, that's about as exciting as it gets. The studio was built as an office for five people, self-contained with a kitchenette. It's 7m by 5m so it's really roomy for me. There's a continuous horizontal window.
The pressure to be relentlessly on the go has been taken away and I've rediscovered time for thinking, walking and reading. The building itself is deliberately straightforward, like a lot of our projects in the Fens, clad in locally sawn larch cladding which is the same as for fence posts. It's super well insulated and uses the natural, breathable materials we like. Inside the space is lined, alongside some of the house, with birch ply. It's like a cigar box.
When it was the main studio, the model shelf used to go around the whole room. Now it's a repository for projects that didn't happen and are waiting to happen somewhere else. In the corner are a couple of versions for an office competition I'm hoping to resurrect. Below in the picture frame is an early drawing of a cladding detail I did in 1998 for a house in Harringay that I finally got built in Cambridge, about 16 years later. Next to it is Ted Cullinan's order of service which says 'cheerio my friends and remember to keep on imagining'. It's nice to have it up there.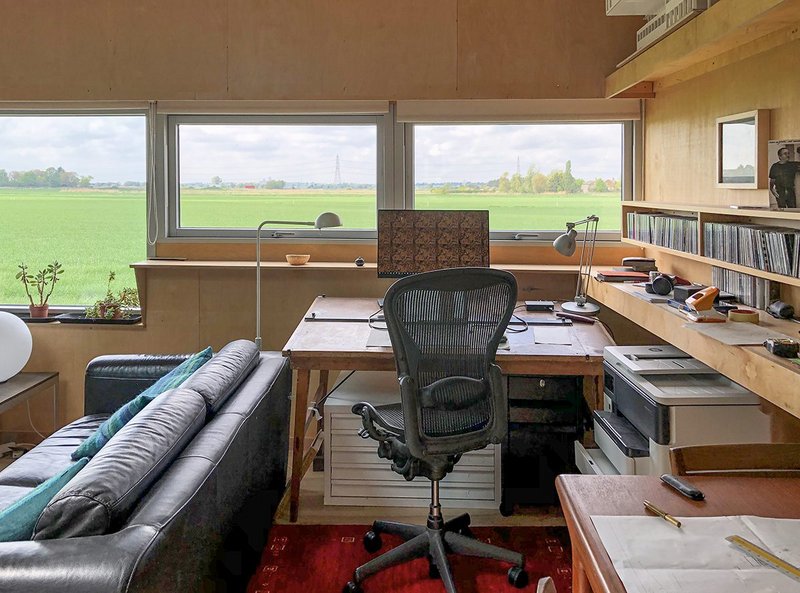 Views of the odd tractor and the distant train from Norwich: Meredith Bowles' home workspace in Cambridgeshire.

Credit: Meredith Bowles
Underneath are CDs but on the other side of the room are a load of cassette tapes. I've bought myself a hi-fi stack off eBay that includes a cassette player. Rather than chucking on Spotify during lockdown, I'm listening to those tapes at my desk instead.
The computer sits on a drawing board, I still draw quite bit. It's a Mayline that sits on a couple of bricks. In the old days everyone used to use T-squares which used to break. This runs on cables. It was given to me by my mate Paul in 1987 because he couldn't pay his rent one month and he offered it to me. Then there's a A3 scanner printer – what more could you need? On the table is the most amazing Kaweco pen. It's German. I got it from this website called Manufactum, which is a Luddite heaven.
We've got a few jobs going on at the moment; 60 affordable houses for Cambridge City Council, a house extension in Aldburgh and a woodland charity storage building as well as a competition for a Cambridge college housing project. What has been great is we are able to continue working effectively using Zoom to have conversations. I live with my wife, so I have company, but the lack of human contact has been difficult for some. Meeting up every morning to share a coffee is important but it's all a poor second to being around other people. We have a banter channel on Slack that gets a lot of use! I'm frequently travelling around for work. I've always had to talk to staff on the move.
On the window sill there are succulents. They look a bit pathetic. We all like to think we're unique but you realise you're doing the same as everyone else. Week 1 of lockdown I started baking. Week 3 I started gardening. Week 4 I cut my hair (more radical than I thought it would be, especially at the back).
As told to Isabelle Priest. Meredith Bowles is a director of Mole Architects
Architects at home is a series where architects let us into their work from home spaces. Read about Friedrich Ludewig's workspace here and Mary Arnold-Forster's here