It's not a cottage in the woods but a garden city, brainchild of that unlikely utopian Ebenezer Howard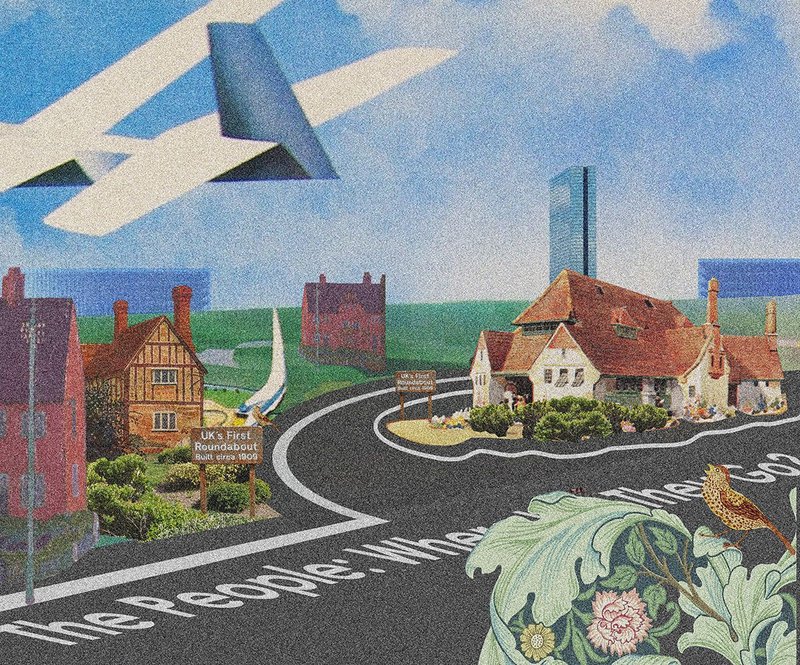 Garden city – Utopia.
The Arts and Crafts movement is normally regarded as a reaction against industrialisation but it can also be seen as a forerunner of modernism. Its spiritual guru William Morris embodied these contradictions: a man steeped in medievalism who also started a successful commercial wallpaper company.
Similarly, Arts and Crafts architects may have been in love with traditional building techniques but they adapted these to meet the demands of an emerging bourgeois culture. Charles Voysey's masterpiece Broadleys on the banks of Lake Windermere in Cumbria is a good example. The house provided a tranquil rural retreat and an image of English domesticity for Arthur Currer Briggs, the owner of a Yorkshire colliery for whom Voysey also designed a row of miners' cottages.
It is perhaps not that surprising then that an Arts and Crafts utopia turns out not to be a cottage in the woods or a picturesque village but a 'city', albeit of the 'garden' variety. The Garden City movement was an attempt at creating a fusion of town and country, a suburban city that would relieve overpopulated urban slums and provide employment and decent housing for rural populations.
It was the brainchild of Ebenezer Howard, an unlikely utopian and an even more unlikely planner. Howard was a parliamentary shorthand secretary who read voraciously and interested himself in the important political questions of the day. A keen student of the influential anarchist Peter Kropotkin and of William Morris, Howard developed the idea of the Garden City as an answer to the problems of rapid industrialisation.
Howard was an inventor and he saw the Garden City not as a design but as a spatial mechanism. His ideas were formulated in a hugely influential book called To-Morrow: A Peaceful Path to Rural Reform, first published in 1898. The book featured a series of diagrams that articulated his thinking with compelling visual eloquence. The 'three magnets' diagram – with its central question The People Where Will They Go? – encapsulated the problems of both rural and city life, suggesting a hybrid of town and country as the solution.
But it was Howard's diagram of the ideal Garden City itself that stuck most in the popular imagination. This drawing illustrates the city as a circle with bands of farms, housing, allotments and industry radiating out from a central urban core. Rings of transportation – a canal and a railway – connect smaller satellite cores while roads span out from the centre like the spokes of a wheel.
The drawing was not intended as a design but it has been mistaken for one many times. There have been other misunderstandings too. Howard's Garden City was not intended as an isolated development but as part of an interconnected network of similar settlements. More profoundly, his radical idea that the city would be collectively owned by its inhabitants has been conveniently forgotten by contemporary enthusiasts.
Howard's concept depended on the purchase of cheap agricultural land. The uplift in value that occurred as a result of development would not only pay off the initial investment but the surplus would be paid back into a community land trust. In the end only Letchworth Garden City, begun in 1903, was developed in this way.
Letchworth was built by the First Garden City Ltd and planned by the architect Parker & Unwin. Its suburban streets, leafy avenues and comfortingly familiar architecture are the prototype for vast areas of subsequent suburban development. But they are also far more generously planned and combine this cosy imagery with a civic scale that renders it somehow disconcerting.
Letchworth can also be seen as the forerunner of the postwar New Towns. These were the products of the New Towns Act of 1946 which turned Howard's economic plan into planning policy: the New Town Development Corporations bought the land at relatively low rates and then raised the value sufficiently to pay off the initial public investment. Though the New Towns were not directly owned by the residents, their development via public money was a social democratic version of Howard's original formula. The success of this system is one of the unsung achievements of the New Town programme.
The Garden City concept has proved a resilient and attractive one. It is routinely trotted out by government housing ministers as a contemporary answer to our current housing crisis, even when the reality turns out not to be a city or even a town but a few hundred houses in a gravel pit on the edge of Ebbsfleet. In this emaciated version of Howard's concept, the word 'garden' is employed precisely because it offsets the word 'city'.
Perhaps the fullest expression of Howard's theories is Milton Keynes, the last and most ambitious of the UK's postwar New Towns. MK is a city of strange contradictions, a place at once beautiful and banal, pragmatic and prosaic, idealistic and ordinary. It takes Howard's fusion of city and countryside to an extreme as well as his prescient understanding of the dominance of the motor car. If Letchworth Garden City boasted the first roundabout in the UK, Milton Keynes turned this into a dominant planning motif. It is a city built for the car that nonetheless combines this with a vision of a sylvan arcadia.