An exhibition at Glasgow School of Art celebrates its first professor of architecture, a Frenchman who died at the Somme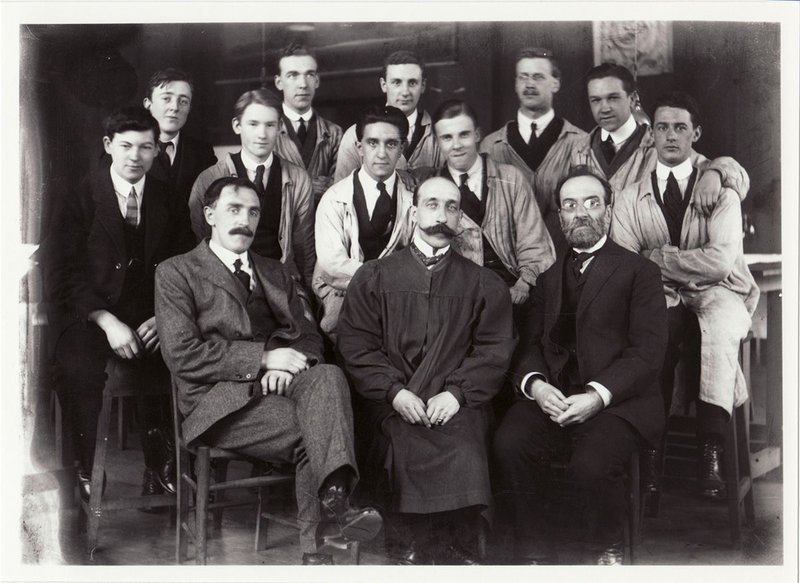 Eugene Bourdon (centre) with students flanked by Professors Charles Gourlay and Alexander McGibbon.
There's a wonderful archive photo of Eugene Bourdon, the Glasgow School of Art's first professor of architectural design, sitting besmocked among his students and completely stealing the show with his impressively flamboyant moustache (above).
Bourdon led architecture teaching there for 10 years, establishing a Beaux-Arts approach that was to continue long after he fell at the Battle of the Somme in 1916. A new exhibition at the GSA to mark the centenary of his death is a chance to enjoy many of Bourdon's drawings from his own formative years at the École des Beaux-Arts in Paris. These are thought to have been brought over to Glasgow by Bourdon in 1904 to inspire his students and have remained in the archives ever since, mercifully surviving the recent fire.
The drawings display, says curator Peter Trowles, quite extraordinary technical expertise from the then student.
'The detail is stunning. The amount of time and effort that would have been spent on them was quite remarkable.'
As well as the drawings, the exhibition has correspondence including postcards from the battlefront. Bourdon was a French reservist and had volunteered, aged 44, at the outbreak of war but still maintained, says Trowles, a 'strong and heartfelt' interest in the wellbeing of his students and the school. In return, students sent comfort parcels to his regiment.

Design for Palais de Justice - front elevation, 1894.
Bourdon secured the professorship in 1904 after he was asked to write a report on architectural training in Glasgow. He recommended the appointment of a Beaux-Arts trained professor and ended up getting the job himself.
Once there, he established an approach that combined the traditions of classicism and Beaux-Arts with knowledge of practical and business skills but with an overall emphasis on the role of the architect as artist, declaring: 'Design is the proper function of the architect, and the training of young architects to design is the most important duty of architectural educators.'
By the time of his death he had been awarded an array of military honours including the Croix de la Legion d'Honneur and the British Military Cross. By then, the Beaux-Arts approach was firmly embedded at Glasgow, where staff appointed by him continued to teach.
Sadly the archives don't reveal anything of the inevitable encounters that must have taken place between the first architecture professor and the architect of the school Charles Rennie Mackintosh. Trowles hopes, however, that the exhibition may inspire further research into the effect that Bourdon's Beaux-Arts style teaching had on students at Glasgow.
Eugene Bourdon: From the Classroom to the Battlefield, until December 4, The Glasgow School of Art.
---