More than 70 projects – and a lot of Lego – are included in Bjarke Ingels Group's sweeping assessment of the evolution of form giving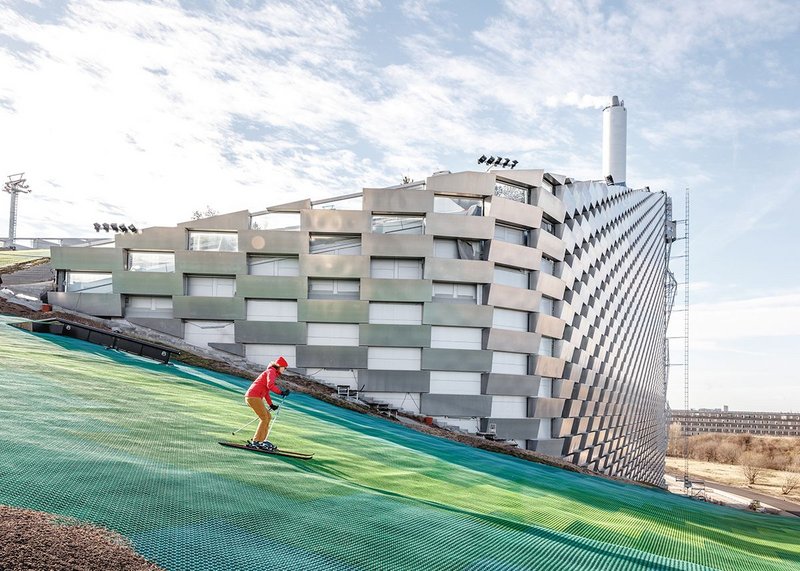 Amager Bakke.

Credit: Rasmus Hjortsh
'Join us on a journey across time and space to sense how the world around us has evolved… from the Big Bang to future life on Mars,' invites the guide to the Danish Architecture Centre's biggest exhibition to date. This is also the largest ever exhibition of the work of Bjarke Ingels Group (BIG), a display of more than 70 projects at various stages of design and completion. The venue, BLOX, opened in May 2018 as the DAC's new home on Copenhagen's waterfront, designed by Dutch practice OMA.
The name of the exhibition is Formgiving, taken from the Danish 'formgivning', meaning design. We follow the evolutionary path of form giving, from the shaping of raw materials at the dawn of time to future life on Mars. We glimpse some of the technologies which may eventually facilitate Mars architecture, including AI, robots and 3D printing.
In between these two extremes is the present as illustrated by the work of BIG. Of the two rooms dedicated to the here and now, the main one is set out as a vibrant miniature city of models of BIG's projects, accompanied by material samples, photos, renders and videos. It is a visual feast for architectural magpies drawn to shiny, colourful, new things.
Here, works are grouped not by date or type but by which 'gift' they bestow upon the world. 'Every time we design a project, as formgivers we can give the future a gift – giving the world something it otherwise wouldn't have, and hasn't asked for,' explains Ingels. In so doing we allegedly get 'one step closer to the world of our dreams – a Pragmatic Utopia'. Examples of these 'gifts' include: 'Marry' (which refers to social infrastructure); 'Productize' (design for manufacturability); 'Bond' ('communal intimacy'); 'Pool' ('vertical integration'), and so on. Essentially these are loose categories for the design goals and societal aims of given projects. Overcomplicated, or reassuringly deep? Either way it's interesting to see how a practice interprets its own work and wider contribution to society.
There are five further overarching classifications which apparently make up form giving, pertaining to humans' relationship with architecture: give, make, sense, show and play. The smaller gallery is focused on this last concept. Visitors are encouraged to try out some form giving for themselves using Lego as a tool to 'create our own world and to inhabit that world'. Toying with the concept of the model as a precursor to a built project, a huge pit of Lego is surrounded by 25 reverse-engineered models of BIG's own work, including the Lego Headquarters itself.
Arguably it is the playful details of many designs, combined with a certain earnestness that comes across in the videos, that tempers the more self-aggrandising or esoteric commentary in the exhibition. (Such as this Spidermanesque statement: 'Architects seek to shape the world. The lines they draw today help shape the future that we and coming generations will live in. And with this power comes tremendous responsibility…')
Bjarke Ingels is 'one of the world's most radical formgivers today', even if he does say so himself. And the BIG international works, such as Google Campus, Shenzhen Energy HQ and Humanhatten, are interesting, but the home-grown Danish projects are arguably more so, considering where we are.
These include the Danish Maritime Museum at Helsingør, a ship-shaped sunken museum in a disused dry-dock; Aarhus Harbour Baths; and the Lego Headquarters at Billund. Examples from Copenhagen itself include Pandahuset, a zoo house for two pandas in the form of a yin-yang; a new restaurant for NOMA; Urban Rigger, carbon-neutral floating student accommodation; and Amager Bakke, a waste-to-energy plant that features a ski slope and blows steam-rings from the chimney. The last two are almost visible from BLOX. Apart from the Maritime Museum, which opened in 2013, the projects all date from the last two years.
These buildings – both the models in the exhibition and the real things – are in excellent company in Copenhagen. BLOX sits directly opposite Olafur Eliasson's Cirkelbroen (circular bridge), and just along the waterfront are the Black Diamond library by Schmidt Hammer Lassen, Henning Larsen's Operaen and COBE's mixed-use development Krøyers Platz, with soon-to-be-built Papirøyen across the harbour; it is a short boat ride from Sixtus Battery, a historic naval base redeveloped by CF Møller. All but one of these projects, which define the cityscape of Copenhagen's harbourfront, are less than 10 years old.
A small-scale adjoining exhibition, Made in Denmark, claims that 'the 21st century has become the second golden age of Danish architecture' (the first being the era of Arne Jacobsen, Ove Arup, Jørn Utzon and other pioneers) – perhaps this is true.
A video showing in this adjacent exhibition asks: 'What makes Danish design so special?' It argues that the Danish model – whereby 'beautiful and functional design for everyday life' is so commonplace that it has become part of the national identity – has its foundations in 'dignity and quality' for all. As a result, 'quality of life for all citizens, sustainable development, energy efficient buildings and high architectural standards' are defining qualities of a Danish architecture that 'has become one of Denmark's most important exports'.
---
FORMGIVING - An architectural future history from BIG Bang to singularity is on at the Danish Architecture Centre, Copenhagen, to January 5, 2020