Third winner Corina Tuna, The Cass, London Metropolitan University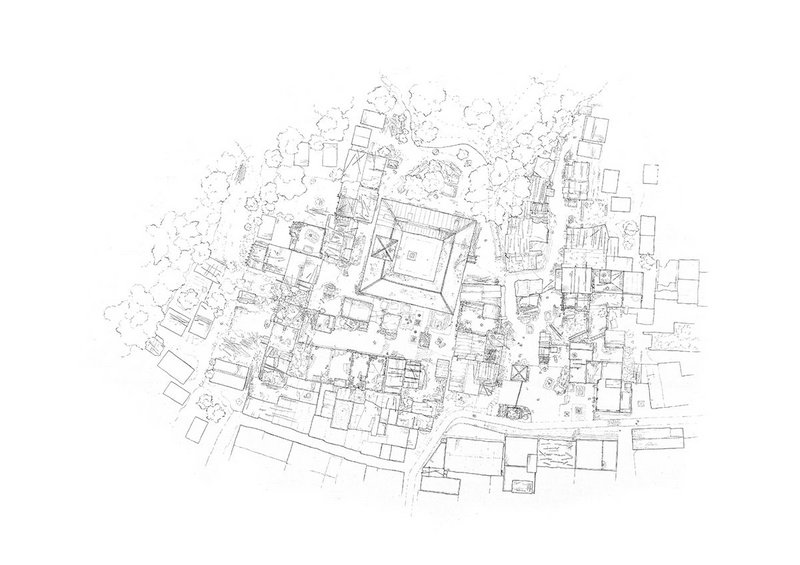 Community Life and Building Damage surrounding Prathampur Maha Bihar.

Credit: Corina Tuna
In November 2015 Corina Tuna visited Bungamati in Nepal, a peri-urban village on the outskirts of Kathmandu that had suffered in the area's devastating earthquake of April 2015. Her aim was to come to an understanding of the physical and sociocultural effects of the event on such communities, and to get an understanding of how they might repair themselves in a safer and more sustainable way. Her work took on board the new, subsided topography, the move of the Newari community from destroyed homes to the forest fringes in temporary accommodation on reclaimed common land. But it was propositional too. Tuna looked at building new homes using courtyard forms on the perennial terraces, where grey water would be treated to ensure clean run off to the village stream.
The images, despite an almost Hergé, Tin-Tin-like naivety, in fact belie what the judges felt was very acute first hand observation coming together with a propositional sensibility to create understated drawings loaded with information and potential. Pearman was taken by the way Tuna's hand drawings moved from surveying the damaged site with new interventions to imagining the new semi-urban spaces defined by the courtyard forms, and a near-future view of the repairing community. Hunter said: 'You can see the technical skill in all the images and a veracity that makes them fresh'. Parry was 'intrigued by the temporary and nomadic qualities of the spaces she's evoking,' and Alsop agreed, saying: 'She seems to be really able to control the atmosphere she's conveying- and that's a real skill.'
All agreed that Tuna's measured work on post-disaster reconstruction was a 'good antidote to the abstraction of some of the submissions'.
---
Return to Introduction to Eye Line 2016
Partner websites