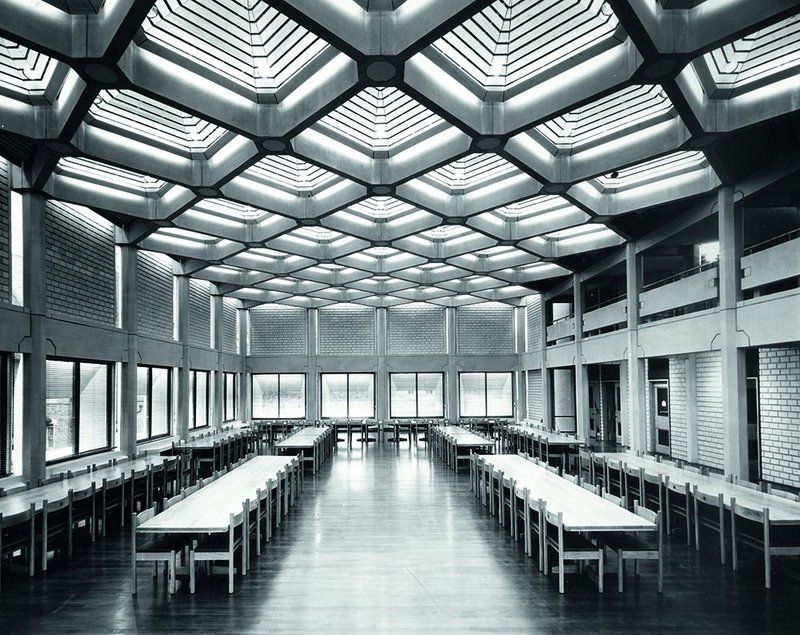 The post-graduate college of St Antony's, Oxford, specialises in the study of modern international history, philosophy, politics and economics and following its foundation in 1950 operated from five separate regional hubs in existing Victorian buildings in adjacent streets. A new centre was needed to entice the disparate students to socialise as a whole and Howell Killick Partridge & Amis was chosen to design a hall and common room, the Hilda Besse Building, in 1962.
The complete new college that was initially planned was quickly reduced by limited funds to just three blocks for teaching, residential and dining purposes. Historically Oxford has placed great importance on everyone meeting for one daily meal en masse, so the new construction began with the building that would facilitate this ambition and become the heart of the college.
When Oscar Niemeyer offered to design the next phase gratis the further proposals were abandoned. However, the expense of realising his designs was underestimated and the entire scheme was discarded in the economic downturn of the 1970s. No further construction took place until Architects' Design Partnership's Nissan Institute for Japanese Studies in 1993.
---
Justine Sambrook
More images at ribapix.com