Co-living could ease the housing crisis, but the is model right? Peter Lewis' analysis and assessment of this ultra high density approach won him second place in the RIBAJ/Future Architects writing competition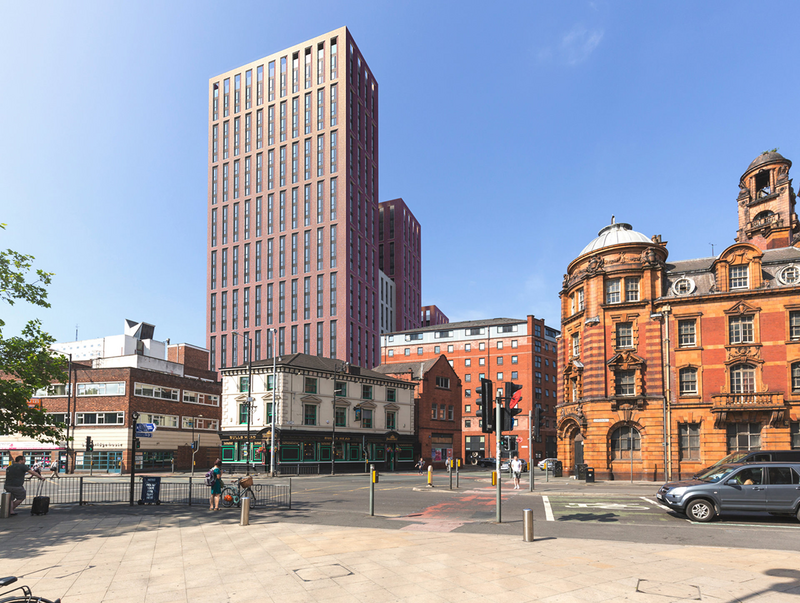 The proposed Echo Street co-living development in Manchester now has planning permission.

Credit: Sheppard Robson
At first glance, proposals for Sheppard Robson's Echo Street housing in Manchester are indistinguishable from any other developer-led scheme being built across the country. The familiar stepped massing, brick cladding and deep window reveals are all present, but come 2022 these blocks will be the city's first foray into co-living.
As the nuclear family, standardised work hours and fixed office give way to pluralised forms of living and working, co-living has emerged as a housing model that promises to provide a flexible way of living for a transient demographic. Distinct from co-housing – which is rooted in the community it serves – co-living usually describes top-down developments that provide short term tenancies for an individual bedroom with access to shared living, working and socialising spaces.
Communal living for transient workers reads like the stuff of Archigram or the Metabolists, so why does Echo Street look so ordinary? Perhaps it is to disguise homes being built at a level 15 times greater than Manchester City Council's definition of high density.
Fitting 497 homes on just half a hectare of land is made possible by a significant number of dwellings measuring less than the minimum floor areas set in the nationally described space standard, with one bedroom homes falling short by a huge 17m2. Such tightly planned rooms can be found in any co-living scheme sitting with Manchester's planning officers – the reality of an entire typology being built to exploit planning loopholes, not address housing needs.
It is argued by developers that reducing room sizes is essential to accommodate shared amenities such as gyms, cinemas and workspaces, but at Echo Street these communal areas amount to just 3m2 per dwelling. This is hardly a fair trade off, especially considering that many of these spaces also present commercial opportunities.
Although councils are usually able to regulate the size of homes by adopting nationally described space standards into their local plan, they are unable to impose these on co-living developments as the typology is not yet categorised within the planning system. As space requirements are not enforced at a national level through building regulations either, there is nothing governing the minimum size of a co-living dwelling.
The consequences of building homes so small goes beyond the impact on inhabitants' wellbeing. Dwellings that do not meet the requirements of the nationally described space standard cannot be used for affordable housing, and in Manchester there is no requirement for a monetary contribution in lieu of this. Co-living is often marketed by developers as a solution to the housing crisis, yet in reality it is a convenient vehicle to bypass any responsibility to those most in need.
To allow policy to catch up and regulate the typology, Manchester City Council recently recommended that new co-living developments should be limited until the first wave of schemes can be built and reviewed. In a report released in December 2019 a number of policies were considered, including the requirement for developers to provide a variety of dwelling types and contribute towards affordable housing. The foundation of much of the report was the new London Plan, where lessons have already been learnt from a small number of completed schemes.
The most notable of these is The Collective in north west London, a 550 dwelling slab by PLP Architecture that was the largest example of co-living in the world when it opened in 2016. With homes well below the nationally described space standard starting at £250 per week, the building set an alarming precedent and was widely covered in the press.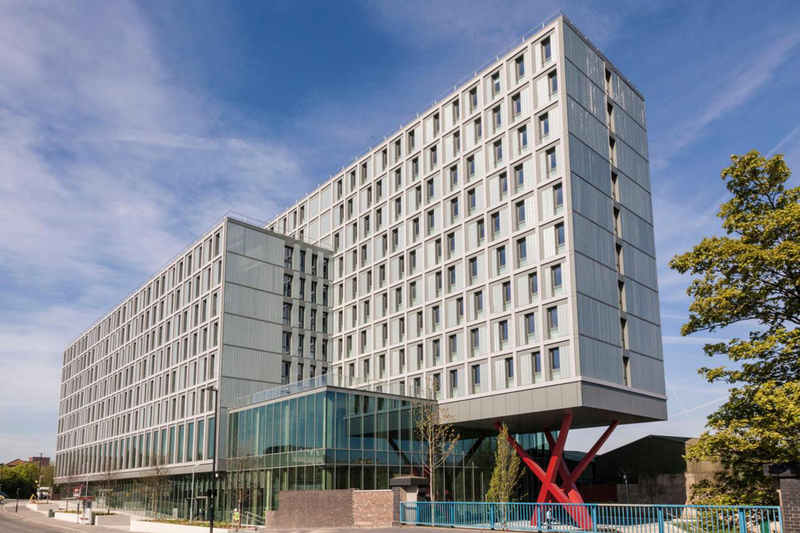 The Collective at Old Oak Common by PLP was the first of the new UK breed of large scale co-living developments.

Credit: PLP
Many commentators likened the small rooms and shared kitchens of The Collective to university halls. This was an accurate assessment – the building was in fact designed as student accommodation with the occupation type simply amended at a later date. Like co-living, student housing is also uncategorised in the planning system and brings the same benefits to developers looking to maximise their plots while reducing their contributions to local authorities. Now the student bubble looks set to burst, it is likely we will begin to see co-living used a branding device to re-package the same buildings for a new market.
While co-living is so far little more than the embodiment of what developers can build in a deregulated planning system, under a different method of housing production the typology could genuinely begin to tackle questions arising from transience and the feelings of uprootedness and loneliness this can create.
An obvious starting point is the co-housing model that has produced a small number of high quality schemes in the UK over the past 20 years. By involving community groups throughout the production process, projects such as Pollard Thomas Edwards' Older Women's Co-Housing have successfully created homes that respond directly to the needs of the people it serves.
The difficulty with translating this to co-living is that it relies on a stable community who can commit to developing a project for years, or in the case of the Older Women's Co-Housing, decades. If the typology is to successfully serve an emerging, uprooted demographic, we must have confidence in a top-down approach that can also produce great places to live.
Could the opportunity be within the new generation of social housing we are starting to see across the country? Councils will have to build homes for a much more diverse population than it did half a century ago, and co-living could form a vital and interesting part of their housing stock.
Local authorities can provide the stability needed to build and manage co-living, while simultaneously placing a sense of social purpose at its heart to free the typology from the banality of developer-led housing. Under these conditions exciting architectural responses to the blurred thresholds between private, communal and public life may begin to emerge.
Alt-Erlaa, Vienna's striking post-war public housing that contains spacious, well-lit dwellings among lush planting, tennis courts and schools, offers a tantalising idea of co-living's potential. In such a place it is easy to imagine how the typology could create the lifestyles developers are selling. Unfortunately, this is a long way from the current reality and there must be fundamental changes to our approach to co-living before it can become anything beyond cynical and exploitative.
---
Peter Lewis is a part 2 student at the University of Liverpool