Ulaanbaatar is very cold and even more polluted. Post Soviet updating is essential – and inspiring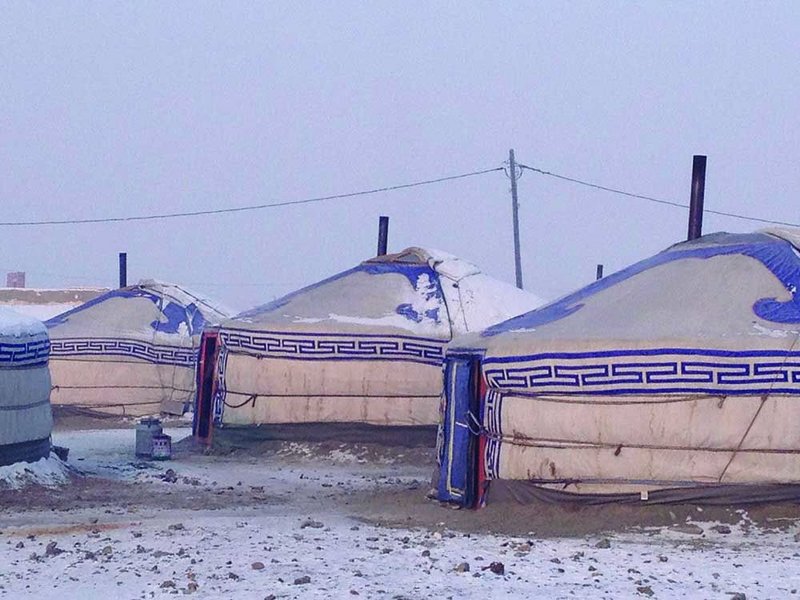 What hits you first is the cold. Freezing air blasts against your skin the moment you step off the plane. Welcome to one of the coldest and most heavily polluted cities in the world, Ulaanbaatar. And it's winter, when temperatures plummet to -30°.

My first impression was one of awe. The city is enormous and a weird mixture of St Petersburg and Bangkok. In the shadow of a snow-covered mountain range, Ulaanbaatar runs west to east along the valley.

Although my hair froze once, strangely enough the temperature wasn't debilitating. The air is dry and, dressed warmly, you could go about your business happily.

Ulaanbaatar has a familiar feel as a city, but there are sharp reminders that you are somewhere different – the language, very few western faces, foreign signs and traffic mayhem, with loud horns going off constantly.

I was amazed to see the number of dogs roaming the streets. One day we came out of a meeting to be greeted on the street by an open vehicle with a decapitated sheep in it. Not a common sight in Newcastle for sure!

Architecture is a bit of a stir-fry too, with clear evidence of the former communist-era. Established old buildings rub shoulders with modern high-rise, while the odd traditional monastery and a sweep of endless Ger villages are a reminder of the city's rural roots.

People living in the Ger villages on the mountain slopes burn raw fuels and anything they can find to keep warm. This smog drifts down into the valley and because there is very little wind, the pollution just lies there.

Many buildings in Ulaanbaatar date from the Soviet-era and lack even polystyrene insulation or double glazing. In such a cold and polluted environment, this is having a real impact, especially on public health.
Ulaanbaatar is the second most polluted city in the world. Wherever you go there's a haze, and the strong smell of smog leaves a bitter taste in your mouth
According to the World Health Organisation (WHO), Ulaanbaatar is the second most polluted city in the world and it certainly has its work cut out to rectify this. Wherever you go, there's a haze and the strong smell of smog leaves a bitter taste in your mouth.

How does this affect those who are in it day after day? Once out of the city and into the Ger villages, it gets even more oppressive.

When you see the extent of the problem, you feel the need to do something about it. This is not just a local issue. The heavy pollution is a threat to the global environment.

That's why I'm here, as part of the team at Gradon Architecture to improve people's lives by designing sustainable environments with energy-efficient, socially responsible buildings and spaces. We're trying to make a small difference with far-reaching benefits.

We've just submitted design proposals for 50 energy-efficient homes in the Nukht Valley part of the city and are working with Mongolian partners on master-planning to improve building stock for the 'Ger-communities'.

These projects should be the start of much improved living standards for the friendly and homely Mongolians. Through sustainable design, I'm hoping Mongolia's famous blue sky will shine through a little more. Judging by my experience in Ulaanbaatar, that blue sky can do amazing things for the soul.
---
Tanja Smith is a chartered architectural technologist with North East practice, Gradon Architecture
---