While the public's purchasing plummeted during lockdown, architects must keep seeking just the right product. Knowing the market is part of design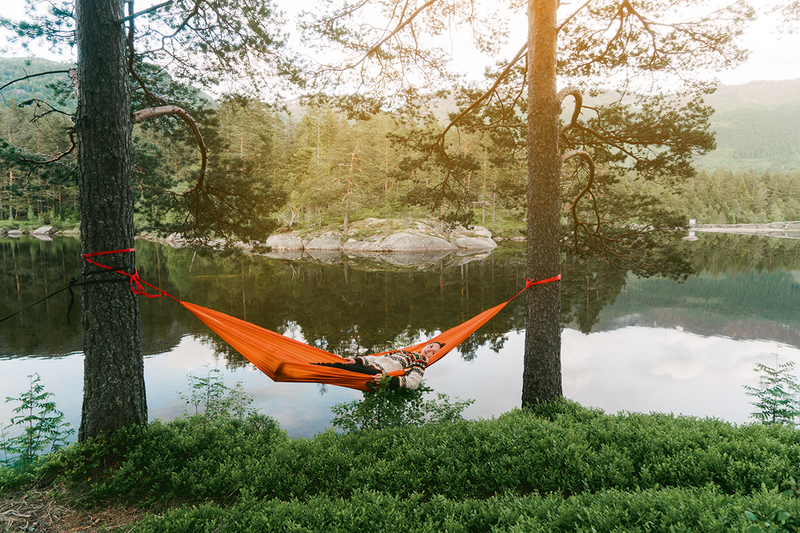 Lean luxury in hammock form.

Credit: istock Oleh_Slobodeniuk
The hammock is possibly my favourite place in the world. Yet still I wasted half an hour of delight lying in one on a sunny Sunday, searching for some other comfort – googling deckchairs, loungers, steamer chairs and hanging egg chairs, in an escalating consumption spiral of price, complexity and storage requirements. I put my phone down when the price reached £795 and lay back in my twenty quid hammock between trees to stare at the sky.
Consumer spending went down during the lockdowns. Clothing sales dropped by 20% in 2020 and other non-essentials followed suit. Missing was the commitment of that trip to the shops, that search for precise colour of bathroom tile (that will still look that colour away from the screen in the dim light of the bathroom), the picking up and putting down with a little shake or a test of the weight. These things make it easy to make decision and buy something on a whim.
Apart from the brief closure of builders' merchants last year, architects rarely have that luxury. Buying is an integral part of designing – that and knowing how to reach decisions about what to buy. Architects are paid to understand the pros and cons of surface finishes, specifying windows with the most appropriate coating, ensuring products have the right BBA certificates. Architects at the top of their game will know, or find out, if that quarry has sufficient supply of their chosen stone. And the lead time on that favourite brick. Markets, market leaders and whether a cheaper substitution will make or break design all have to be weighed up.
For some architects it becomes an art. Eric Parry Architects dedicates itself to exhaustive explorations of materials; its process, dedication and ideas are laid bare in the latest RIBAJ Meets podcast. But it can be frustrating when you are hit with inconvenient realities of physics. Parry director Lee Higson enthusiastically chose graphene as his dream material for building, with its lightness and super strength giving incredible design freedom. I think we would all like a piece of that.
In the meantime we can make miracles by choosing everyday products that are better for the environment. Sometimes designing sustainably sounds like a miserable diet of forbidden products and materials. It is more fun to see it as an opportunity to explore new things – such as on Entopia, a retrofit for the Cambridge Institute for Sustainability Leadership, where the emphasis has been on using emerging products and supporting those who are innovating for a green economy. There are greener versions of regular products too, sometimes led by the manufacturing plant going solar or re-using its waste, sometimes in the make-up of one model over another. Designers are experts at judging whether materials are being used sparingly or with profligacy.
Construction is a consumption game, but being good consumers makes for a win for the climate, as well as your client.