What are the triumphs and challenges of deep retrofit – the process of making a building sustainable in conversion and use? To find out, we follow a flagship project, for the Cambridge Institute for Sustainability Leadership's new base, through the RIBA Plan of Work. First: Stages 0 and 1
When the Cambridge Institute for Sustainability Leadership made a 1930s telephone exchange its new home, it knew it had to bring the building into line with its values – and provide sustainable leadership in its design and delivery. We track the process and consider the fundamental questions of sustainability that must be interrogated at each point through the RIBA Plan of Work to create a powerful sustainable building exemplar. Here we examine POW Stages 0 and 1 of this ambitious, £12.8 million retrofit.
Stage 0: Strategic definition
Stage 0 in the RIBA Plan of Work is all about sorting out the business case that will drive a project, and starting to think about the brief. In sustainability terms, setting the aspirations for the scheme is all-important.
Cambridge University's growing Institute for Sustainabliliy Leadership (CISL), and its then founder director Polly Courtice, spent five years scouring the university's property portfolio to find a new home. Even then, the site they picked was not the most obvious choice for a forward thinking institute that, over 30 years, has married practical sustainability action with business as it works alongside organisations such as Asda and Chanel, and the Prince of Wales.
There was no options appraisal to review different sites or a newbuild. CISL settled on a recently-vacated 1930s telephone exchange in Regent Street, despite its small windows and rather tired interior. 'A property was so hard to come by in Cambridge,' says Courtice. 'We had battled for every building available.' It persuaded the university to let the institute take it on, rather than put it out to commercial rent; but getting it to agree to CISL undertaking a deep retrofit was more difficult. The proposal had to be taken through the university's planning resources committee, backed by a five year business plan and a promise to fund-raise for the retrofit.
Given the institute's twin concerns of sustainability and leadership, it saw the retrofit an opportunity to demonstrate its values (the university itself later committed to reducing its carbon emissions in 2019 when it signed up to the Science Based Targets). The retrofit is now under construction and Courtice is aware there is still a distance to go, adding: 'We have to prove how feasible it is.' At stake is the achievability of a deep retrofit, something the university's ageing estate needs as much as the UK's existing building stock does. The institute needed offices, some with hot desking, and a place bring people together – exhibitions, entertaining and a café.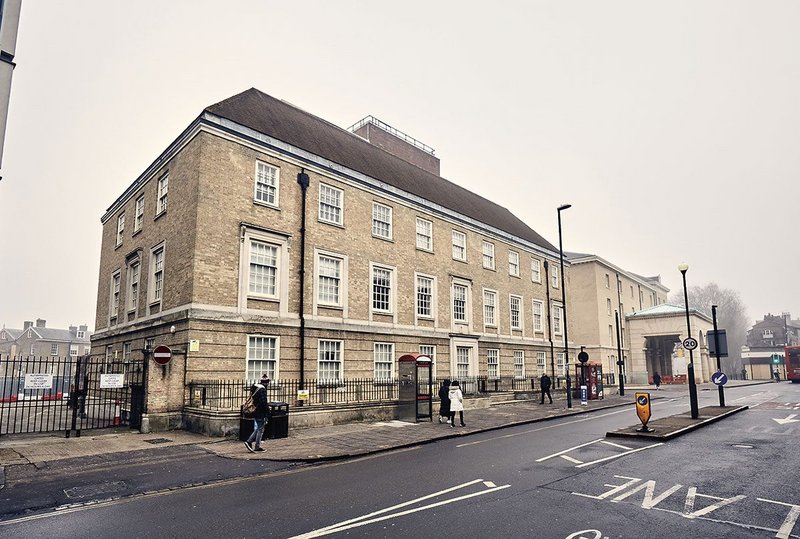 We have to prove how feasible deep retrofit is
The project was joined by John French, who had been lead academic client on the hugely innovative and sustainable Enterprise Centre at the University of East Anglia. He wrote a brief for a world class retrofit, turning values into targets with standards alongside. The Enterprise Centre had drawn on French's work on bio-based materials; from external thatch cladding to interior finishes, it used local materials and showcased innovative products. All those aspirations were also applied to CISL's retrofit.
The slew of project ambitions set out by French included Passivhaus' EnerPHit and BREEAM. The brief stipulated that the building should be an example of the circular economy – in particular re-using or recycling office kits – and of bio-based materials. These materials expand the net wider than timber to include bio-based paint, wool insulation, cork finishes and more. 'We need to move away from petrochemicals and plastic,' says French. 'And bio-based materials give you a good feeling.' In addition they act as carbon sinks. French set a 'stretch target' for 70% (beyond what would normally be considered achievable) of refurbishment ­materials to be bio-based. The embodied carbon target was 300kgCO2e over a 100 year life.
But that is not all. The brief required 50 innovations to be included and showcased in the building, which could be software, materials, or occupier related. And Soft Landings and post occupancy evaluation (RIBA Plan of Works Stage 7) would run for a year from practical completion to ensure the building was performing as it should and could be fine-tuned in use.
Cost was to be typical of a retrofit like this, if not quite the lick-of-paint bargain that the university had first envisaged. The client set a challenging target cost of £2500/m².
Next the consultants team had to be appointed. French is a great believer in team continuity to build on lessons learnt and relationships, and brought in Architype and BDP – which had worked together on the Enterprise Centre – through the Cambridge University's framework, which BDP was on. This team would work on the building through Stage 3 to tender and help appoint the contractor before moving to become client-side architect.
And finally, a name. The building was to be called Entopia.
---
Stage 1: Preparation and briefing
At Stage 1 of the RIBA Plan of Work the architects start to get involved and work out what the brief actually means in practice.
Now, team Architype joins the job, best known for committing to Passivhaus early on, with schools in Wolverhampton and the RIBA Award winning UEA Enterprise Centre (yes that again). The key people are director Ben Humphries and associate Wendy Bishop, a Passivhaus designer. They started with the viability of the brief, first testing its sustainability and then modelling and reviewing key areas. Could the project realistically deliver the high sustainability and certification targets it had been set?
Right from the start Architype was up front about pricing the feasibility higher than normal to ensure that the many emerging issues would be explored – 'to be competitive further along the line,' says Humphries reassuringly. There was a lot to investigate.
On top of the standards already set, the practice proposed working with an extra one: the WELL Building Standard. It saw a good alignment with the other aspirations. A Venn diagram of all the standard and values was drawn up and confirmed a large degree of overlap (see above). The team also looked at LEED and RICS' SKA rating – but they didn't make it into the mix.
So what did the high level analysis – some on Architype's modelling tool Eccolab – of metrics and targets throw up? First was the important role that internal insulation would play. Also replacing the single glazed windows (despite some secondary layers) for thermal performance and air tightness was essential – and would play a part in improving low light levels too. Replacing poor performing windows meant a lot of glass, and with it embodied carbon. 'You couldn't get away from that,' says Bishop. 'You can't get bio-based glass.'
Added to all that was the fact that as an existing building it couldn't benefit from a carbon-sequestering timber structure, which knocked the targets on both bio-based materials and embodied carbon. A target of 70% of bio-based materials had been reduced to 50% by the end of Stage 1, when options and costings were reviewed. The Enterprise Centre at UEA had 400kgCO2e, partly due to the timber structure helping bring down the embodied carbon. And norms for calculation have moved on even since that was completed, with the RIBA's 2030 Climate Challenge, LETI splitting out sequestered carbon and SKA including the reporting of end of life carbon.
The team started to talk about using and doing less. Could those existing fixed glass partitions be reused in situ or upgraded?
So the insulation and wall build up was under the microscope, with extra Wufi modelling to assess moisture migration. Was the solution Warmcel newspaper cellulose fibre between timber studs with a membrane – as often used on Passivhaus projects? Or perhaps wood fibre insulation? Whatever it was would have to be lightweight and help with moisture movement in the existing brickwork. This question remained live through the project despite early conversations – as the team was unable to open up the building to see the old wall build up until very late.
On materials, the team started to talk about using and doing less. Could those existing fixed glass partitions be reused in situ or upgraded? This didn't bottom out until the end of Stage 2, when it was found that keeping them didn't save much, partly because they didn't fit the required configuration of spaces and partly due to detailing insulation in the walls alongside. It was easy to decide to keep the building core containing lift, staircase and WCs, with its existing 60-minute enclosure and block walls. Would that spiral escape stair suffice? This answer was yes (despite the potential to design something more interesting, architectural and accessible).
For the circular economy the team undertook a review of building's materials for suitability for reuse (on site or by others), recycling potential or manufacturer take back schemes, and precedents for creative reuse of materials.
Even for those who want to be the leader in a field, precedents play an important part. By the end of Stage 1 the team had not only firmed up the brief but set up tours to buildings that might demonstrate different aspects of the project to clients, including a private members club, a WeWork building and Europe's first WELL building, and Cundall's London office, designed by Studio Ben Allen. So going into Stage 2 there were plenty of ideas about how to make a great sustainable office, as well as the windows to work out ahead of submitting for planning – always a tricky issue in a conservation area.
---
Read more here as the building progresses