Traditional palm leaf is being used to build once again in Abu Dhabi's desert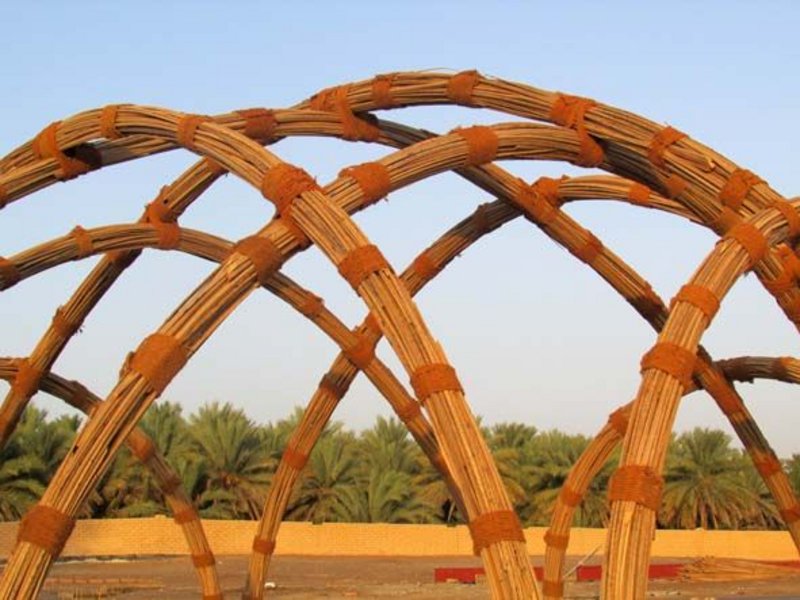 I was driving from Dubai to Liwa Oasis through Al Dafra road. In two hours I completed a journey that would take Bedouins on foot over two weeks. The landscape transforms from uninhabited flat plains to small dunes and eventually 200m high sand hills, creating a gateway to one of the most beautiful deserts in the world – The Rub Al Khali (or Empty Quarter). The tyres stuck to the asphalt while warm air blurred the horizon; my infrared thermometer read 68°C on the glass screen in my car. How in the past did the Bedouins survive here, living 200km from habitation in palm leaf houses from date gardens? In a way it was a form of self-sufficient sustainable community. Yet my destination, Liwa Hotel, welcomed me with a rendering of a glass box: some architects believe that placing a glazed, unshaded structure in the desert is a good idea. I learnt later that glass in a desert climate can reach over 90°C, which validated my quest for material that reflects the sun – such as a date palm leaf, or Arish.
Since that first journey to Liwa in 2007 and our collaboration with TCA Al Ain Historic Environment Department, we have tried to demonstrate that Arish still has a use. We want to contine a cultural authenticity that has existed for 7,000 years in the region. It means we had to change the aesthetics and stylistic form of traditional architecture, to re-connect to today's very different and dynamic society. In the absence of any data or tests it has taken six years of research and development to find a new language that is buildable. Advocating re-introduction of date palm leaf has taken me far beyond materials science into the realms of environmental, economic, social and cultural benefits.
Dry palm leaf is an agricultural waste, expelled by the forces of globalisation from the mainstream construction industry. Its traditional use has been fostered in building conservation, but there is a scope for wider application. There is also an economy of scale: date palms are cultivated in over 40 countries. The ancient model of exploring economic connections between agriculture and culture is still valid and needs re-contextualising in a different setting with different needs. This has been recognised by The UN Commission to Combat Desertification.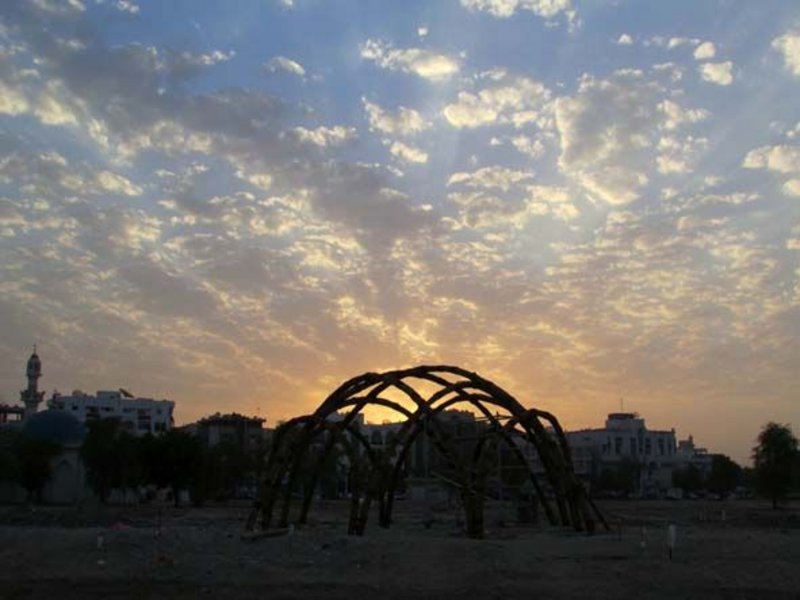 This year we were thrilled to be offered land by TCA Al Ain Historic Environment Department on the Unesco World Heritage site near Al Ain Oasis, to construct a sustainable building from agricultural waste and offer this ancient material a new function and aesthetics. Its proximity to the oasis suggests the possibility of connecting existing agricultural infrastructure with buildings nearby, while reducing transport costs. Its initial function is as a study for a food shelter as, for example, 40% of food in India is wasted due to lack of adequate storage. The UAE building will be a market for local farmers or host functions associated with Al Ain National Museum; it will be given an Arabic name: The Sabla (a place to sit in the shade in the oasis).
This was the first time we were able to construct Arish timber grid structures in the context of the oasis and the city. This innovation would not have been possible without collaboration between TCA Al Ain Historic Environment Department, craftsmen, an architect and BuroHappold Engineering. In this way we are proving not only a new concept for stylistic change but also saying that the circular economy of re-use and recycle can be achieved in practice. With the global resources shortage, climate change, economic instability and increased poverty this concept may offer solutions for those most in need.
---
Sandra Piesik is director of 3 ideas 3ideasme.com
Construction of The Sabla (Food Shelter) is due to be completed in early 2015.
---
Project team
Client: TCA Al Ain Historic Environment Department
Architect: 3 ideas
Structural engineer: Buro Happold Engineering
Fabric supplier: Mehler Texnologies
---
In numbers
5.4m tonnes of dates produced annually in the world
900,000 tonnes of dates produced annually by UAE
15-25m height of mature date palm
4-6m length of leaves
7-10 years commercial lifespan of date palm