With 76 fabulously inventive and diverse entries to choose from, the judges of the Design of the Year Award face a seemingly unachievable choice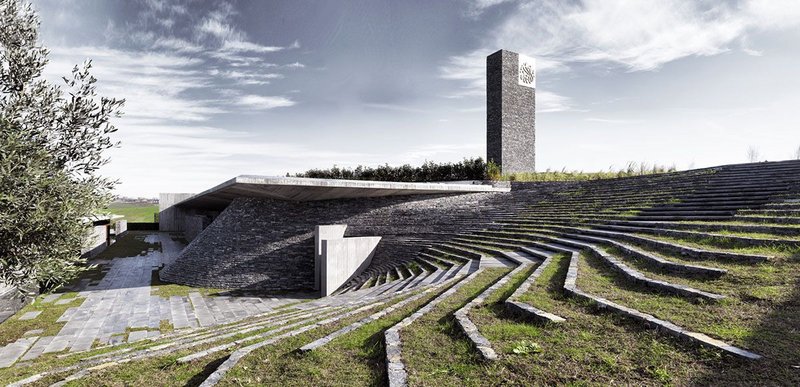 Cascading steps leading to the mosque by Emre Arolat.

Credit: Cemal Emden
From a driverless car and a vesseless kettle to a visual celebration of 'ugly' fruit – the annual Designs of the Year exhibition never fails to provide an unwieldy mix of the weird and wonderful.
This year's 76 exhibits provide the usual, refreshingly global range of designs with well-known designers rubbing shoulders with bright idea start-ups. The only thing they share is nomination by one of a group of design experts, whose diverse perspectives guarantee an eclectic result. This is certainly the case in the architecture category, where the shortlisted projects range from a starchitect gallery for a wealthy art client (Gehry's sail-inspired Foundation Louis Vuitton) to a humble but potentially life-changing school of architecture, La Ultima Esperanza by Al Borde, whose work provides an Ecuadorian fishing community with the skills to build their own homes. Several of the other architecture nominations also tackle important social issues including Pitchafrica's Waterbank Campus, located in a semi-arid area of Kenya, which combines educational facilities with valuable rain harvesting facilities. Good to see Herzog & de Meuron's pro bono project Arena Do Morro, a community sports centre for a Brazilian favela.
Others demonstrate a strong sustainability agenda. Desert Courtyard House in Arizona by Wendell Burnette Architects uses rammed earth walls from desert soil excavated from the site. The UC Innovation Centre in Santiago, Chile, by Elemental, uses thermal mass and deeply recessed windows to drastically reduce energy usage compared with conventional glass buildings. I particularly like House for Trees, a strategy for reintroducing tropical trees via new 'house-pot' housing in Vietnam, by Vo Trong Nghia Architects.
Others are there for their extraordinary aesthetics. O'Donnell + Tuomey's perforated brick Saw Swee Hock student centre at the LSE is the only representative from the UK in the architecture category. The strikingly gabled Philharmonic Hall in Szczecin, north-west Poland, designed by Fabrizio Barozzi and Alberto Veiga, seems to glow through its translucent white glass cladding when illuminated at night. I love the way Emre Arolat Architects's Sancaklar Mosque appears embedded in the landscape amid stepped stone terraces. MVRDV's Markthal Rotterdam covered food market may well be something of a Marmite project, enveloping a market within a soaring housing development that arches 40m over the stalls.
In other categories there is much to delight and impress. After several years of 3D printers being included in this show, it's good to see one such design this year with a fantastic practical purpose – the Project Daniel initiative for printing artificial limbs in war torn South Sudan. The innovative Milito kettle will surely go far – reducing the device to just an element and base so that only the exact water needed is heated via induction technology. For sheer fun, I'm drawn to the 'ugly' Inglorious Fruits and Vegetables posters for French supermarket Intermarche, devised by Marcel to encourage less wastage of unconventionally shaped fruit and vegetables.
But there are countless other memorable and/or worthy contenders such as Current Table, which absorbs enough indirect daylight to power mobile devices and a light, Google's self-driving car, and Jelly Product's Loopheels for wheelchairs, which really does reinvent the wheel.
With such diversity of purpose and expression, I don't envy the judges. Category winners are due to be announced on May 4 with an overall winner on June 4.
Designs of the Year 2015, until August 23, Design Museum, Shad Thames London
---