A varied and intriguing show uncovers many projects that 'stimulate and respond to their cultural expectations'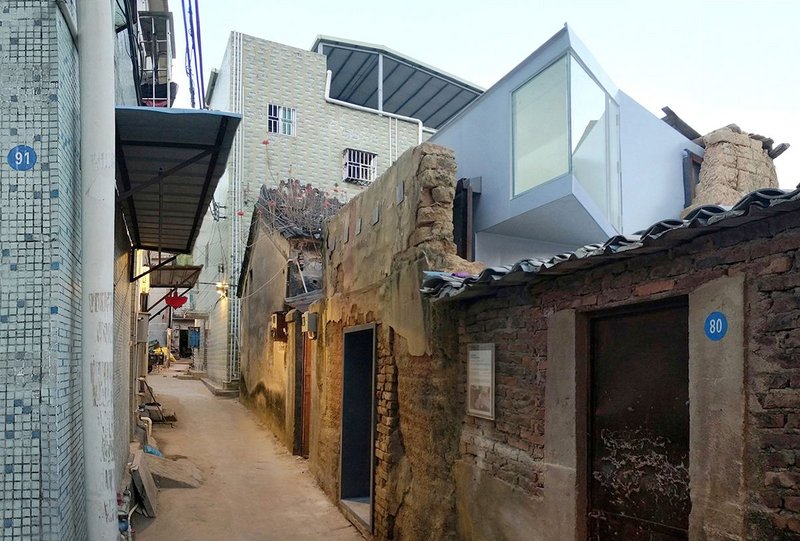 Courtyard House Plugin, Beijing, China, view from exterior, designed by People's Architecture Office.

Credit: © People's Architecture Office
A library made from ice-cream tubs, a bamboo tower that 'harvests' water, a fish market in Oman – all are among the 20 projects shortlisted for the 2019 Aga Khan Award for Architecture.
For more than 40 years, the Award has been given to projects that set new standards of excellence in the built environment. Now in its 14th, three-year cycle, this is a big money award, with US $1million shared by a handful of winners. But its agenda stands out from other architectural prizes in several ways. Not only is it for projects in societies with a significant Muslim presence, the award is for architecture that 'stimulates and responds to their cultural expectations' in addition to providing for people's physical, social and economic needs. The jury, which includes David Chipperfield and Elizabeth Diller, are also looking for projects that use local resources and appropriate technology in innovative ways, and which may act as inspirations for similar projects elsewhere.
Chosen from 380 nominations, all the shortlisted projects are on display in an exhibition at the Aga Khan Centre in London. These are geographically diverse, located in 16 countries ranging east-west from Senegal to Beijing and north-south from Tatarstan in Russia to Indonesia.
While there are some large-scale interventions from major international architects – notably Heneghan Peng's new Palestinian Museum in Birzeit and OMA's Concrete art hub in a former industrial complex at Alserkal Avenue in Dubai – most are relatively modest endeavours that clearly have had a significant positive impact on their communities, as demonstrated in the short films on each project within the small exhibition.
Many catch the eye. The Courtyard House Plug-in in Beijing by People's Architecture Office is an interesting concept for low-cost, non-invasive, regeneration. The idea is for a house within a house that leaves the original structure untouched. The components can be customised and produced off-site and need only a day required for installation. Crucially, this enables an upgrade of accommodation that keeps the social fabric of the site intact, as demonstrated by the pilot project in a courtyard of dwellings occupied by both Muslim and Han residents. So far 15 houses have been upgraded in this way.
This respect for traditional forms of architecture and ways of life runs through many of the projects. In Uganda, the Ashinaga Uganda Dormitory creates accommodation for 50 students within six buildings grouped around a courtyard using locally hand made bricks.
In Djibouti, the Tadjourah SOS Children's Village draws on medina-based architecture to position 15 houses around common, public areas, while in Doha, John McAslan + Partners' Msheireb Museum incorporates four historic courtyard houses, their original structure left exposed so visitors can appreciate the building heritage.
Not that the architects of these shortlisted projects are afraid of change. At the regeneration of the Muttrah Fish Market in Muscat, Oman, the priority was to ensure the continuation of fishing traditions while embracing positive new uses. This led to Snøhetta's design of a distinctive new canopy over the market to provide shading and cooling, and also to encourage post-market use of the building as a social hub for community uses, with restaurants serving food from the market for the growing tourist trade.
The Taman Bima Microlibrary in Bandung, Indonesia, catches the eye through its use of ice-cream cartons to form a translucent wall. It's a nicely executed use for the material – but perhaps the more valuable gain from the project is the haven it provides for locals keen to read, and the informal social space beneath the raised up structure.
Architects have addressed the need to counter the harsh climate in many of the locations. At the Alioune Diop University lecture building in Senegal, the inside temperature has been reduced from 40 to 25 degrees through the use of passive measures such as a perforated south facade and 10m roof overhang for shading. Water gardens have been created to collect storm water.
In Bangladesh, architect Archeground/Jubair Hasan draws inspiration from traditional, passive-cooled pavilion architecture in the design of the Amber Denim Look Shed weaving factory in Gazipur. This is located alongside water, which acts as a natural dustcatcher, as well as providing a pleasant environment for workers.
In Ethiopia, the Warka Water project uses biomimicry to harvest water from the air using a lightweight, open-frame tower made from local bamboo with an inner mesh to collect moisture from the high humidity air.
These modest projects are rarely about making an architectural statement but are more about the community gain they bring. To the contrary, those behind the regeneration of derelict buildings in Muharraq, Bahrian, are pleased that it has been quickly appropriated and now looks as if it has always been there.
The Awards give deserved exposure to these unshowy but valuable projects. The winners will be announced in the autumn.
---
Aga Khan Award for Architecture 2019, until 10 July, 2019, Aga Khan Centre, 10 Handyside Street, Kings Cross, London, N1C 4DN