Romance isn't dead... you just need to grab what life throws in your path
I washed up in Lymington, like a piece of flotsam brought in on the tide. The spirit of place that draws us is as powerful as the force of the tide, and in my case, both were at work. Arriving in a place by boat gives a unique perspective; it transcends time as it is the experience of our ancestors. Sailing across from the Isle of Wight, the Jutes arrived in this area of Hampshire in the 6th century.
A keen sailor, I left London life, culture and security to work in the sailing industry in 2000. The idea of living on coffee, love and the bare essentials, propelled by the force of nature, was deeply attractive. I wanted to explore the world from the outside looking in.
Happening upon Lymington many times during my adventures at sea I felt drawn back, and in 2005 I was eventually able to call it home. The Lymington river is richly layered: salt marsh, the original source of the town's wealth, narrow tidal creeks that demand exploration and a Georgian market town that rolls elegantly down the hill out to embrace the sea. Its backdrop of forest reminds you more beauty – the New Forest National Park – is just minutes away.
Starting at the Town Quay, Lymington's High Street, still partly cobbled, serenely climbs the hill and is well studded with friendly hostelries for the visiting sailor and Friday lunchtime office outing. At PAD, we are proud coffee snobs and self-confessed foodies. Purple carrots and rainbow beetroot often rest among our lime render and burnt timber cladding samples. Our favoured lunch-spot, 'Lemana,' has the best coffee and cake in town and some of the best live music.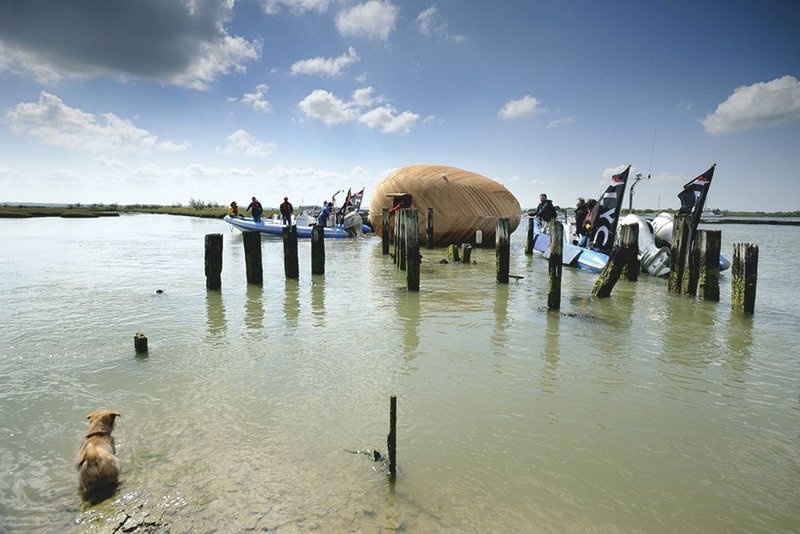 Exbury Egg
Stephen picked up a gull's egg, and commenting on the tension between nature and man's 'plodding feet' announced that he would like to live in an egg
Lymington allows us to 'breathe deep and be'. The New Forest does not welcome intruders easily and in our lifetime we will always remain 'gridders' (relating to the strategically positioned cattle grids that deter the ponies from walking onto the main roads). However, PAD studio has gained a level of trust and respect in the small space of time we have been here, as we strive to root our projects into the local surroundings and understand what it is that makes each place and site unique. We are not ashamed of living outside London and as a studio we seek cultural opportunities and promote them locally.
Our love of the coast, and understanding of living in a small confined space, deeply influenced the design of the Exbury Egg (home to artist Stephen Turner for a year). While I was walking with Stephen on the salt marshes once, he nearly stood on a gull's egg. Picking it up, and commenting on the tension between nature and man's 'plodding feet' announced that he would like to live in an egg. Never one to let a challenge go easily, we embarked on making an egg-shaped home/studio. A year later, unable to gain planning permission (as we may set a precedent!), we decided that we would work around the restrictions and registered The Egg as a 'ship'.
Throughout the project we worked with local schools and this will always be the true legacy of the Egg – the look of amazement on the faces of so many children who, challenged by us, to think big, understood that with a bit of determination, mad dreams can be made into reality.
Wendy Perring is founder of PAD Studio, multiple RIBA regional award winner
SHIP SHAPE
Lymington is famous for its sailing history, and has hosted regattas such as the Royal Lymington Cup, Etchells Worlds, Macnamara's Bowl, and Source Regatta. Every Thursday night during the summer, Thursday Evening Racing takes place with up to 100 boats. The town has two sailing clubs, the Royal Lymington Yacht Club and the Lymington Town Sailing Club, which runs the Lymington Winter Series, or Solent Circuit.