Edinburgh's festival has architecture as well as artistes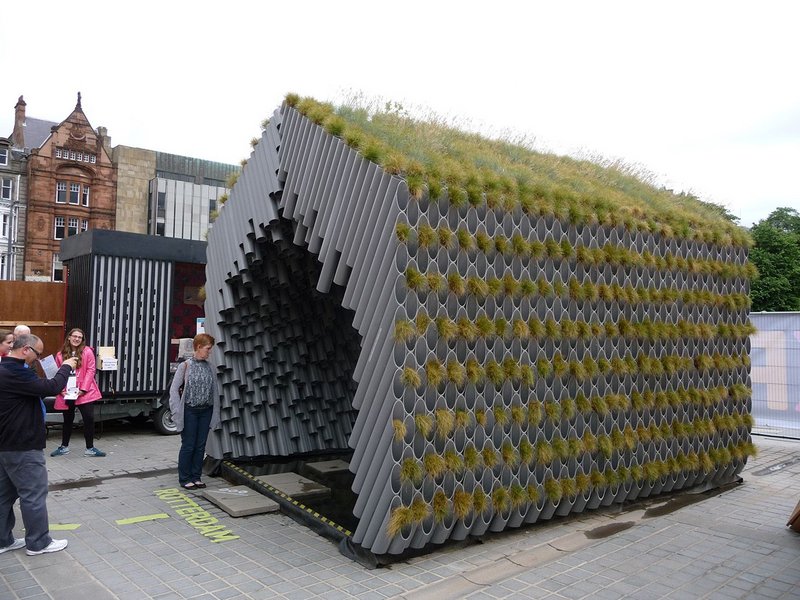 Gone but not forgotten: Rotterdam's pavilion on the Mound.

Credit: Hugh Pearman
Edinburgh and August go together: it's the Festival, a notion invented in the immediate post-war years to bring harmony to shattered nations through culture, especially music. It also gave newspaper editors something to put in their arts pages during what used to be called the Silly Season. So many British cities, towns and boroughs have one or more themed summer festivals now, but Edinburgh's with its Fringe is still the original, biggest and best annual bundle of concentrated cultural loveliness in the world. And despite the impression sometimes given, it's not all about stand-up comedy.
If you're passing through Edinburgh this summer there's architecture and design to be found in the mix. Some of this comes courtesy of the separate all-year Festival of Architecture running throughout Scotland. In Edinburgh right now the architecture side of things includes 'Out of Their Heads: building portraits of Scottish Architects' at the Scottish National Portrait Gallery. Also, at the City Art Gallery in a collaboration with the Art Festival, you will shortly find NEO BRUTES by Dennis & Debbie Club, described as 'a 360° VR installation at the City Art Centre that re-imagines remnants of Scottish brutalist architecture as the headquarters for a utopian movement'. And from August 18-20 there will be a 'Festival of Politics' in the Holyrood Scottish Parliament building by Enric Miralles and Benedetta Tagliabue.
'Out of their Heads' is a thin little show that will not detain you long. The idea was to put the portraits of the architects in the context of their buildings. But this is done is a literally sketchy way, each portrait, bust, medallion or photograph being mounted on a sheet of painted mdf bearing a stylised sketch of one of their buildings, along with a bit of ground plan on the floor. Nice to see architects from Robert Lorimer to Kathryn Findlay in the same room, but it doesn't really come off.
There was more meat to the 'Pop-up Cities Expo' in Mound Square featuring mini-pavilions from Bergen, Amsterdam, Edinburgh, Dundee and Vilnius. That had to come down in mid July, presumably to make way for the Festival proper. But I went to see it on your behalf. Although Kengo Kuma's sliced-log Dundee pavilion garnered most of the publicity, not least here in RIBAJ, for me the clear winner (as seems appropriate for the host city) was Edinburgh's, by Konishi Gaffney: a well-conceived, well-made little origami-like cabin which used timber as it wants to be used.
But there is new permanent architecture to be seen too, especially at the National Museum of Scotland which has just opened a £14.1 million suite of 10 new galleries – the latest chunk of the 15-year masterplan for the museum by Hoskins Architects, with exhibition design by Metaphor.
Before the 1998 extension by Benson + Forsyth and the 2011 Hoskins first-phase reworking of the old building, this used to be a timewarped museum of a museum, charming but ramshackle. Now restored and revamped, it has a sense of purpose greatly helped by the new displays – including some galleries previously closed to the public. The displays are good, especially the new fashion and textiles section. This is still a museum of absolutely everything: imagine London's V&A, British Museum, Science Museum and Natural History Museum combined in one. Go to see it. It's even one of the venues for the Fringe stand-up comedy circuit, so there's no escaping the banter.
---