RIBA Royal Gold Medal winner famed for buildings such as the Olivetti offices, Fountains Abbey visitor centre and the Downland Gridshell among others; teacher, collaborator and known above all for his inclusive, optimistic approach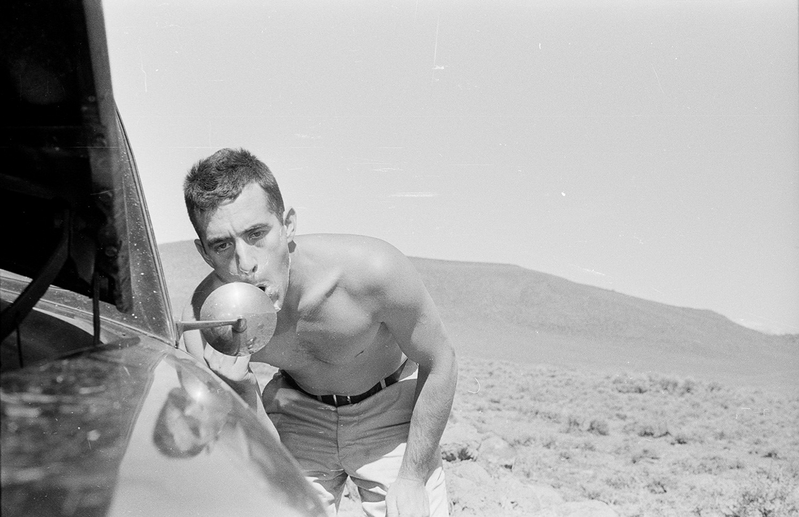 Ted Cullinan on the road in California in 1957, making use of a borrowed Chevrolet Corvette. Credit: Patrick Morreau
Two of the eulogies at Ted Cullinan's life celebration at the RIBA in late November were particularly telling. The first was from Georgia Garrett, daughter of clients for whom Ted built a house in the suburban south London fringes in 1970. The family became friends with the Cullinans who had children of similar age. She described herself as a timid child but in Ted's company – especially on his famously bracing smallholding up in the Peak District, Gib Tor, where stuff always needed fixing up - her timidity fell away and she found herself mending barn roofs, dangling off ropes and diving headfirst into icy ponds.
The second came from one of the many architects who worked with Ted over the years before setting up their own practices. In a way it was a similar story. Sasha Bhavan recounted how, as a mixed-race child, she had experienced prejudice and been misunderstood at school, and became somewhat withdrawn. Later she studied architecture and then joined the Cullinan practice. There, she said, Ted saw only talent and the possibilities of people. Given full confidence and responsibility, she blossomed, staying 10 years and rising to director level before setting up Knox Bhavan with Simon Knox.
These are examples of the wider Cullinan family: his circle, whether actually related or joined by friendship, professional or client connections – or all three – were treated much the same. Richard Murphy – who encountered Ted through his visiting-professor jaunts to the Mackintosh School where his great pals Isi Metzstein and Andy MacMillan presided – noted that Ted would introduce his former employer Denys Lasdun as 'my architectural dad'. Ted duly became one of Murphy's architectural dads, and so the process continues: the family tree of those in architecture influenced by Cullinan directly or indirectly is enormous.
One of his earliest memories was as a small child in Hampstead in 1936, being summoned to a window to witness a distant conflagration. It was the Crystal Palace burning down in south London. In 2009, as a jury member charged with choosing the best building of the past 175 years of the Royal Institute of British Architects for this magazine, it finally came down to the Crystal Palace versus Charles Rennie Mackintosh's Glasgow School of Art. Much as he admired the technical virtuosity of Joseph Paxton's Crystal Palace, Cullinan argued strongly for Mackintosh: for him, handicraft trumped prefabrication even though he and his practice did both. By cruel coincidence, fire was later to devastate his beloved School of Art also.
Ted saw only talent and the possibilities of people... his circle, whether actually related or joined by friendship, professional or client connections – or all three – were treated much the same
The child of upper middle class professional parents, Cullinan went to school at Ampleforth, then trained at Cambridge and the University of California at Berkeley. As a student in England he cycled all the way to eastern France and back, a 1000-mile round trip, in order to see Le Corbusier's just-finished chapel at Ronchamp. But America gave him an equal love of Frank Lloyd Wright and the arts and crafts tradition. His chosen course as a professional was socially progressive and hands-on: he knew how to build, and often – as with his now-listed little house in Camden Mews – built with his own hands. 'Architecture is the celebration of necessity,' he said. 'You do what needs to be done, and you express it as you do it.'
At Lasdun's office he worked on the University of East Anglia ziggurats and the Royal College of Physicians (harvesting rejected building materials from the latter to help build his own house). He set up independently in 1965 but had completed his first solo built project in 1956, fresh back from Ronchamp: a new holiday house for his father attached to the derelict old Belle Tout lighthouse at Beachy Head. Though altered it still exists, now moved back from the crumbling cliff edge and renovated as a boutique hotel.
His facility with the pen, along with his infectious enthusiasm, is why Cullinan became a noted teacher with an instant rapport with students. Cullinan would talk as he drew, using coloured felt-tip pens on the acetate sheets of overhead projectors. By drawing the famous buildings of the past – Wright or Corbu to the fore – as well as his own work or just spur-of-the-moment ideas, he could explain the whole of architecture and impart a spirit of adventure and energy to the process, all in a few well-chosen lines. It was a rare gift.
A romantic and an optimist, he offered an alternative to the tired modern-versus-traditional debate in architecture
A significant early series of commissions was for regional centres for Olivetti: working with colleagues including Julyan Wickham he developed an adaptable courtyard plan with prefabricated plywood superstructure. All still exist in other uses. The courtyard plan recurs in his work, as at his 2013 Maggie's Centre in Newcastle. An extension wing to this will be his last personally-designed project.
His flair for flexibility is demonstrated by another listed building – the RMC International headquarters in Surrey (1985-90) its low-lying bulk hidden beneath an enormous formal roof garden, which is now being adapted and extended as a retirement home.
Always highly individualistic, by the 1990s the increasingly tactile, hand-made Cullinan approach was somewhat at odds with the prevailing machine aesthetic of high-tech. One of his most successful buildings, the Fountains Abbey/Studley Royal Visitor Centre of 1987-92, used traditional timber, dry-stone walling and leadwork in new configurations. Being an irritant to mainstream modernist thinking on architecture was something Cullinan – himself a modernist, but of a different hue – delighted in. Fountains, conceived as part of an overall landscape plan for the site, shows what we lost when his 1993 competition-winning design for a new Stonehenge Visitor Centre (and later iterations) was abandoned. In 2008 he won the RIBA Royal Gold Medal for Architecture. Although he was not one for icon-making, his buildings could be defiantly strange, such as his Centre for Mathematical Sciences at Cambridge University (1996-2002) with its shallow-arched grassed roof and its curious pagoda-like ventilation turrets. Or from the same period his utterly different Downland Gridshell at the Weald and Downland Open-air museum in Sussex – shortlisted for the Stirling Prize – where he experimented fruitfully with the curvilinear form of a building made of a latticework of loosely-interwoven wooden poles.
Cullinan was adept at making much out of little, and of seeing a continuity with the past. A romantic and an optimist, he offered an alternative to the tired modern-versus-traditional debate in architecture. His socially-progressive, collaborative, congenial and sustainable architecture has come right back into focus as urgently appropriate for our times.
He is survived by his wife of nearly 60 years Roz, sister Susan, son Tom, daughters Kate and Emma, and a huge and intertwining family and professional circle including his own firm, the employee-owned Cullinan Studio.
---
See Ted Cullinan deploying his felt-tip pens to explain Frank Lloyd Wright's 1903 Ward Willits House (short ad at the start)