Pablo Bronstein's RIBA show explores the way pseudo-Georgian architecture flatters our vanity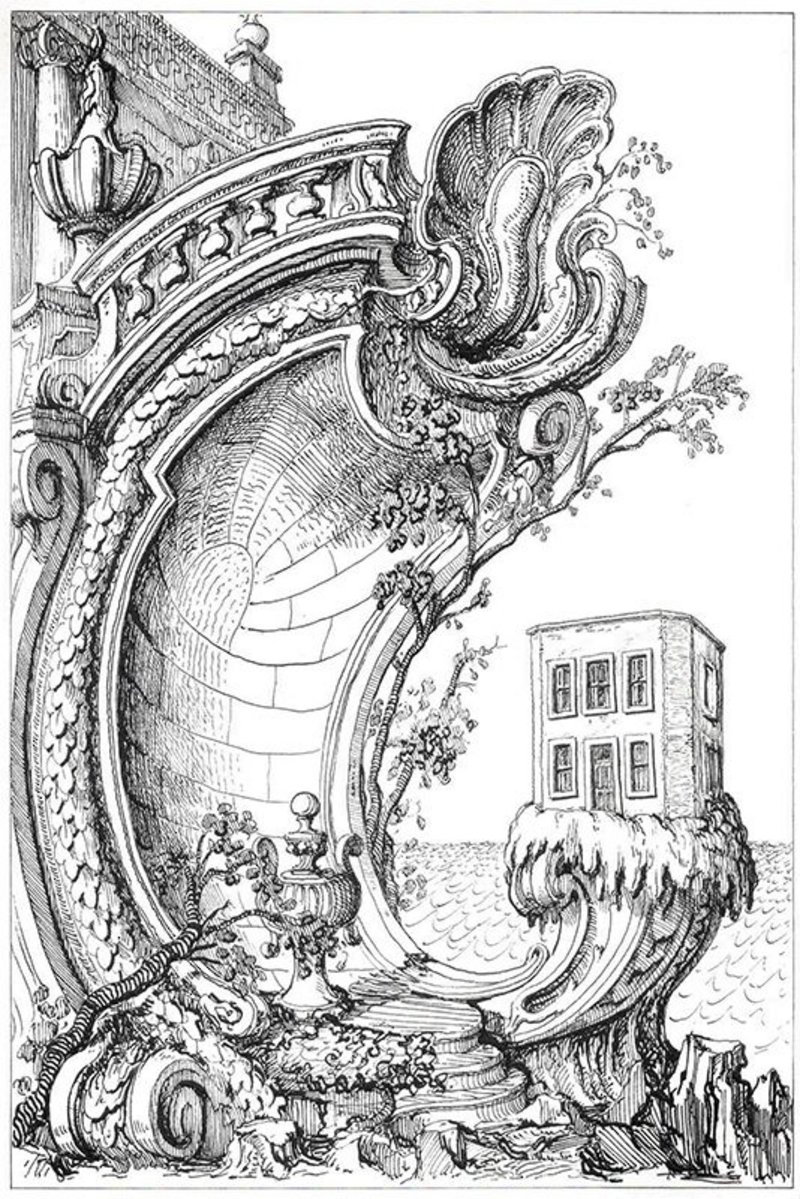 1-4 Cassland Road and Well Street, Hackney E9 7AN. Courtesy: Herald St, London and Galeria Franco Noero, Turin.

Credit: Pablo Bronstein, 2017
Pablo Bronstein may have abandoned his Bartlett architecture studies after just three weeks, but architecture has remained central to him as an artist ever since. And now, as the recipient of the latest RIBA Commission, he has turned his attention to one of the most unsung architectural styles around – pseudo-Georgian.
As a child he produced prolific and elaborate drawings of buildings, and much of his work continues to focus on architecture, whether through the medium of drawing or through choreography and performance. Fascinated by pre-modern styles of European architecture and their appropriation and reinvention, he published A Guide to Postmodern Architecture in London (Koenig Books) in 2007. In 2011, he staged architectural interventions throughout the ICA as part of his show Sketches for Regency Living. Last year's Historical Dances in an Antique Setting at Tate Britain used dance and architectural backdrops to experience the imposing Duveen Galleries.
His latest work is the drawing-based exhibition Conservatism, or The Long Reign of Pseudo-Georgian Architecture, opening this month at the RIBA's Architecture Gallery in London.
It's an unwieldy title, and takes some explaining. Through 50 of his own drawings in dialogue with historic drawings from the ­RIBA's collections, Bronstein aims to explore the proliferation of developer-led, ­pseudo-Georgian architecture, which he regards as an undocumented exemplar of British vernacular, from the 1970s onwards. He has no interest in grand high-end buildings, but is fascinated by the often mundane application of Georgian style and its embodiment of social aspiration. In particular, he is interested in pseudo-Georgian's ability 'to successfully and economically pander to delusions about our past, and flatter our vanity of wealth and class'.
'I view it as a kind of unconscious post- modernism. It's pattern book architecture, which is very 18th century,' he says.
'It's considered the rubbish against which good architecture shines out. People don't bother mentioning it. As a result of the buildings not being looked at properly, people do all sorts of funny, weird things.'
Yet he has a soft spot for this prolific, workaday style with its budget aspirations for solidity, permanence and tradition, often built for people without a background of home ­ownership. Its success is measured not in terms of architecture awards but by volume of sales, or getting through planning as quickly as possible.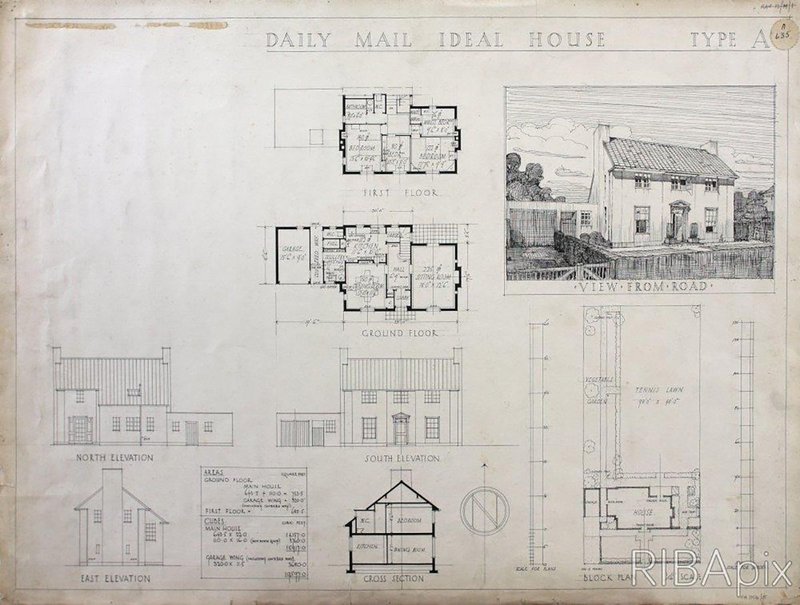 Competition design for the Daily Mail Ideal House Donald Hanks McMorran, 1927. Copyright and courtesy: RIBA Drawings Collection.
'The buildings are trying but don't know quite what they're doing wrong or right… This isn't me laughing at them. I feel very identified with that kind of building. These are great things to study,' says Bronstein, adding that he likes the downtrodden and ignored. 'For me there's absolutely no moral judgment. The moral judgment is more directed against the people who ignore that kind of stuff.'
His freehand pen and ink drawings capture real buildings that he has noticed around London and puts them in often elaborate framing devices ('generally speaking, the crappier the building, the bigger the frame') augmented with highly dramatic imagined settings.
In the flamboyant drawing of 1-4 Cassland Road and Well Street, he uses the elaborate frontispiece from an 18th century book on rococo ornamentation by Juste Aurèle Meissonier to give a fantastic setting to the modest building, which is offered up by the rococo ornament in a wave-like flourish. Bronstein enjoys the contrast between such a 'peak of excess and over-doneness' and a building 'so impoverished and bereft of architecture that it's almost mind-boggling. I thought it would create a sense of pathos to juxtapose the two.'
In another drawing, 1 Haverstock Street, Bronstein takes inspiration from Piraensi's designs for fireplaces and wall decorations.
'It is all very tongue-in-cheek, because the dark niche in which the building sits, and the layered decoration, is at odds with the extremely flat and thin facade of the building. The richness and weight of the frame is poking fun at the very opposite nature of the real facade,' he says.
In the exhibition, Bronstein's new drawings are organised by type in an enfilade arrangement with those from the RIBA archives. Rather than seek to make a contrast between high-end Georgian designs and more recent pseudo-Georgian, Bronstein has sought out more comparable original and neo examples that deal with the style as a commodity, such as commercial shop fronts. The show, designed in collaboration with architect Apparata, also includes an archive area that charts the role of pattern books in popularising Georgian style as well as trade magazines that show the huge growth in adoption of pseudo-Georgian style in the 1970s and 80s. Apparata has also designed an installation at the entrance of the RIBA to complement the Bronstein exhibition.
Bronstein has no doubt that he made the right choice in leaving his architecture studies. It would not have suited him, he says, shuddering at the long gestation times involved in making buildings. 'I'm so impatient!' he says. 'It's pretty rare that I like anything I do after six months.'
He has, however, recently completed a lengthy building project of his own restoring a 17th century house on the Kent coast.
After the RIBA exhibition, Bronstein is staging a show about China in Turin in November and is looking forward to several more projects in London, including one at the Soane Museum. He recently unveiled Rose Walk in Edinburgh, a permanent commission for Jupiter Artland consisting of two pavilions, one Chinoiserie in style and the other Gothic, linked by a 25m rose garden. His book Pseudo-Georgian London (Koenig Books) is published to coincide with the RIBA exhibition.
---
Pablo Bronstein: Conservatism, or The Long Reign of Pseudo-Georgian Architecture, September 21 September 2017 – 11 February 2018, Architecture Gallery, 66 Portland Place, London.