Frances Williams, The Cass, London Metropolitan University: Studies for Ladybower Reservoir, Peak District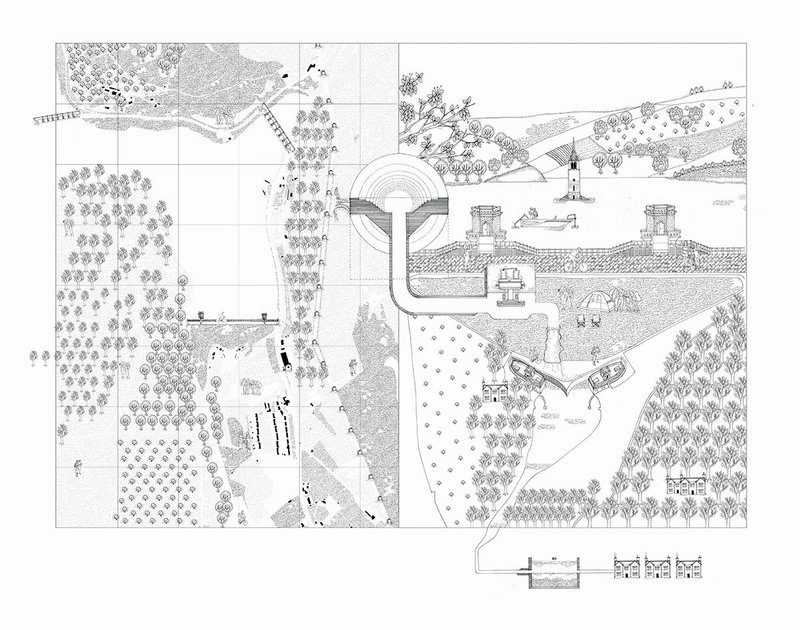 Ladybower dam. Water management is highlighted in this semi-infographic image.
Perhaps Frances Williams' interest in the Ladybower reservoir was piqued by the blotting out of architecture rather than its creation – haunting photos exist of the lost village of Ashopton's church spire slowly disappearing beneath the waters in the two years it took to fill the reservoir. Legend is that on occasion you can still hear its bells chiming out languorously from the depths. That lost past is perhaps intimated in Williams' choice of drawing style: a flattened, grid-like, cartographic technique that bears more resemblance to medieval representations of space than it does a major piece of 20th century infrastructure. Here, nature and artifice swirl around each other and challenge the viewer to question what is original and what has been created.
Pearson read it as 'a medieval map with an infographic twist'
In her own way, Williams is challenging what a national park is and the kind of interventions that must force a structural questioning of the appellation. An underlying initial resonance with Romanticism is countered with sections explaining the workings of the dam itself like a Haynes Manual bound inside a 12th century illuminated panel. Spiller read it as 'the Garden of Eden meets OMA's La Villette competition', while Pearson read it like a reredos screen, a 'medieval map with an infographic twist'. The result is a set of architectural renderings, as Pearman noted, 'of pared-down beauty and strangeness'.
---
RIBAJ Eye Line is produced in association with AVR London