Luca Gamberini, Architectural Association: The Retrieval of Bodies, The Last Known City, Vertical Forest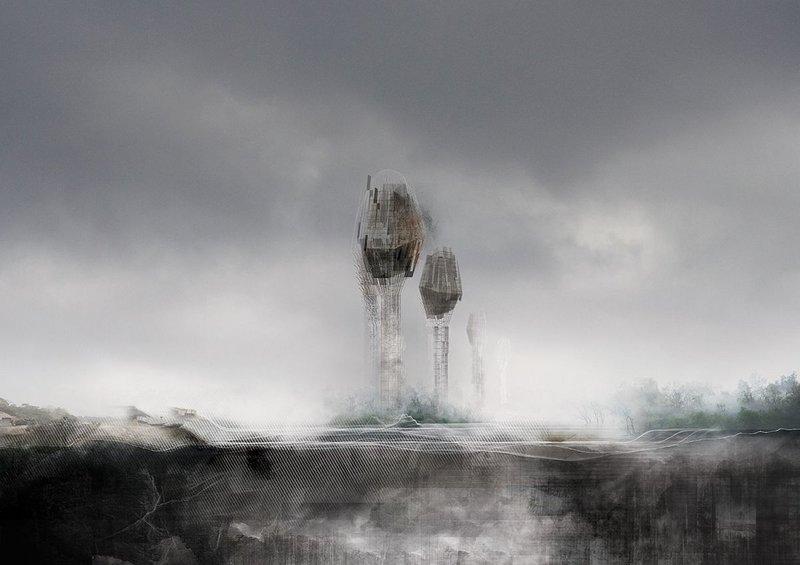 Vertical Forest: 'a sequence of lithic spaces… a future pilgrimage destination of the displaced looking for the past.'
There's a grim but fruitful purpose to Luca Gamberini's studies of a post-apocalyptic world – one where water levels have risen, flooding arable land and forests, where millions have been displaced into new, high level, temporal enclaves, and where single buildings take on a mythology not evidenced since the construction of the great European cathedrals.
The sense of loss is evinced in the erasure of the drawing itself
Gamberini used the works of architect/artist Massimo Scolari as the inspiration for his work, the sense of loss of something being evinced in the confident but conscious erasure of the drawing itself. It was the epic nature of Last Known City that captured Neil Spiller's attention and 'sealed it for me'.
Joseph Robson, who has seen a lot of work while teaching part-time at Bath University, called them 'indulgent and gorgeous'. Bartlett research unit tutors Sandra Youkhana and Luke Pearson acknowledged that these works were of a type frequently seen at the London schools but saw them as undoubtedly beautiful examples. 'What draws us to them is not the theme or style but the skill of execution,' said Youkhana.
---
RIBAJ Eye Line is produced in association with AVR London