Matthew Kernan, Queen's University, Belfast: Fragmenting Nostalgia and Locus Amoenus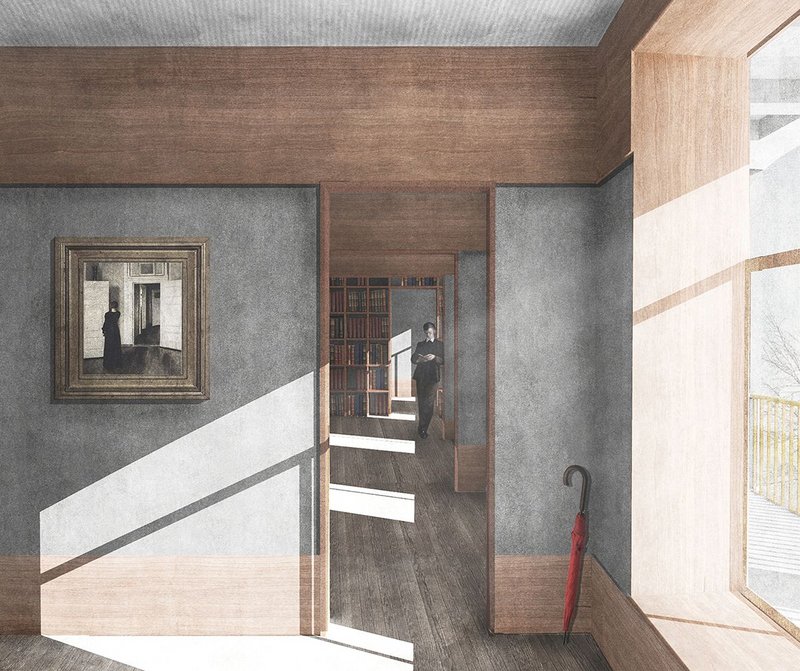 Fragmenting Nostalgia: on the face of it a simple perspectival view is actually a complex and nuanced thing.
Matthew Kernan looked to no less than author James Joyce to act as the inspiration and frame for his academic work, intrigued by the notion of Joyce's 'epiphany': 'a sudden focus into depth, of naked revelation in what seemed to be a trivial incident'. It is this sense of reification of the everyday present in this image of rooms in an 'economy housing scheme' in Aarhus, Denmark, and a 'tower keeper's bedroom' that so impressed the judges.
The more you look at them, the more they engage – I'm reminded of Holbein's Ambassadors
Part of the allure was their figurative, Hockney-esque nature, layered with a subtle veil of abstraction that defies the assumptions of the viewer. Kernan has been masterful in controlling both compositions, playing games with us in a way that forces us to look again, with Robson noting: 'The more you look at them, the more they engage – I'm reminded of Holbein's Ambassadors.' The artistic references aren't just visual, but conceptual; Spiller too noted the compositional skill: 'It's sophisticated, with a sense of Velázquez's "Las Meninas". The subject is off centre, slightly hidden, the painting on the wall suggests reflection and other dimensions… the umbrella's surrealist touch.'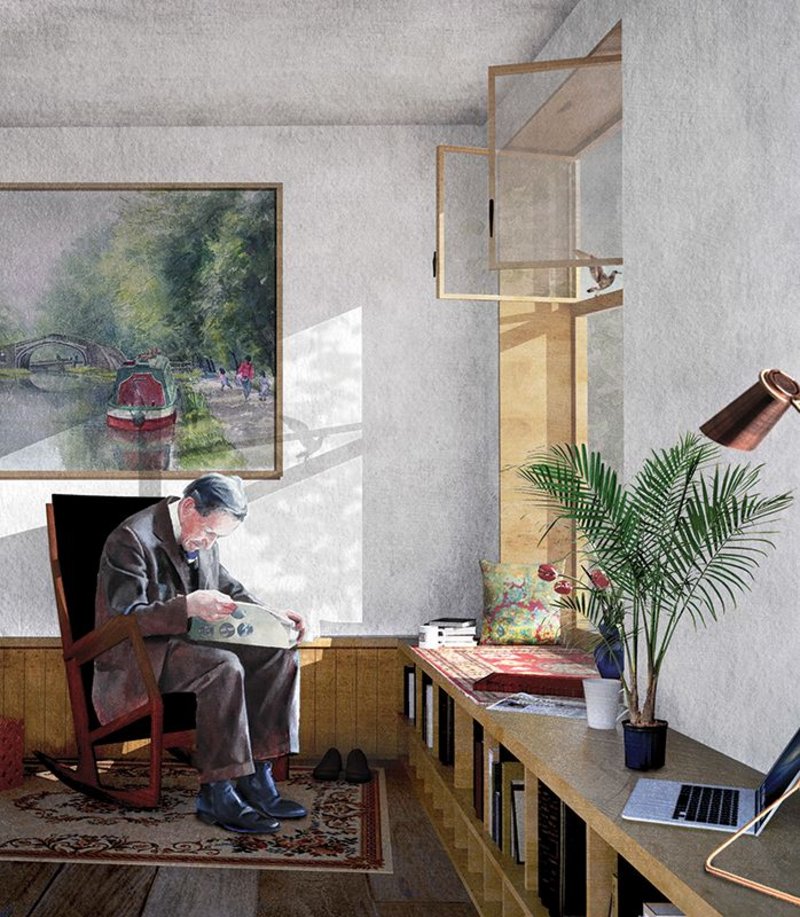 Locus Amoenus: the tower keeper's room, with bird, wings outstretched, and misaligned carpet, contains moments of tension in its apparent repose, featuring Hockney's dad.
Hunter noted the strange contemplative choice of image on the wall behind the tower keeper, the bird frozen on the cusp of flight, past and future intimated in the present. Yet the wintry light thrown on to the walls past the bare trees outside lines up despite their different positions; a perspectival conceit that removes the image one layer from reality. Taken together, these slightly unsettling but satisfying elements combine to create a complex evocation of time and place from what, at first, seems a conventional representation of volumetric space.
---
RIBAJ Eye Line is produced in association with AVR London