Fear or love? Impressive exhibitons give Design Museum an inviting house warming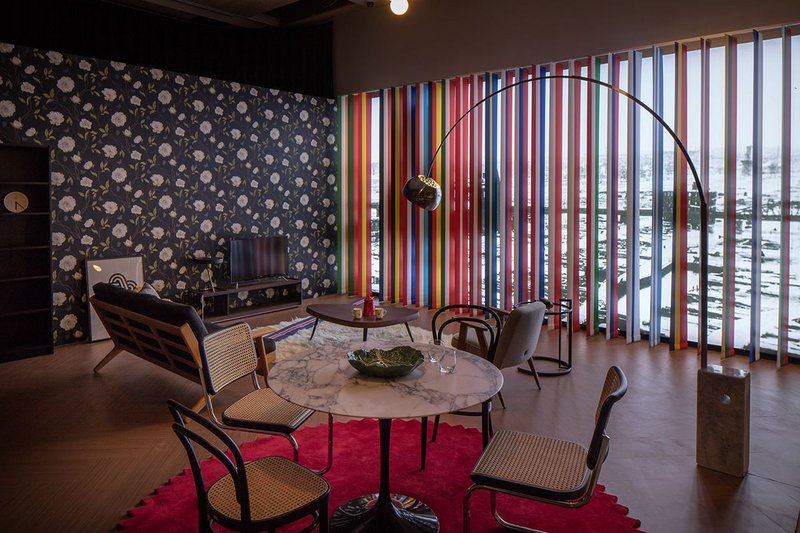 Fear and Love – Reactions to a Complex World. The Pan-European Living Room by OMA is a response to the recent Brexit vote.

Credit: Luke Hayes
Enough about the pros and cons of the Design Museum's adaptation of the former Commonwealth Institute in London's High Street Kensington. Whether or not you like the way OMA, Allies and Morrison and John Pawson have dealt with the tricky job of turning a 60s icon into a cultural institution for the 21st century, there's no doubting that its new home lifts the Design Museum to another level, not only in terms of aspiration and amenity but in the new opportunities provided by a near doubling of its exhibition space. So what do visitors get when they've schlepped down Kensington High Street, navigated the lure of the shop and finally plunged into the exhibition spaces?
Fear and Love, by far the most exciting of the two opening temporary exhibitions, gets the museum off to a flying start. Chief curator Justin McGuirk was clear that he didn't just want to show objects on plinths. Instead, he has commissioned 11 international designers and architects to create installations where they use design to respond to major issues in the world that concern them. They are not necessarily providing solutions, says McGuirk, but are proposing and exploring ideas, and in doing so, it is hoped, capture the mood of the day and provoke debate: 'There's a lot of anxiety about the state of the world. There's a lot of anxiety about design and what it's for. Is it always a force for good?'
These stimulating pieces are beautifully staged by the participant and exhibition designer Sam Jacob Studio. OMA's Brexit-prompted installation, The Pan European Living Room, is a great idea – creating a roomset through objects from each of the 28 member countries to show how integrated our lifestyle cultures are. The backdrop is a vertical blind patterned with OMA's design for a EU barcode which opens to reveal a photograph of a devastated, bombed Rotterdam from the Second World War – a warning of where ideological conflict can lead. And the UK contribution? Peony Place patterned wallpaper by Nina Campbell produced by Osborne & Little.
Rural Urban Framework's City of Nomads installation looks at the difficult experience of former nomads in Mongolia when they move their ger homes to the city, and considers how these tents can be designed to link together to provide communal space and improve living conditions.
Ma Ke was once one of China's most successful fashion designers but gave up commercial work to set up a design studio social enterprise dedicated to making clothing traditionally in a way that is respectful of the land and rural traditions. Her impressive piece is installed using a mound of earth as the backdrop for the hand-made work.
Another exhibit that is both visually stunning and meaningful is Fibre Market, by Dutch product designer Christien Meindertsma, who tackles the as yet-untapped potential of recycling textiles. Working with 1,000, supposedly 100% woollen, jumpers, the designer has found a way to recover the yarn – sorted here into great heaps by colour – and along the way discovered that most manufacturers are misleading customers about the wool content of these clothes.
Design as a force for good or bad is touched on by several of the participants. Architect Andrés Jaque's installation Intimate Strangers looks at how dating apps have revolutionized the way users meet up, with location on a map now a key criteria. He also considers how the same technology can be used in oppressive societies to trap users.
Social anxieties about ArtificiaI Intelligence are explored in Mimus, an enclosed industrial robot whose software has been reprogrammed by designer Madeline Gannon to behave with 'spirit' by sensing and engaging with viewers.
The ultimate fear – death – is confronted by Neri Oxman's installation Vespers, which combines the ancient ritual of the death mask with ultra high-definition ED printing. Other exhibits take in staple foods, graphic design for an anti-whaling organisation and a wearable device by fashion designer Hussein Chalayan that detects emotions. It's challenging and invigorating stuff that requires but rewards time and attention.
The other temporary show is Beazley Designs of the Year, the annual exhibition of multi-disciplinary work nominated as the best designs of the year. It has to be said that the physical approach to this exhibition is not promising, down a rather tucked away staircase into the depths of the lower of the two new basement levels created in the redevelopment. It's all a sharp contrast to the generosity of circulation and feeling of space elsewhere in the museum, but once you're in there the exhibition itself is well staged with the now familiar rich and highly eclectic mix of the innovative, beautiful and inspiring. Architecturally, nominees range from the mainstream blockbuster of the Tate Modern Switch House to highly practical designs for a refugee shelter and post-disaster structural safety assessment project. Other nominations include Wayne Hemmingway's reworking of Dreamland in Margate, AOC's modest community centre in Nunhead and Assemble's Granby Workshop social enterprise.
The museum's free permanent exhibition is Designer Maker User, which is likely to be in place for 4-6 years. As an alternative to a purely chronological or greatest hits staging, this approach is very promising in that it goes beyond aesthetics, technology and manufacture to embrace design's impact on daily life and its interface with the consumer.
Curator Alex Newson is clear that the museum is not trying to dictate what constitutes good design but rather to help people to decide for themselves. From what I could see of the Studio Mysercough-designed presentation (it was still being installed ahead of the opening) it looks very engaging with highlights including a re-creation (sadly not functional) of the first fitted kitchen – designed by Margarete Schütte-Lihotzky in 1926 – and a prototype of part of PriestmanGoode's new underground train, as well as Anglepoise lamps, Kinneir's and Calvert's road sign system, and many, many more – in total nearly 1,000 objects from the 20th and 21st centuries are shown. It's good to see a timeline of key design moments/events incorporating fresh strands such as Apple, 3D printing, the Designer as Storyteller and Back to Analogue, as well more familiar design history.
What was already at the entrance to the permanent display was the crowd-sourced display of 200 everyday objects, nominated for their importance. These will be updated periodically and look likely to be a very popular display, combining everything from jars of Nutella and Marmite to an oyster card, £5 note, the Bible, and an Ikea shopping bag.
For those with the energy, the new museum has the potential for a long-stay visit. As well as the main permanent and temporary exhibits, there are also installations from the designers in residence and visitors can also seek out the – rather small – installation of presenter Robin Day's studio created from his archive, tucked away in the library.
I do miss the walk along the river to the old museum. But this new one is potentially rather fantastic ­– as long as it can attract enough visitors to animate its ample spaces. There's a lot of exhibition space to feed, and the pressure is on for the curators to keep coming up with the goods. But this is a very good start, and future plans bode well with upcoming shows including exhibitions on California as a design centre, visions (built and imagined) for a Soviet world, and a show by the Dutch industrial designer Hella Jongerius on colour.
Fear and love – Reactions to a Complex World, 24 November – 23 April 2017
Beazley Designs of the Year, 24 November – 19 February 2017
Design Museum, 224-238 Kensington High Street, London, W8 6AG
---