Experimental work with clay from Grymsdyke Farm, a most unusual research facility, is on show at the RIBA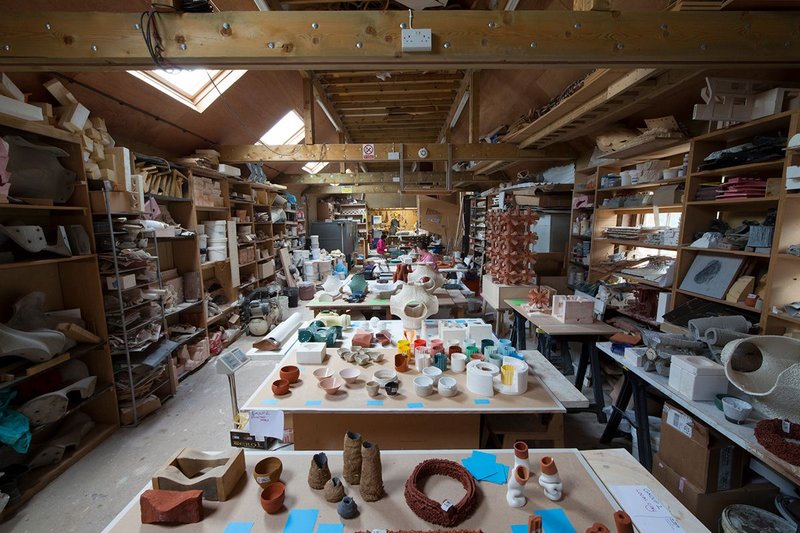 Grymsdyke Farm workshop.
'It's not a commune. There is no guru,' says Guan Lee of Grymsdyke Farm, the research facility and live/work space he founded 12 years ago in rural Buckinghamshire for anyone interested in the materials and processes of making.
Although hard to define, it's clear that Grymsdyke Farm is a rather special place.
As well as students from the Bartlett, where Lee teaches, it attracts not only architects and designers but artists, musicians, film-makers and archaeologists whose various projects all help take the research in new directions. This is amply demonstrated in Life of Clay, a fascinating new exhibition on experimental clay works created at the farm.
Tucked away up on the RIBA's second floor Practice Space, the exhibition shows the outcome of a RIBA Trust Award given to Lee and Eleanor Morgan to explore the link between digital and robotic technologies and traditional clay processes as part of their PhD studies at UCL.
From robot printed tiles and breezeblocks to clay moulds created with a sausage-stuffing machine, the results are sometimes weird, sometimes rather wonderful. Musician Nastassja Simensky experimented with extruded clay to create a curly clay aerophone instrument with local Grymsdyke slip. Artist Ruth Claxton trod local clay and straw to make cob before forming it into pots with a retro-reflective inside coating that contrasts sharply with the roughness of the cob. Site-specificity is another theme, as demonstrated by a wonderful photo of a participant literally up to their neck in a clay experiment in a field.
Within the exhibition, a mini robot carves clay while a larger one formerly employed in the car industry is installed at the farm, connected to an extruding machine. We are shown not just the perfect outcomes but the often equally valuable results when things go wrong – and it's rather comforting to know that a robot can make just as much of a mess of a coil pot as I could.
The exhibits of printing, casts, extrusions and coils eloquently demonstrate the value of Grymsdyke Farm's unorthodox research enclave.
'It's a very unusual set-up. There are beds for 25 people. There's nothing else to do but work, and eat and sleep. It's very intense,' says Morgan, adding that a key aspect of the farm is the communal working space that is increasingly rare in design schools. Now teaching at Loughborough University, she is interested in further research into methods of collaboration through making.
Lee is hoping to further develop research into ceramic printed shell structures, possibly as part of a pavilion.
'We do have ambitious to produce interesting spaces and not just artefacts,' he says.
Meanwhile Lee and Morgan are keen to take the Life of Clay exhibition to other venues, spreading the word about this most unusual research facility.
Life of Clay – Experimental Practice at Grymsdyke Farm, until November 27, second floor Practice Space, RIBA, 66 Portland Place, London
---