Paloma Gormley has seen the future and it's made of hemp. She and her partners in Practice Architecture and Material Cultures are pushing awareness of what can be achieved with this and other sustainable, bio-based materials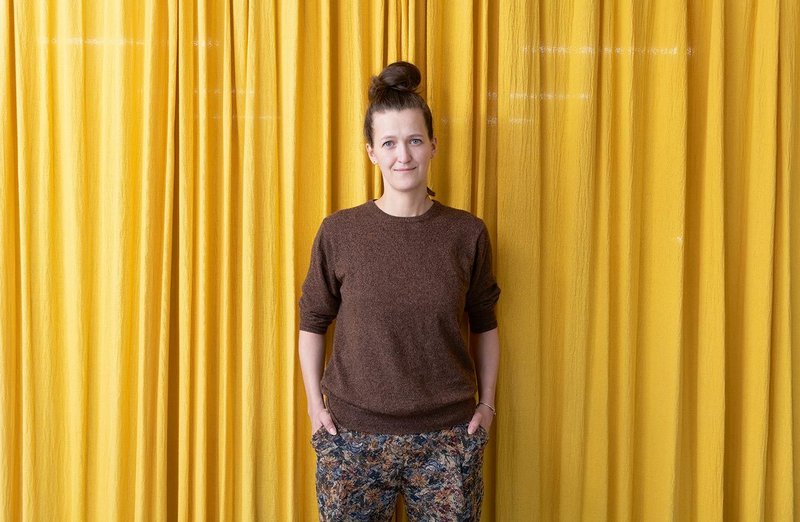 Paloma Gormley at her studio near Bethnal Green, east London.

Credit: Ivan Jones
Practice Architecture's Flat House has been causing a stir since before it was completed. That is hardly surprising for a house made of hemp, on the hemp growing Margent Farm in Cambridgeshire. It is an architecture of first principles, so called low tech, one of the most exciting things about the work of Practice, of Material Cultures which grew out of the project and of Paloma Gormley, who is the link between them as co-founder of both.
If the surname sounds familiar, it's because Paloma is sculptor Antony Gormley's daughter. That may come with certain privileges and connections, but she and her collaborators are pushing architecture in remarkable ways with a fundamentally sustainable approach. In conversation near her studio in Bethnal Green, Gormley is a powerful advocate of bio-based materials. 'Hempcrete has integrity, avoiding all those petrochemical layers with monolithic construction allowing honesty, directness and truth to materials,' she says.
The work they are doing has the potential to be genuinely regenerative. Despite being at the core of the values of Architects Declare, which so many practices have signed up to, regenerative design feels part of the missing puzzle about construction and climate change – something that the Part L and embodied carbon measures have struggled to get beyond: the idea you might not just do no harm, but actually bring climate good.
This way of working stems Gormley and Leticia Drake's first project as Practice Architecture. As students they designed Frank's Café for the top of a multistorey car park in Peckham, keeping it a deadly secret from their tutor, Tom Emerson of 6a, to avoid being told off for distracting themselves from their finals at Cambridge. They built it themselves, with help from friends, from then-cheap scaffold boards and ratchet straps. 'We would live, breathe, sleep on site,' says Gormley of early projects. Frank's was a while ago now, 2009, but putting it up again the three following summers embedded the experience. 'We needed to make it easy to build,' says Gormley.
Of course, designing from first principles, with an emphasis on materials rather than products, can be a problem. It is hard to foresee all the consequences and issues you might face. Gormley tells how staff had to slough off the pools of water on the lorry-side material roof of Frank's Café with brooms in a rain storm. 'But it creates theatre and intimacy,' she says. Warranties, skills, contractors and, therefore, clients can be in short supply and that leads to another big problem of first principles: they can be hard to scale up.
Scanning the websites of Practice Architecture and Material Cultures it looks like this is indeed a problem they are facing. There was a change in tempo to more permanent structures with the Timber Weaver's Studio in 2017 (also using hemp). But it is hard to see a sense of progression to larger projects and a more sustainable business. Yes they are teaching. Material Cultures' Gormley and Summer Islam are running a unit at Central Saint Martins that last year energised their students as researchers designing natural low carbon versions of London housing types under the title Carbon Copies. But will the impact of their experiments in materials, hemp in particular, be influence alone?
Flat House proved they could make construction change on a real project and gave them the leg up in terms of profile, so let's look at that again. Because it is not just hemp; after all, hempcrete has been around for sometime. It was hempcrete in panel form, short-circuiting buildability issues. The house was also clad in corrugated sheets made of hemp and a sugar-based resin. And flowing spaces with the hempcrete exposed internally, all within the volume of a previous barn, look comfortingly liveable. Oh, and hemp stores a huge amount of carbon.
And now there are other projects starting to emerge. Until recently, larger housing projects in the south east have been kept out of sight by non-disclosure agreements. The first of those developments – which we can talk about as it is being launched at public exhibition ahead of planning – is the Phoenix Project alongside the River Ouse in the town of Lewes, East Sussex. The 700-home development includes 100 designed by Material Cultures with developer Human Nature. The plan is to prefabricate hempcrete panels in a warehouse already on the site.
In the meantime, the influencing role has grown. Visitors to the Design Museum's Waste Age were treated to a Material Cultures exhibit on repurposed exhibition materials; and a recent report on local bio-based construction in Yorkshire draws together local economy, agricultural and supply chains. It builds a case and explores the stumbling blocks to it becoming reality. Coming up is an SOM fellowship devoted to exploring regenerative forestry practices and the building systems that can be drawn from such a model.
'There is no kit of parts for bio-based buildings,' says Gormley. 'We are joining up the dots.'
For more brilliant young practices see riba.com/future-winners