Office Sian is passionate about designing for people and that drives it to create architecture for public spaces that has genuine social value
Gurmeet Sian.

Credit: WILMA
'No one truly speaks for a community unless they sit down and listen to its members,' says Gurmeet Sian, founder of Office Sian. Since establishing his practice over a decade ago, the British-born architect of Indian heritage has made a name for himself by championing the voices of others, and for the considered design of elegant domestic and public buildings.
The passion for community-focused design dates back to Sian's student days, but has even deeper roots in his childhood in a Sikh family in Maidenhead. 'After my parents came to the UK in the 1960s they really had to engage with the South-East Asian community', he says. 'Every weekend we were doing something within that setting.'
Another early influence was music, with which Sian was closely involved from the age of five. 'Learning about North Indian classical music taught me how to create feelings and atmospheres within a space', he said when we met in his white-walled London office. 'Now when I design, I think very carefully about moods'.
The opportunity to start the practice came with a commission for a humble house extension, won while Sian was doing a master's in History & Theory at the Bartlett following Parts I and II at Liverpool. His modest red brick addition was an important experience: 'I found a little bit of my voice', he recalls. Off the back of it, Sian began to pick up more work including a £10,000 garden office in East London that remains one of his most notable schemes. Titled 'Hackney Shed', the small building has an exposed timber structure that neatly houses a series of bookshelves. By means of retractable full-height doors and a clever skylight, delicate daylight filters into the intimate workspace in different ways throughout the day.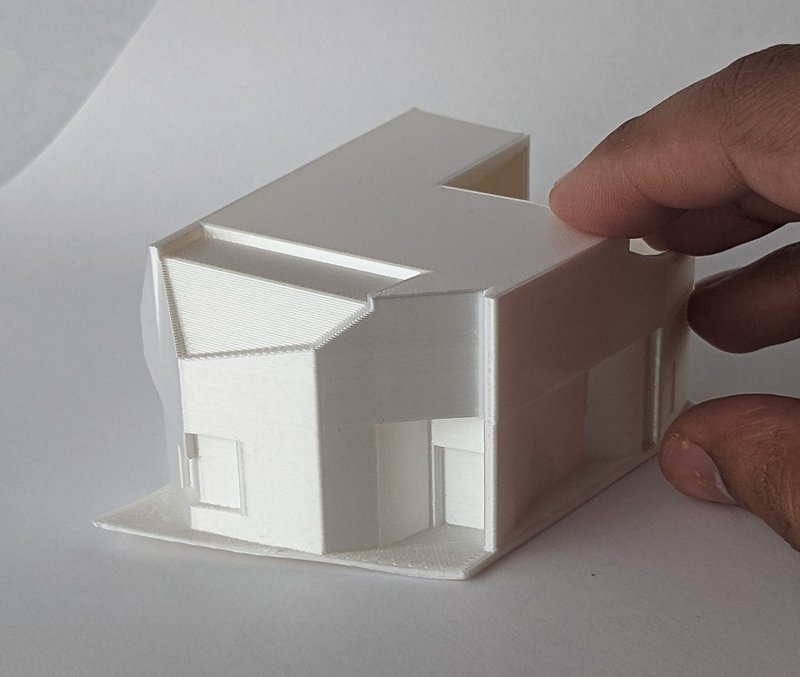 Enfield Community Building.

Credit: Office Sian Architecture + Design
Other notable projects include renovations and light-filled extensions to houses on Buckingham Road and Middleton Road in Hackney, east London, both of which show the studio's affinity for tactile, self-finished materials, with brick floors and expressive timber structures.
A move into public buildings came in 2014 with the appointment to design the Phoenix Garden Community Building. Having seen the Hackney Shed, the Phoenix Garden Trust approached Office Sian to make a sustainable, multi-functional venue at its community-run garden on a second world war bomb site in London's West End – a blissful retreat from the bustle of the city. This was a perfect opportunity to translate the architectural language developed in domestic projects for an institution with the sort of strong social networks he had known as a child.
Influenced by English walled gardens, the brick structure has a bold arched opening and a sleek white limestone cornice etched with the word 'Phoenix', acting as a beacon for people meandering down the street. Inside, a brick-floored, timber-framed space opens onto the tranquil garden and hosts workshops, parties and events. The building was completed in 2018 – snagging 'best building' at the Camden Design Awards and a place on the shortlist for RIBAJ's MacEwan Award – but Sian's involvement continues. He chose to have his wedding breakfast in the hidden garden, and aims to help the Trust to organise events in the space. 'I want to work with local musicians', he says, 'and get funding to do site-specific pieces.'
Domestic work continues alongside more involvement in larger and more public projects, including two further community centres in London. 'The ambition has never been to do a certain scale of building,' says Sian, 'but instead to work with larger groups of people'. Current work includes an 800-home scheme within Enfield Council's 85-hectare Meridian Water development, won in competition as part of a team led by Karakusevic Carson Architects. Alongside practices including Mary Duggan Architects, Maccreanor Lavington, and Architecture Doing Place, Office Sian will create a strong community facilities, and programme of education, mentorship and work placements for local people, in consultation with the community. 'There should be a strong onus on architects and developers to have very integrated and intensive engagement processes', he states.
The same concerns inform Sian's activities beyond building, from giving talks to leading workshops. 'What I want to see in the next ten years is more diverse conversations from different people from different backgrounds', he says. As a member of the Redbridge Design Review Panel and chair of the Southwark Community Review Panel, Sian is committed to using design skills to support those that are often under-represented.
Passionate about creating equitable public spaces and buildings with genuine social value, Office Sian has an important place among a generation of practices that are making the architecture profession recognise the power of listening to people. 'The best designs', he says, 'come from the best conversations.'
Shawn Adams is co-founder of POoR Collective.
For more brilliant young practices see riba.com/future-winners