Often despised and overlooked, the 1970s, sandwiched between modernism and postmodernism, were in fact a moment of radical change in architecture, argues Elain Harwood. Architects sought new forms, reinvestigated traditional materials, discovered energy efficiency, and mined a rich new seam of adaptation and re-use
Buildings of the 1970s are more like those of today than those of the 1960s. This is particularly true of office buildings, where slim towers gave way to large floor plates and open planning – compare Foster Associates' Ipswich offices for insurance broker Willis Faber Dumas with the 1950s Shell tower or 1960s Centre Point. The building is still used in the same way by the same owner, the Willis Group. Similar features are also still to be found at the headquarters of the Halifax Building Society, a glazed raft of offices by the Building Design Partnership from 1972-4 tucked into its namesake town. Extensive canteen facilities and roof gardens reflected the era's concern for staff wellbeing. Indeed it is the staff facilities rather than the office planning that now seem remarkable: Willis Faber originally had a swimming pool as well as a restaurant and rooftop lawn.

Arup Associates meanwhile adopted a more modular approach, welding the principles of Hertzberger's Centraal Beheer insurance HQ at Apeldoorn of 1967-72 on to a heavily-serviced engineering grid that it had developed for university laboratories. It refined the open office, or bürolandschaft, into a series of standard working areas around an atrium, reaching maturity at Gateway House, built in 1974-6 under Peter Foggo for paper merchant Wiggins Teape in Basingstoke. There the amenity was a series of landscaped terraces on to which each floor of offices opened.

Such offices are a reminder of the mini-boom which launched the decade, albeit artificially fostered by the incoming Conservative government and which soon collapsed. Better remembered are the 1973 oil crisis, the three-day week of 1974 and the rampant inflation they exacerbated. New building was slow and expensive: conservation allowed adaptation and 'loose-fit' into old warehouses and their ilk – more big floorplates, but here with gnarled bricks and polished floorboards. It might have been European Heritage Year in 1975, but 1973 was the key date, when plans to dissect a rebuilt Covent Garden with trunk roads were finally quashed and London's inner-motorway network abandoned.
'Where no old building was available a new one had to mimic its simplicity, as with the Young Vic by Bill Howell, built in 1970 with no finishes other than those of its cheap concrete blocks and slab partitions'
Warehouse chic

'Found space' was a maxim of the theatre, encouraged by the end of censorship in 1968 and the more improvised, less formal drama that followed. That year the Edinburgh Fringe expanded into makeshift venues and arts centres began to repopulate abandoned industrial areas. The Arnolfini moved into Bristol docks in 1975. Director Michael Elliott considered cheap, improvised conversions were 'less daunting, less expressive of civic or national pride, more reflective of changing taste', and his 69 Theatre Company leased Manchester's century-old Royal Exchange in 1973, into which Richard Negri and Levitt Bernstein Associates inserted a freestanding 750-seat pod. Rooms over public houses were adapted for London's Orange Tree and King's Head Theatres in 1970, and the Bush Theatre in 1972. In 1974 the Royal Shakespeare Company opened its Other Theatre in Stratford-upon-Avon and in 1977 the Warehouse (now the independent Donmar Warehouse) in Covent Garden, both reflecting contemporary antipathy towards fixed seating and a proscenium arch. Where no old building was available a new one had to mimic its simplicity, as with the Young Vic by Bill Howell, built in 1970 with no finishes other than those of its cheap concrete blocks and slab partitions. The director Frank Dunlop delighted in what he termed an 'instant warehouse'. Many of these venues are still with us, despite constant pressures on their funding since the 1980s. The Young Vic, intended to be temporary, was largely rebuilt as a permanent structure on very similar lines by Haworth Tompkins (RIBAJ December 2006).

Conservation and renovation extended slowly into the domestic market too, as shown by schemes like Rod Hackney's for the terraces of Black Road, Macclesfield, in 1972-3. Restoration, it seemed, could benefit a community more than rebuilding. The Housing Act of 1974 finally made it relatively simple for ordinary households to secure grants towards a kitchen or bathroom. 'Comprehensive redevelopment', accepted unreservedly since the war, seemed less attractive when local authorities and developers moved in on better housing and city centre landmarks. The worst excesses of system building began to be exposed following the partial collapse of Ronan Point in 1968, as this kind of new housing was revealed to have been badly put together. Medium-rise schemes like those of the Yorkshire Development Group or Manchester's Hulme 3 were revealed by 1980 to be over-reliant on bolts that were difficult to fix and were often not properly attached at all. For every lamented estate such as James Stirling's Runcorn Southgate – a victim of high heating bills, low security and poor management, and demolished in 1990-92 – there is a scheme best forgotten. The reaction, spurred by grass roots opposition for the first time, is still with us, despite 13 years of Grand Designs.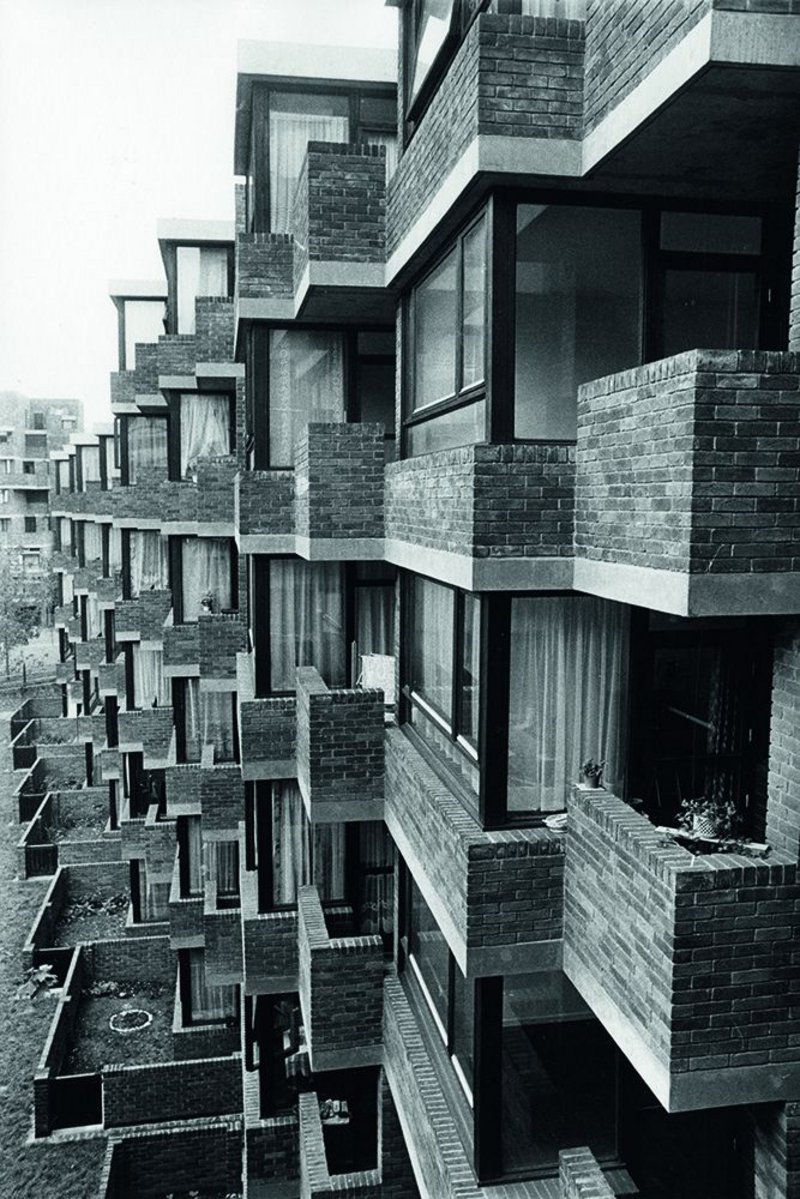 Darbourne and Darke's Lillington Gardens in Pimlico, a pioneering 1960s design, hugely influential in the 1970s
Pick brick

But the style of the 1970s was not defined by concrete, or even by plastics, despite the latter's widespread adoption, particularly in Milton Keynes. It was brick. The model housing was Lillington Gardens in London's Pimlico, a scheme won in competition by John Darbourne in 1961 and developed by him with Geoffrey Darke over the ensuing decade. Darbourne's was a reaction against the conventional image of council blocks, in a frustrated bid to break down the divide between public and private housing. By the time its main phases were completed in 1972 it was an old friend in the architectural press, whose enthusiasm was shared by the tenants. It spawned many imitators that struggled to repeat the formula under the cost yardsticks imposed by government in 1987 that controlled the price of public housing. Nevertheless, derivatively dense, higgledy-piggledy developments of red brick with mansard roofs can be found in Lambeth, in Nottingham's Meadows, and in Bristol, where High Kingsdown brought the genre to the private sector in 1971-5.

Brick was also the favoured material for public buildings, nowhere more so than in Uxbridge, where Hillingdon Civic Centre marked a blow for traditional style as well as traditional materials, although the interior was another deep, open-plan floorplate. It was all the more striking in 1976 because its architect, Andrew Derbyshire of RMJM, had been the doyen of modern architecture with developments like Sheffield Castle Market and York University. Again, easily taken for granted as it has been so imitated, Hillingdon still works just as it did when it opened over 30 years ago, unlike more cellular town halls of the 1960s where greater adaptation has taken place, such as Gravesend.

Coupled with conservation came a concern for the environment. John Barr's book Derelict Britain in 1969 called attention to the detritus left by abandoned industry, just as the message of Rachel Carson's Silent Spring began to be recognised with the banning of the dangerous pesticide DDT (in 1972). Yet tremendous changes were still being made to the countryside as farmers adopted European agricultural techniques and grants, and grubbed up hedgerows to achieve economies of scale for grain and sugar beet production, while elm trees were destroyed by disease. The present threat to our ash trees is nothing new. Hertfordshire county council noted in 1965 that nine of its 10 rivers had been destroyed for fishing since the war, and a pollution clean-up swept the country from the Thames to the Tyne. Work also began on clearing canals such as the Kennet and Avon, and restoring them for tourism.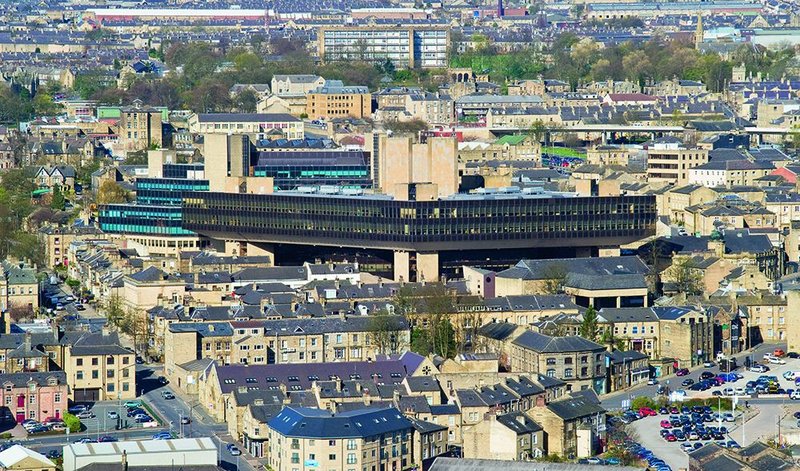 BDP's Halifax Building Society HQ, a 1970s triumph
Houses became more energy conscious, better insulated with smaller windows. The Centre for Alternative Technology was established in a slate quarry at Llwyngwern near Machynlleth in 1973 to demonstrate that people can live off natural resources, and to test methods of energy production from solar, wind and water power. In 1977-79 at the Northlands/Felmore area of Basildon, Richard Burton of Ahrends, Burton and Koralek combined an efficient district heating system with a careful layout, heavy insulation, steep pitched roofs suitable for solar panels and deep eaves to control solar gain in summer.

Sustainable impact

The real centre for this work however, as for so much of the 1970s, was Milton Keynes, with model solar houses as well as energy-saving programmes in Great Linford and Pennylands that were closely monitored by the Open University there, but whose message was not taken up for another decade. Add in Milton Keynes's concern for open space and recreation, its use of natural trees and canal improvements, its mix of High Tech and neo-vernacular with a splash of public art, and you have the 1970s encapsulated. Its concrete cows might have been created in a mood of self-deprecating humour, but they were a community project, and the seventies' sense of humanity seems to by the architectural ingredient that has disappeared first.

For most architects and critics the 1970s has been a forgotten decade, caught between the excesses of the sixties and Thatcherite post-modernism. But just as economists show there was no sudden break in British commerce in 1979 – the computer revolution had already begun, while the problems of inflation and unemployment continued well into the 1980s – more was happening in British architecture in the 1970s than has previously been supposed. Its model was not the gargantuan carry-over from the 1960s but E F Schumacher's Small is Beautiful, published in 1973. And most of the modest but carefully-considered architecture that followed still works happily.
---
Elain Harwood is a historian with English Heritage and co-editor with Alan Powers of the Twentieth Century Society's journal, The Seventies, available from the society at www.c20society.org.uk/books, and the RIBA bookshop
---