Physical fun and artistic illusion catch the locals' attention at Hull Minster's new 'church hall'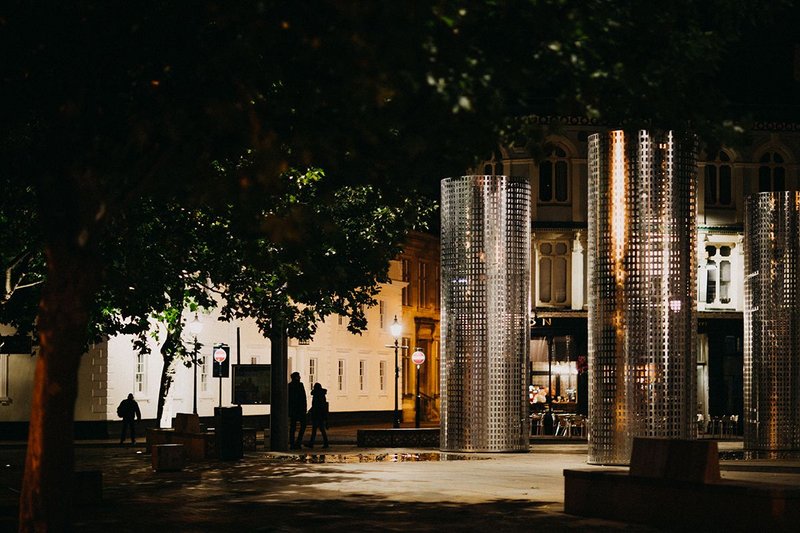 A Hall for Hull at night.

Credit: Thomas Arran
The day I called in on Trinity Square in Hull's old town, a morning of heavy rain had given way to fitful sun. Delayed by the weather, the workforce completing 'A Hall for Hull' was rushing to get things as ready as possible for a preview opening that afternoon. The perforated galvanised-steel columns by Chilean practice Pezo von Ellrichshausen were all present and correct but the painting on them of the three optical illusion works by Swiss artist Felice Varini was still in progress. Nonetheless a space was cleared on the worksite, cheerful Hull City of Culture volunteers manned a trestle table with tea, cakes and wine, and the architects – for whom this commission in Hull was as different as possible from their previous acclaimed UK outing in the Royal Academy's 'Sensing Spaces' exhibition of 2014 – explained their thinking.
This is a four-way collaboration between the City of Culture, RIBA, British Council and Holy Trinity church – the largest parish church in England, medieval in origin, its title recently upgraded to Hull Minster. The installation is conceived as a hypostyle room, but roofless, unless you regard the sky as the roof as Lutyens did with his war cemeteries. It takes its place in the newly-landscaped piazza in front of the church, designed with eight gently rippling square mirror pools by Re-form Landscape Architecture as part of a package of improvements to the city's streets and open spaces. This was somewhat controversial in that it removed the church's old parvis wall and the ledger stones in the churchyard – though these have been recorded and kept in the church. After all that work, the Hall for Hull could not go digging it all up again so the hollow perforated columns have no foundations. As Mauricio Pezo explains, they rely on gravity, with baseplates that are thick and heavy discs of steel. But also, as Sofia von Ellrichshausen continues, on proportion. Their ratio is 3:1, exact dimensions 6m high by 2m wide – wide enough to be stable. The height corresponds to the base of the minster's west window behind them.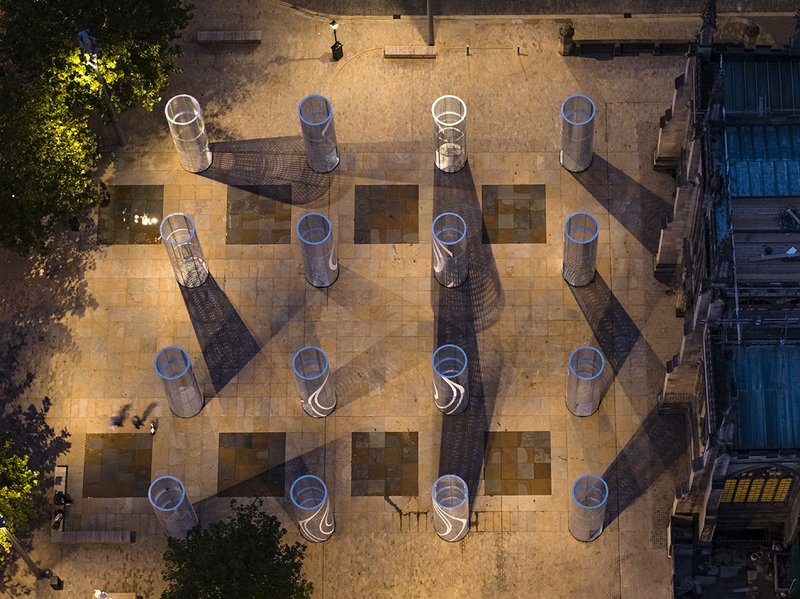 A Hall for Hull aerial close up.

Credit: Octovision Media
The 16 columns have been set out according to the grid of the mirror pools. Each is not just a column but – fat enough to be Romanesque – a chamber. An open doorway leads into each, and they are bigger than they seem at first glance: four people can fit in reasonably easily. 'Come on in!' says von Ellrichshausen, 'It's warmer in here!' Obviously not – but one can imagine this sequence of spaces being programmed by performance artists. Or, rather more informally, by the denizens of Hull on a rowdy Saturday night. Von Ellrichshausen comes pre-warned: she is very aware that such objects left in a public open space in a British city must dissuade the pranksters. And she points out how each rectangular perforation, for instance, is just too small to get a foot into.
But it's the overall effect that's the thing, and even as the project was being finished off, it was attracting interested bystanders. They're a direct lot in east Yorkshire, and I heard a few criticisms of the what's-the-point, what-a-monstrosity variety. The scepticism will fade quickly I reckon. The city is fiercely proud of the impact its City of Culture status is bringing – this year's Turner Prize exhibition is in the Ferens Art Gallery there, for instance, and the whole event has been rather successful. A Hall for Hull is the latest large-scale artwork in a series that began with a mighty 75m wind turbine blade laid right across Victoria Square by artist Nayan Kulkarni. If that (now away spinning somewhere) was a good conceptual one-liner, the Hall for Hull is more subtle. Its position suggests a memory of an earlier church or temple here. Its precisely geometric spacing is subverted by the painting of Varini, who sets up three viewing corridors ('Trois Points de Vue') to make his work – ignoring the obvious one, the central axis onto the church. Seen randomly, his marks remind you of the incisions in fat Norman columns. And randomly is how you will mostly see them: getting them set up exactly in your line of vision is not easy.
Of the columns themselves, 'Obviously they have a connection to the whole history of architecture,' says von Ellrichshausen. 'You can read them as columns, but you can also read them as rooms. We like to operate on that limit of what you understand and what you don't, so it's both. And we really like the idea of letting people do whatever they want with them. I'm sure we'll see kids running in and out of them – and we'll see what adults do with them.'
The two architects fall to discussing the available lighting in the square – there is no special integrated lighting in their columnar rooms, but plenty from the recently-installed lamp standards. One of these produces red light. They decide that the red glint is fine. The moment dusk falls, their columns take on a different, more filigree, character.
However you view the work as a piece of architecture and art, it does function like a building in being a condenser, drawing people in to inhabit it. And in particular, it brings eyes in a new way to the minster, once one of the rather neglected glories of Hull, now seen on a new kind of stage and itself undergoing a considerable restoration as an active church. I worry slightly about that, but time will tell. Greater appreciation of the church and of the old town in general should be the legacy of this project.
---
'A Hall for Hull', sponsored by Wedge Galvanising, is at Trinity Square, Kingston upon Hull, until the end of the year