The Building Centre's exhibition demands root and branch rethink to bring bio-based and local construction products into the mainstream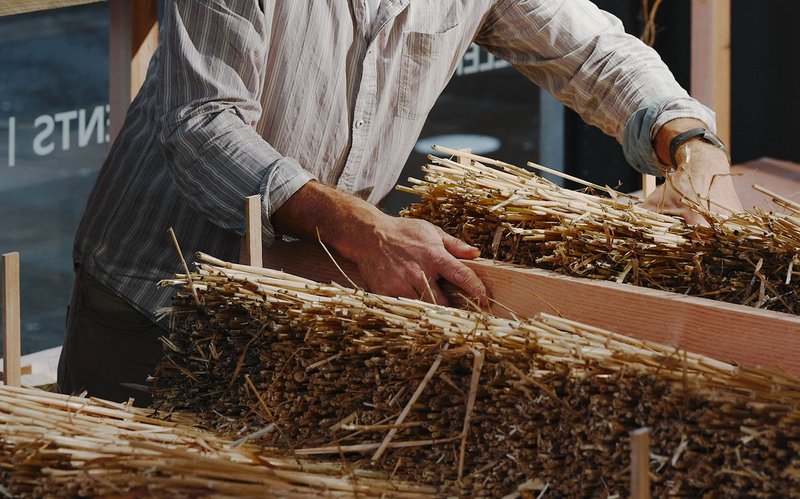 Credit: Henry Woide
The Building Centre's new exhibition Homegrown: Building a Post-carbon Future may be rather modest in scale, but it's certainly not lacking in ambition.
Along with its associated pocket-sized book Material Reform, Homegrown advocates an urgent shift towards bio-based and locally-grown low-carbon building products as an alternative to conventional, more carbon-heavy products. Both exhibition and book are the work of Material Cultures, the not-for-profit design and materials research practice.
With the construction industry generating some 60% of the UK's waste, there's no doubt that radical change is required. This informative exhibition, part-manifesto, part mini-materials library, makes a compelling case for bio-based materials and how they can transition beyond the niche. Rather than browbeat and depress, it presents visitors with a positive vision for change.
'I hope they'll be inspired,' says Material Cultures co-founder Paloma Gormley. She also hopes the show will help challenge some of the negative perceptions surrounding the viability of bio-based building products, while providing insights into how production of these could be scaled up to increase efficiency and viability for more mainstream use. This is the case with the exhibition's dominant physical exhibit – a thatched wall installation measuring one thatcher's square (100 square feet) made from a rye and wheat hybrid. This has been created by a master thatcher as part of a prefabricated cassette system, which has benefits for maintenance and repair, with thatch lasting between 30-70 years.
The exhibition's materials library of bio-based homegrown products – derived variously from mycelium, hemp, cob, waste clay, porcelain, glass and timber, and others – demonstrates that it is possible to specify with not just performance but provenance and wider sustainability impacts in mind as well. As Material Cultures co-founder Summer Islam points out, there are always consequences to what architects specify, even if, given that so many of our building materials are imported, we in the UK don't always see the impact of the product's extraction for ourselves.
According to Gormley, architects may need to be 'a bit more investigative' in understanding the implications of material processes. At the same time, she adds, the implications of the greater use of bio-based materials from an agro-ecological perspective also need to be understood.
Short films in the exhibition explore extraction, straw and timber – three of the chapters in the accompanying Material Reform book. This draws on the research behind the exhibition, with a detailed look at various aspects of construction including resources, land use, supply chains, and much more beside.
The opportunity to use straw better – a very cheap, often surplus raw material – is, we're told, 'hiding in plain sight'. If detailed appropriately, its use as thatch cladding or with hemp and cob as panels could provide a 'significant carbon sink'. The timber film discusses how centuries of deforestation in the UK have contributed to the country importing 80% of its timber products. Changing this reliance on foreign timber to enable more locally produced timber would require significantly more space to be dedicated to growing trees in the UK, a huge challenge given the intense competition for land. Perhaps a change in perception will be required, we are told: 'For timber to play a meaningful part in the future of construction, we will have to get into the habit of using it sparingly, treating material hungry mass timber products as rare luxury, rather than a standard part of the construction palette.'
The extraction film makes the case for a move away from demolition and redevelopment to a 'culture of repair'.
Perhaps the core lesson is that architecture needs to renew its relationship with the land, with the use of regenerative land management practices to balance the needs of landowner, community, and construction industry. There are, it's clear, no easy answers – all construction practices have consequences. Holistic thinking is required to establish which of these consequences are acceptable.
A more extensive exhibition would have enabled exploration of the many other topics considered in the Material Reform book. Nonetheless, Homegrown's advocacy of bio-based materials makes a stimulating contribution to an ever-more pressing topic.
The scale of the transformation required to steer construction in the UK towards a post-carbon future is certainly daunting. Islam calls for change in every process of making buildings, from education through to design, construction and regulatory policy. But she does detect some signs of progress, whether changing attitudes among architects and students, or the introduction of rewilding practices.
'It's all small change. But that's how movements begin,' says Islam.
---
Homegrown: Building a Post-carbon Future, until 15 April 2023, Building Centre, Store Street, London WC1E 7BT
Material Reform: Material Cultures is published by MACK, 2022