How can we make residential roads safer – and handsome?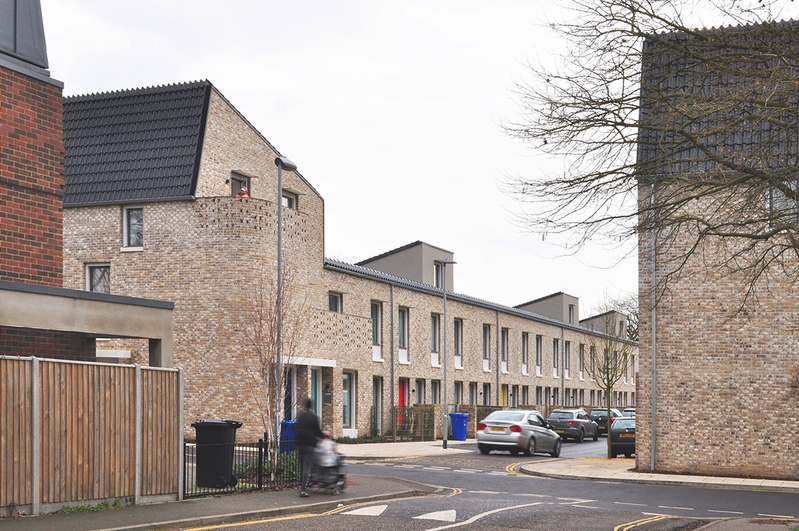 How wide should streets be? RIBA Stirling Prize-winning Goldmith Street was based on narrow streets.

Credit: Matthew Pattenden.
My street is starting to get noisier again: the annual crop of loft conversions, rear extensions and makeovers, mostly paused for the last three months, has resumed. But while everything was quiet, I went out of my front door and measured the width of my street.
This was prompted by an online lecture for the Architecture Centre in Bristol, given by Annalie Riches of Mikhail Riches, who with Cathy Hawley designed the Stirling Prize winning Goldsmith Street development of long housing terraces in Norwich. One of her main points concerned the design of the scheme's streets. With the support of the highways engineers, they reduced carriageway widths from normal suburban dimensions to 14m – with on-street parking. Also included: sharp corners, landscaped traffic-free areas, judiciously deployed bollards to make sure pavement parking does not happen. Not included: double yellow lines everywhere.
The upshot is a grid of streets which, while not looking retro and being built to Passivhaus standard, is meant to be Victorian in density. So, since I live in a grid of 1890s streets, I went to see how they compare. This is what I found.
In imperial measurements – since that was how it was laid out – my street works out at nearly 64 feet between the facing house fronts, measured bay to bay. That's 19.5m, so a lot wider than Goldsmith Street.
The upshot is a grid of streets which, while not looking retro and being built to Passivhaus standard, is meant to be Victorian in density
Broken down this consists of 24ft of front gardens, 15.75ft of pavements including 1ft wide kerbs, and a 24.25ft carriageway. Given all the parked cars, the effective driveable width of the carriageway is around 12 feet or 3.65m. Which is good, as vehicles can't speed past each other and – like Goldsmith Street – if there's a dustcart making its way down the street and you're in a car, you just have to wait.
The generous distance from house to house across the street is accounted for by the fact that these were suburban houses, built on fields just outside the LCC boundary. These were aspirational homes built for the newly emerging middle class commuters. In tighter urban conditions, especially for working-class housing, the density is generally higher and it's that which Goldsmith Street is emulating.
But plenty of Victorian residential streets are surprisingly wide. Why? Accounts of the time mention children playing in them, even cricket-stumps being hammered into the surface. Riches in her lecture talked of 'overlooking distances' and wondered where they originated. Victorian prudishness perhaps – on no account should you be able to see your neighbours in a state of undress. Well, if distance solved that, why did they invent net curtains?
There's been some discussion about this on social media – much of it condemning unimaginative municipal highway engineers, a common cause between modernists and traditionalists. Unfair, cry the highway engineers, we are designers too, we understand!
Unfortunately the usual suspects – the volume housebuilders – generally just go with basic 'standard' over-generous highways layouts, so the problem is perpetuated. We'd like to hear from you on this – your good or bad experiences when it comes to getting humane, congenial road layouts in residential developments.
Write to us at letters.ribaj.@riba.org