What inspires Peter Cook? The Archigram co-founder and CRAB director shares the particular importance of just three influential volumes from his overloaded shelves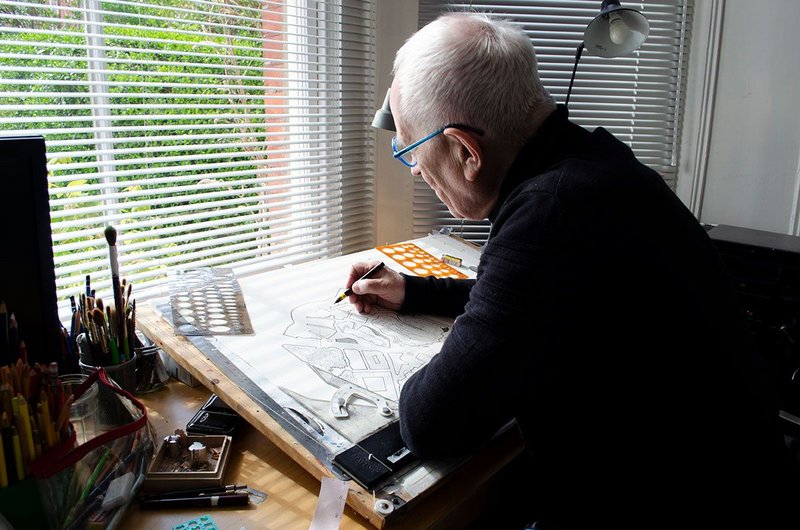 Peter Cook at his drawing board in the bay window of his front room.

Credit: Charlotte Collins, RIBA
Peter Cook is a native of jury panels and lecture platforms the world over, so it is a surprise to find him quite so at home in north London. From the street he is visible, seated at his drawing board in the bay window of a handsome, gabled brick Victorian house. Rotring pen in hand, he is drawing 'a spoof of an Italian hill town' for the Royal Academy's Summer Exhibition, enjoying the scurry of passers-by on a spring morning.
All the rooms and the connecting corridor of his ground-floor flat are lined with books. This is an accumulation of a lifetime in architecture and academia, which exists despite his concerted efforts to fend off constant book giving. The relentless flow of books in his direction started in the early 60s at the Architectural Association, when with Warren Chalk, Dennis Crompton, David Greene, Ron Herron and Michael Webb he produced the first Archigram pamphlets. Having cut and pasted from Hans Hollein's and Walter Pichler's catalogue for Archigram 2, catalogues and books have kept on coming. When lecturing on his travels, he is the recipient of 'lots of boring, heavy books' – most often 'school annuals by institutions that are 10 years behind the Bartlett and AA'. He has become artful at giving books the slip, leaving them on top of hotel wardrobes and expanding the libraries of study hotels at Penn and Yale. The books that get away and seep into his collection are the most treasured. He proudly pulls out a monograph by Toyo Ito with the dedication: 'To Sir Peter, You are the architect that I respect most in the world.' He also enjoys the quirky volumes that turn up from Gaetano Pesce. One volume sports a cover that seems to be a door mat, but is in fact bound in pigs' bristle, coconut fibre and silicon, the spine forming the profile of Pesce's face with his distinctive nose.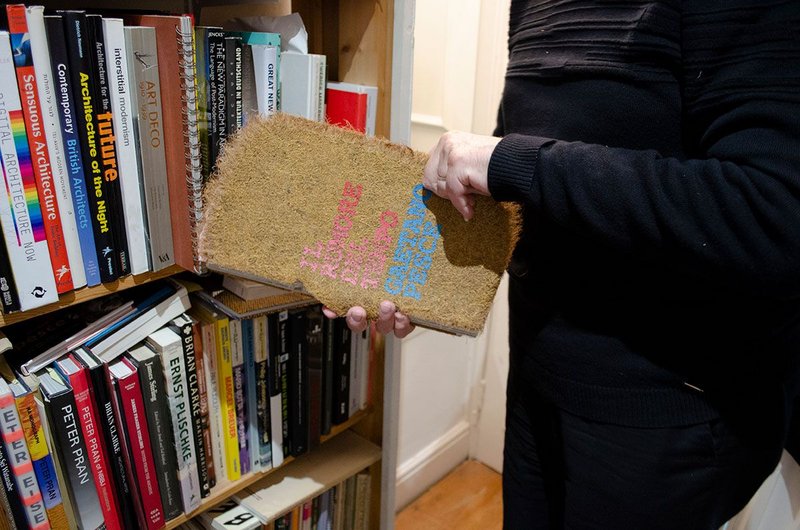 A gift to Peter Cook from Gaetano Pesce – the monograph 'Il rumore del tempo'.

Credit: Charlotte Collins, RIBA
Cook did not start acquiring books until he was in his 20s. He read Le Corbusier and Nikolaus Pevsner when he was 14 or 15 at school, leaving at 16 to study architecture at Bournemouth College of Art. His grant meant he could not afford to buy books, so the library was his only source for books. He somehow got away with borrowing Banister Fletcher (A History of Architecture) for the entire three years of his degree. At the AA, he was taught by John Summerson who brought renaissance history to life. He continues to delight in rereading Summerson's Georgian London.
There is a loose 'Cooky system' in the flat for the shelving of books. The corridor houses series such as Architectural Design and theory books; biographies live in the bedroom – Bertrand Russell, Salvador Dali, Augustus John and Frida Kahlo – with 'standards you can't throw away', like Peter Ackroyd's London: The Biography, and a cluster of his wife Yael Reisner's volumes in Hebrew. There are monographs in the back living room and 'everything recent' in the front room, which is now used as a study, but was his son Alexander's room before he left home to join the music industry, the soft toys of his childhood remaining among the books.
---
Reynham Banham's Theory and Design in the First Machine Age
Banham was instrumental for Cook. Written in 1960 – the year Cook graduated from the AA – the work covers the first 30 years of the 20th century. Rather than championing modernism as a style, as his teacher Pevsner did, Banham departed from the formal approach and provided a new understanding of modern design as technological evolution. Peter gained from Banham: 'an enthusiasm for the mechanics of architecture and an understanding of the interplay between people'. A delight in the mechanical in architecture and people persist. His copy of Banham is very much a live book: a MIT 1980s edition, it is interleaved with his own sheets of copious notes.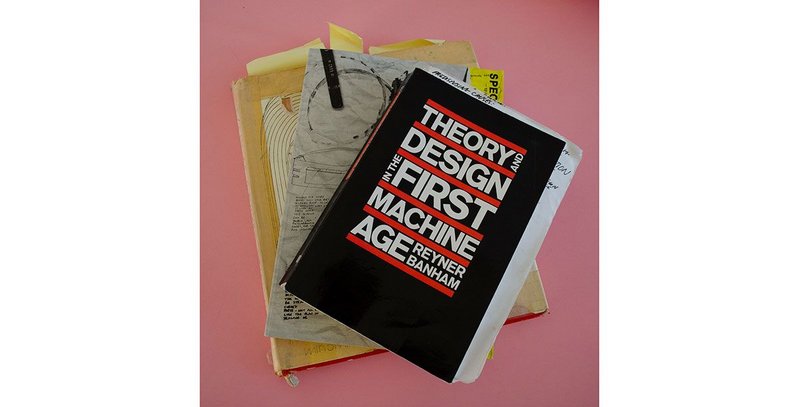 Heavily drawn on and used, Peter Cook's selected titles are annotated, marked with post-its and interspersed with pages of notes.

Credit: Charlotte Collins, RIBA
Wolfgang Pehnt's Expressionist Architecture
As part of the 2017 CRAB Studio exhibition that toured Hamburg, Cologne and Munich, Cook and Yael Reisner were invited to the Munich Library to talk about their favourite books. He chose Banham and Reisner selected Pehnt's Expressionist Architecture. 'Yael drew the short straw,' he says. 'Pehnt was in the audience and had gone off expressionism, strongly disassociating himself from the book he wrote 45 years ago.' Cook, though, has used it assiduously since buying it in 1974; with over 400 illustrations, it compiles images of the work of all the major expressionist proponents, including Bruno Taut, Hans Poelzig and Hans Scharoun. Since writing his AA history thesis on Rudolf Schwarz, Cook has had 'heavy leanings towards the Germanic – an attraction towards everything German'. This was cemented by a comment from James Stirling at a New Year's party in the late 60s, that: 'you ought to look at Germany'. That led to teaching there and a professorship in the 80s at Hochschule für Bildende Künste Städelschule in Frankfurt am Main.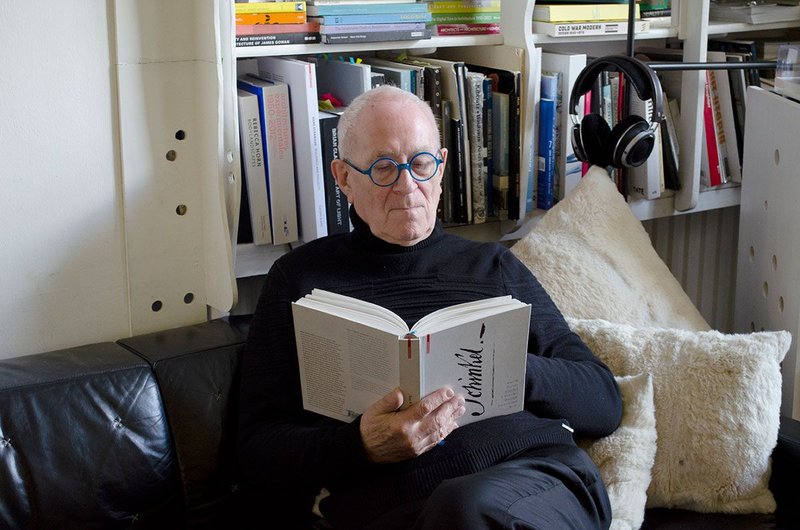 Peter Cook reading Kurt W Forster's recent biography of Schinkel.

Credit: Charlotte Collins, RIBA
Kurt W Forster's Schinkel: A Meander through his Life and Word
Six months ago, Peter picked up Forster's biography of Schinkel 'when moseying around the bookshop in the architectural association close to the cathedral in Barcelona'. He was unable to put it down, 'thrilled by how readable it is. A Swiss writer looking at a Swiss architect, it expresses a preoccupation with Swiss landscape with a healthy dose of romanticism creeping into Swiss rationalism.' He is delighted that people are surprised he is reading about Schinkel, unaware that he 'was a romantic under the skin'. Since first becoming aware of 'the battle between the rationalists and the romantics when reading Le Corbusier and Goodhart-Rendel' at Bournemouth, he has 'come down firmly on the side of the romantics'. He is 'fascinated by romantic objects left in English gardens, such as Stourhead, and the contrived landscapes of Kyoto'. He's riffing on this romanticism as he returns to work on the Tuscan hill town at his drawing board in the bay window.
---
Helen Castle is publishing director at the RIBA
Peter Cook will be talking on 'Sniffing and Responding' at RIBA Book Club, 66 Portland Place, at 1pm on 28 June