Revived Leeds Society of Architects announces its return with exhibition in shopping arcade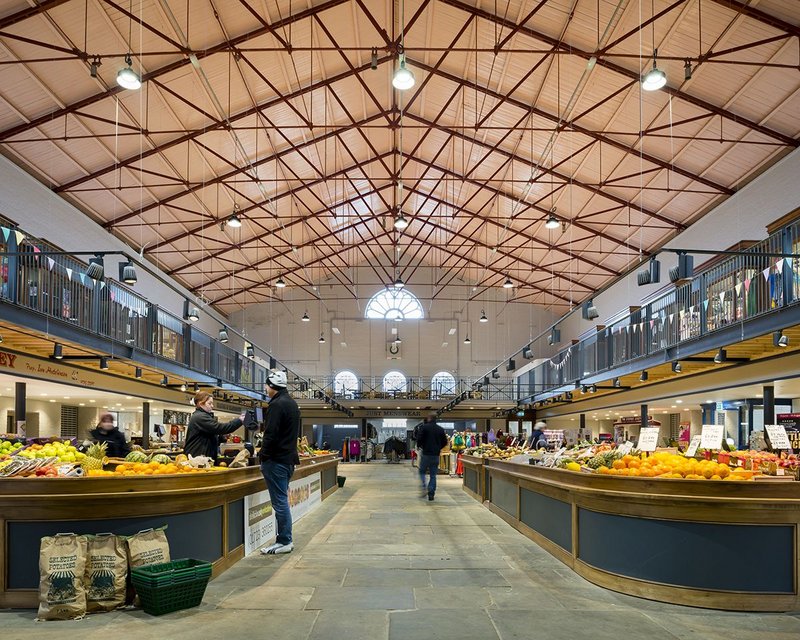 Scarborough Market, a grade II listed Victorian building, has been revitalised by Leeds practice Group Ginger. Interventions included a flexible events space for temporary traders and activities.

Credit: Jim Stephenson
After a period of dormancy, the Leeds Society of Architects (LSA) has revived. Architecture Leeds is its first public exhibition since re-forming, opening on April 14 in the city's Acme-designed Victoria Leeds Arcade shopping centre.
Led by co-chairs James Arkle and Graham Boyce of ArkleBoyce, the society is seeking to give a wider profile to the work produced by local architects, which include approximately 65 LSA member practices in and around Leeds with another seven in the Wakefield area.
'There was lots of good work coming out of Leeds that wasn't being promoted,' says Arkle, who describes the standard of work as 'incredibly high'.
'It's a great opportunity to engage with other practitioners, as well as a forum to debate and push forward the bigger agenda of promoting good architecture in Leeds,' adds Boyce.
Arkle and Boyce say the market is 'pretty buoyant' with plenty of commercial and house building work around.
'There is a real sense that developers are looking outside London now to develop schemes. I think we're benefitting from that,' believes Boyce.
They hope the exhibition will promote the diversity of architecture in Leeds produced by 30 firms ranging from sole practitioners through to the average sized practice of 5-10 people, and up to larger firms such as Carey Jones Chapman Tolcher, DLA Architecture and DLG.
'The architectural landscape in Leeds has changed in the last 10 years with more small to medium practices, which is beneficial for the overall vibrancy of the profession in the area,' says Boyce.
Recently completed local projects include Group Ginger's new facilities for the Leeds College of Music and Associated Architects' revitalisation of Edward Boyle Library at the University of Leeds. The exhibition also includes work by Leeds practices outside the region.
In the unit adjacent to the show, the LSA's Architect in the Arcade event will give the public the opportunity to receive free pre-booked, 30 minute consultations to discuss potential work with an architect. There is also a Fantastical Cities Lego workshop for children on April 11 hosted by members of LSA and students from Leeds Beckett University. An Architecture Leeds lecture programme includes speakers from Feilden Fowles, which is designing a new visitor centre at the Yorkshire Sculpture Park, and Page\Park, the practice behind the proposed transformation of the West Yorkshire Playhouse.
---
Architecture Leeds, 14 April – 13 May, Unit 26 and Architect in the Arcade, 15, 21, 22 & 28 April, Unit 27, both in Victoria Leeds Arcade
Details: Leeds Society of Architects