The amenity building sits a respectful distance from the historic wooden church (right).
Visitor Centre for Petäjävesi Old Church
Aalto University
Tutor: Pekka Heikkinen
Designated a Unesco World Heritage Site, Petäjävesi Old Church is a medieval Finnish structure renowned for its exemplary use of wood. Mikki Ristola's project provides much-needed visitor facilities in a separate building while utilising the potential of prefabrica­tion and digitally machined cross-laminated timber (CLT).
'Rather than emulating the techniques of old I wanted to interpret the church in contemporary technology and construction,' he says, adding that he chose a 'relaxed and meandering massing' to contrast with the monumental and symmetrical nature of the church.
Topped with a corrugated copper roof, the new building incorporates a covered terrace and a multi-purpose space as well as a staff office overlooking the approach route.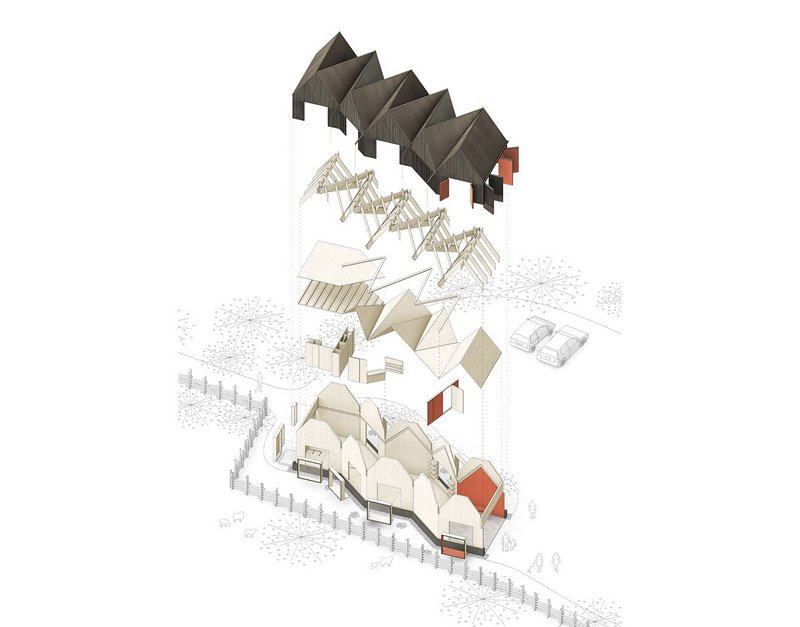 The centre uses contemporary techniques including digitally machined CLT.
The arrangement is designed to reflect the spatial sequence of moving through the Old Church and the complexity of its structure as well as maximising views of the surroundings. The CLT ceiling conceals wood beams and services.
Ristola hopes the design may actually be built, thereby freeing space currently taken up by visitor amenities in the Old Church and allowing a greater appreciation of its architecture.
'It's a Unesco World Heritage Site but at present the facilities are really lacking,' he says. 'The aim is to concentrate all service functions in a proper and appropriate new building close to the church so that the actual interior of the church is no longer disturbed.'
One of the biggest challenges, Ristola adds, was siting the building in the beautiful landscape around the church and achieving just the right proximity.
---